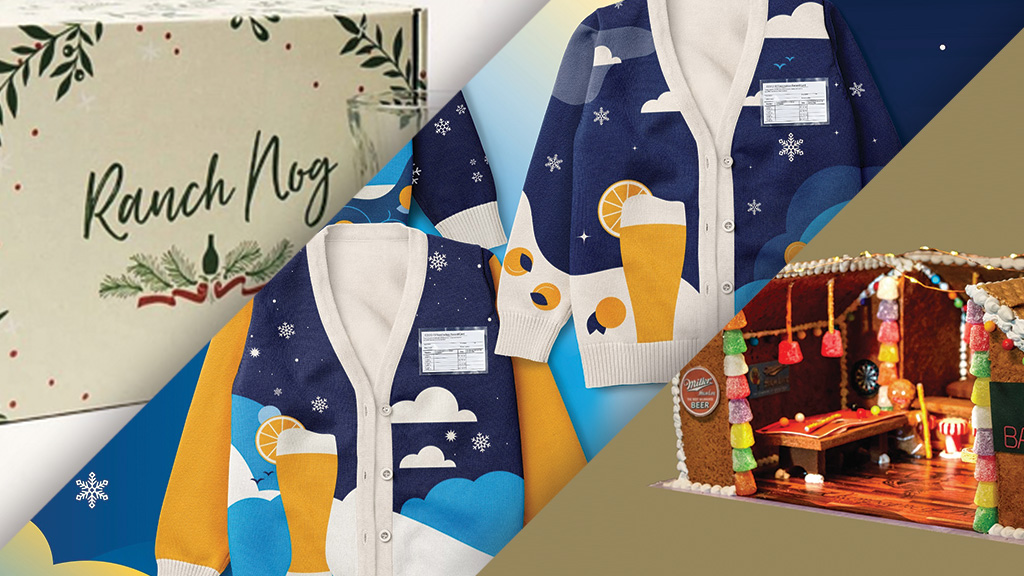 When it comes to the ugly Christmas sweater trend, there's not a lot we haven't seen. Especially from big brands. Progressive Auto Insurance has a sweater with their brand mascot, Flo, on it. Captain Morgan has one with barrels of rum on it. Taco Bell has one with little hot sauce packets on it. Wacky knitwear is table stakes at this point. Nowadays, brands must up the ante and expand their holiday offerings beyond a scratchy sweater to achieve that buzz-worthy moment.
Is it working? Well, we're blogging about them and these gimmicks are selling out but let's take a deeper look at three successes from this season.
Miller Highlife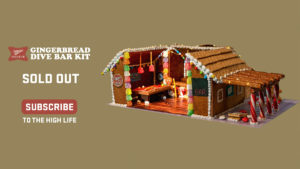 The beer brand took a popular holiday activity for children and updated it for the 21 and older crowd. Their DIY Gingerbread Dive Bar Kit includes a gingerbread bar and pool table, mint barstools, an edible jukebox and even Vermont maple syrup to make the floors sticky like a dive. The gingerbread people were infused with Miller Highlife too. It was available in a limited quantity for $50 and almost immediately sold out.
As "research," I went to purchase one, a process that started with joining an email list that would notify me when the kit would become available. This means that Miller Highlife gained customer information for future digital marketing and it wasn't even that hard for them either! But when I was alerted that the kits were live, I quickly went to the website and there was not even a gingerbread crumb left for me. This only made me want one more, which may be the whole point here. It's an exclusive and timely product that is unique enough to share on your social media platforms, if you were lucky enough to secure it. Because it requires assembly, it's likely you are sharing multiple photos throughout the process – making for strong social media engagement for the brand. Though I was personally devastated, Miller Highlife managed to keep me engaged by running a second chance sweepstakes for the opportunity to win the final kit.
I didn't win that either, but at this point I've been talking about a brand for weeks and I didn't even score a kit. So while Miller Highlife didn't convert a sale, they succeeded at generating plenty of word of mouth advertising and an email address to continue to build on this relationship in hopes of achieving brand preference down the line.
Hidden Valley
The so-called inventor of Ranch dressing is not new to bold holiday promotions. They've done a stocking full of Ranch dressing and even given away a lifetime supply of Ranch dressing. But this year Hidden Valley Ranch (HVR) concocted something so outrageous that we don't know how they'll top it. It's the Holiday RanchNog Kit, which, for better or for worse, is exactly what you think it is. The kit is $50 and includes two HVR RanchNog glasses, a 2.5-ounce stainless steel jigger, two Hidden Valley Original Ranch Salad Dressing & Seasoning Mix packets and a recipe for a Ranch-i-fied take on the holiday staple. The recipe "marries the creamy, slightly sweet elements of eggnog with the savory, cool, and herby flavors of ranch." If that doesn't make your stomach turn, you're out of luck because the kit is completely sold out.
As opposed to Miller Highlife, HVR put their product at the center of the promotion. You'd have to really love Ranch dressing to give this mixture a whirl. HVR finds a way to tap into a tried and true holiday tradition in a new, albeit, zany way. But the brand has primed their base for this. They sold Ranch packets at Halloween for customers to give out during Trick-or-treating. Their brand advocates are expecting something of this caliber to share on social media and HVR always seems to deliver, while making the dressing the star.
Blue Moon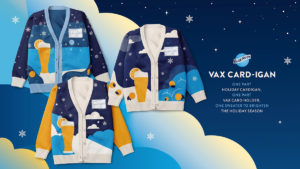 Blue Moon waited until 2021 to release their first holiday sweater. As such the beer brand felt compelled to address the COVID-19 pandemic. Their VAX-CARD-IGAN includes a transparent pocket holder for easy access to your vaccination card. It's very reasonably priced at $20.21 in hopes that this will be the only year that people need to wear them. There's also a charitable angle with all proceeds benefiting the U.S. Bartenders Guild, an organization that supports bartenders during difficult times. The three unique styles all sold out.
It was a strong debut for a brand that has never done a holiday sweater, which as we've mentioned is a saturated market. But Blue Moon managed to give it a 2021 update that felt appropriate for the times. You'll want to share on social media for a number of reasons: 1.) It's extremely of this moment. 2.) It serves fashion and function. 3.) It gives you the chance to show how nice you are by donating during the holiday season.
In Conclusion…
It may be tempting to wave these off as silly stunts that yield minimal ROI, but in commoditized markets like consumer goods, you're almost never pushing for the sale of a product unless there's a promotion involved. Instead, these strategies are geared more towards brand awareness, brand preference and hopefully long-term loyalty. Plus, they are more engaging and buzz-worthy than other shortcuts like a special edition holiday packaging design. The tactics discussed in this blog created an opportunity to celebrate with brands in memorable ways and just may have you eventually saying "It's crazy, but I could go for a Miller Highlife right now."