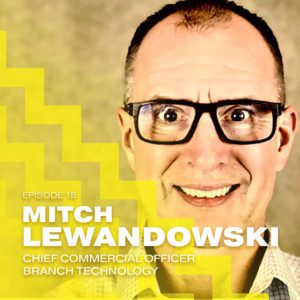 Mitch Lewandowski, Chief Commercial Officer from Branch Technology talks about how to make an impact in the market with a brand new technology by understanding your audiences, understanding their pain points, educating and inspiring them to see greater possibilities in their work. And he even works in a little bit of sales strategy advice.
Episode Links
Find Mitch on LinkedIn
Visit Branch Technology Online
Episode Transcript
Tim
Welcome Building Brands Listeners. For our 18th episode, I'm joined by Mitch Lewandowski, Chief Commercial Officer at Branch Technology. Branch is a prefabrication and technology company that specializes in large scale 3d printing that allows material to solidify an open space creating a matrix of polymer in virtually any shape. In this episode, Mitch talks about how to make an impact in the market with a brand new technology by understanding your audience's understanding their pain points, educating and inspiring them to see greater possibilities in their work. And he even works in a little bit of sales strategy advice. Enjoy the episode.
Tim
If you're an owner or marketer in the building materials, manufacturing, distribution, or contracting spaces, looking to set up your brand for success now and in the future, this is the podcast for you. on this show, we talk about brand and market strategies used in the real world that grow companies and truly connect with consumer audiences. So sit back Listening and let's get to it. All right welcome Mitch Lewandowskiy Chief Commercial Officer at Branch Technology. I'm looking forward to having you on talking a little bit about how tech can factor into a company's position in the market and talking to their audiences. So thanks for coming on. I always start with letting the guest talk a little bit about themselves in the company and how they got to where they're at. It's a nice way to get people to know who you are. So why don't we start there and tell us a little bit more about yourself and we'll get into the meat after that.
Mitch
Yeah, sure. Well, again, thanks, Tim, for inviting me on. It's a pleasure to be here. Again, Mitch Lewandowski at Branch. Well, I guess I started early on and just kind of what got me into just in general business and building materials. So I originally went to school for architecture, and I was drawing this like really, really cool, crazy stuff. Now, I'm a little older than some of your listeners. I graduated high school in 1984. And the joke would be like, how do you get the architect off your front porch? You pay him for the pizza because they're there. In high unemployment, I think it was 18% interest rates at the time I was working for a design build firm. We were drawing like parking lots, and little itty bitty just nonsense stuff. But I was drawing crazy stuff on the side. People say, yeah, people never build that. Okay. But and then over 20 years ago, I actually got involved in the window door business, I answered an ad and newspapers living in Miami. They said they were looking for a high end window door salesperson for a company coming into the market. And, you know, just said, Yeah, that sounds like something I could relate to. So I started working with that company did really well, and then from there, started a window business and grew that skill that and we had a really great run and sold that in 2008, before the market crashed. So some people say that was good timing. I had no idea, you know, please, whatever, and started another one, grew it and sold it and then spent quite a bit of time on the technology side of the industry, as a VP of sales for a software company for this facade space, so spent a lot of time on the product side or revenue focused, and then on the technology side for that space, so it just gave me a good broad understanding for the industry before I enjoy and branch as the chief Commercial Officer.
Tim
Yeah, what is the Chief Commercial Officer? What are you? What's your role in the Branch universe?
Mitch
Yeah, sure. So my responsibility includes sales, marketing, project management, and just overall customer success. So the lifecycle, the lifecycle sales process, all the branding and marketing that comes along with building the company, and then anything that happens if you have a job and it's going on making sure that successful for the customer, that they have a great experience because we are what people see and what we do is everything. So if we have a customer that likes what they experience, they're going to use a lot more of our products and services and tell everybody else not.
Tim
Yet in this industry, there's a lot of repeat business with the type of work that's being Definitely, yeah. So tell us a little bit more about branch. I mean, it's branch technology, but you guys are doing 3d printing, you're getting involved in projects in a different way than most manufacturers and you're working with kind of like, I mean, it's bleeding edge type of stuff you're trying to a little bit right, even though 3d printing is a pretty popular thing now, but you're, you're tackling it a little bit more of a large scale.
Mitch
Yeah, we're doing a little bit different, I guess I should back up and say, branch creates this opportunity to read radically change the way that we make things. The company was founded by our firefighter and co platform, and he came up with the idea of cellular 3d printing, what if you could print an open space? What if you could just use get these little pens right now that you can play around and do that thing? I think I'll do the pens were like that. But what if you could print an open space and actually build structures like the the cells of the human body are built directly They're very strong. If you could do that you could do something amazing. But the technology didn't exist, the hardware didn't exist, there was no software. And it was just something you would like see in a sci fi movie, like how they print buildings and a future city or on Mars, you know, and things like that. So, Platt came up with the idea, developed it, got it into reality and commercialized it so that ideal started about seven years ago, the company's been around for about six years. And we've actually been the first company in the world to commercialize large scale, large format, 3d printing, and it's called C fab for cellular fabrication.
Tim
What type of projects do you get involved with in the industry like large scale buildings, municipal projects, what are you usually trying to work with?
Mitch
Yeah, well, let me let me break it into three general general product categories and then allow you to break it into three different customer types. So yeah, to help you and your listeners kind of get a better sense on that, and again, we're just talking about this I'm gonna try to talk in Word pictures as much as possible. So if you were to say three broad product categories, there's branch clad, stratiform, and seafoam branch clad is anything that goes on the outside of the building. It could be a facade panel, a rain screen, something that's integrated into a giant mega wall panel, where we're able to create this because we're 3d printing and we can do preform parametric, we can create a radically different look on the outside of the building. very iconic, one off type of architecture that would otherwise be exponentially more expensive, slow and hard to do. We can just 3d print that in our factory shipped to the jobsite that goes right on the building. So that's branch cloud. The second is stratiform. Think dizzy Shanghai thing Universal Studios think any big giant kind of theme park when you see all this massive rock work. Well, we can do that kind of look by 3d printing and then infilling with a fire rated film and milling The surface and it looks just like the rock surface, we can ship those and install those in very large pieces on a on a wall or an open environment. And it's very effective from a time and from a cost standpoint. And then lastly is a product category that we call c form, which is our just our open cellular printing or matrix. Or we're able to do large structures, use for giant exhibit artwork, artwork, outdoor pavilion types of spaces, again, on a big scale. We'll talk a little bit more about some of the projects we've done in that particular category in humans, but those are just the main product categories. And then if you talk about the main types of customer spaces that we're in, right down the middle, we have customers that are buying this from us direct where we're, you know, company comes to us, hey, we've got a big building. It's in New York City. We're really trying to differentiate this right now in light of what's going on. How can you help us make this a one on one iconic building. We will take the exhibit structure, it could be an existing project that's built, or it could be something they're going to build, we'll take the existing visual look that they've got. And we will put our designers on it and make it a one off look, give them that truly one off design. Now on the other side, we've got a whole division, we've just referred to a generous partnerships. These are large enterprise level customers. They're saying, Hey, I really like what you guys can do for the built world. I want to use you on 500 projects I want to use you for, you know, X, Y, and Z all the time. And I want you to be a strategic partner with me on a lot of work over here that I've gotten my pipeline. So we're on the enterprise side, and then on the far end, we just refer to it as.gov. And we're very active in the government space, I'd have to be very vague about that. We may or may not serve doing anything that's classified. And I cannot confirm nor deny. But if you could just imagine What could be possible with 3d printing? Let's just say it's out of this world.
Tim
Gotcha. One of those projects, maybe you want to just pick one to start off with, is there a really cool one that showcases the extent of where you can go with something like this?
Mitch
Yeah, that's a great question. Thanks for asking. So just to be brief on this on branch clad, there's a project that we're involved in right now. There's a lot of press out on it. It's the Monroe parking garage. It's in Huntsville, Alabama. And if you look that up online, anybody you'll see the schematics so that that's out that's approved that's in production. We're working with a fantastic architect and a fantastic builder. I want to peel that out of them, they would owe me but a great group of people we're working with on that. It's all over the place. And it's about 10,000 square feet of 3d printed and gfrc panels that go on the outside of the building. And that is one where the city of Huntsville basically said hey, what can you do for us to help us Make this rock stand out. We're revitalizing the downtown area, there's this new parking garage going in, there's a new hotel, we're redoing all these public spaces help us make this look like one of one. And so came up with some initial design concepts presented those I think for to them, they picked one that they liked the most. We aerated that to a final approved design and we went for that. So let's branch clap to them. I mentioned briefly on the forum. One, again, easily available out there in the press called one city of Nashville, you just the largest free form 3d printed structure in the world. It's been out there a couple years, it's 42 feet across, it's 21 feet high. And it's only open 3d printed matrix. And there's no other there's no other sport, you can fold finite element analysis on that. That project is amazing. And another one that's just worth looking at this called design Miami. We did it for our basil Miami a couple years ago and we created three Joe The freeform 3d pads that you could walk under. And those went through four hurricanes. Down there, one of those got moved. It's in Nairobi now is on permanent display. So yeah, those are just notable things we could ramble on. But those are there's at least worth looking up online.
Tim
Yeah, seems like a very collaborative and artistic way to do some of this stuff to you. And I've seen pictures of that Nashville one. It's pretty sick.
Mitch
It's Yeah, well, I would love to have that in my backyard. But they might notice if I grew from Despicable Me, I'm going to steal one cities.
Tim
Well, let's talk about branch technology and how it's approaching the market. You know, 3d printing is a pretty popular technology. A lot of businesses are picking up right now. How Yeah, you mentioned that you guys were the first in the world to do some of these things. Are you trying to enter the market as someone that's on the forefront of the technology for building applications? What's the approach to that isn't tied to like the company mission or anything like that?
Mitch
Yeah, yeah. So I guess Two things that we think about in that particular categories. One is we are innovation and innovation hungry market, the built environment, the construction industry is is, you know, the way it is, it's been pretty much the same for 2000 years, block and tackle brick and mortar, you know, post and beam. And then we're trying to apply technology to existing products, people will come to us out, can you 3d print bricks? Or people are doing that, by the way, can you 3d print have been, you know, things, things like that people are trying to make, apply technology to a standard construction product. But we've shown up and say, Look, we're going to come up with a whole new way to make things and then we're going to be able to make things in a completely different way. So it's kind of like just completely jumped over. If you think about when, when Tesla came out with the electric car, it was like wait, what or when Steve Jobs first announced the first iPhone and it's completely completely defined a sector that didn't exist before. So we really jump across there. When you think about 3d printing today, it's a FDM, fused deposition modeling. And there's a lot of, there's a lot of companies out there that produce the equipment to do that. But it's very slow and is very heavy. So if you print a large object, it's big, it's chunky, it's heavy. We use about one 20th of the material of traditional 3d printing. And if you were to take a brick of that, say, like a CMU size brick of that, it weighs about two pounds, you get the traditional building materials weighs about two pounds, and it can support two to 3000 pounds of compression. Once I take an infill that with a fire rated foam, it weighs about three pounds, and it can take six to 10,000 pounds of compression for a three pound brick bed. So we're doing something that's never done been done before. And we're able to help people accomplish things that were never possible before.
Tim
Is there anything about 3d printing that you think people just have wrong in their heads that they You're trying to overcome in order to be able to prove the different possibilities that there are with this type of product. I mean, that's something that you have to incorporate into all of your sales and marketing. messaging, right. I mean, that is the thing like how do we overcome this really understand what our approach to changing the way we build is?
Mitch
Yeah. You know, one of the things that makes me think of when you're asking that question is, you've seen this like these feel good videos on on online or on YouTube, hey, this guy is getting finally given the ability to see or see in color, and they put those glasses on delivers in color. Yeah. It's like, Oh, my gosh, they're like flipping out. Well, that's kind of like when we show up and we show an architect or developer, what is possible. It's like, Oh, my gosh, can you hold on a second? And they like, go get like five more people and they bring them into the room. So one of the misconceptions is, is that hey, well, 3d printing? Well, yeah, you could make something on a tobacco desktop print. We've got one in the back office. We prototype little pieces to look at little models. And then we come in and say yeah, We've got these giant 14 foot articulating arms that run on 33 foot rails. We've got like a whole slew of these in the factory, we can make huge things. It's absolutely mind blowing, because I've never thought in that particular space. The second thing is, is that concept people don't think it's available yet. We're at con Expo in March just before COVID shut down. We're in the technology. Tech the billion and people walking through seeing like a lot of future tech and they walk around, they see our stuff, like, oh, when's this going to be out? I said, No, you can this is commercially available today. Wait, what? You? Yeah, no, no, this is this is being produced and sold today. No way. Am I yeah. What? So there's that there's a disconnect of this isn't available yet. But it is. And then the last thing I'd say is thinking at getting people to think outside the geometric box. A lot of people again, post attacco being, you know, very squares and rectangles and so forth. And to say no, no, no, you You can draw those parametric freeform designs and build them before it's like a good draw them and then you put it away because you can show it to your client. They say no, that's way outside of the realm of cost. And I need to get an ROI. So now saying no, you could do that you'd go crazy. You can make an iconic structure, you can do it today. How are you primarily communicating this stuff? You mentioned that you were a con Expo. So there's obviously some element of trade shows and industry events are you also doing? And you also mentioned that it's a really big deal to be on site and be able to show people the possibilities or to bring them into your space to to show them where Yeah, what are other ways that you're communicating this type of overcome this type of misconception? Sure. So I'll talk pre COVID. And I'll talk about daring because everybody's kind of head Yeah, so pre COVID. We were doing a lot of national and international trade events, unfortunately, kind of being in the place that you're the first company in the world to do this. We get a lot of invitations. So people say hey, we have an event. In Paris or in Brussels, or in whatever single fill in the blank, you know, somewhere, we will love you guys to come to speak on this particular topic. We love you guys to come and show us what you're doing. Which is a great problem to have. It's not normal. I'm sure not a lot of your listeners are going to be in that particular box. But just being out there and being on the street was a big thing. Lots of architect and developer tours. We were in New York City in January, we had 15 architectural firms in five days that we met with and every every one was a blast to get with because, like, wow, you can actually do this really cool stuff. So and just doing things like this, we get a lot of invites, Hey, can you come and speak on our XYZ? We always do these, you know, we try never to turn down an invitation. We don't want to take that for granted. But you know, webinars, presentations, articles, we read a lot out there. So yeah, we're getting getting a lot of good a lot of visibility consistently. And then during COVID A lot of it's gone to remote. So, you know, I'm in 15 to 20 zoom meetings a week, as a CEO, talking to customers, enterprise customers, customers and just talking through, you know, where we can take them getting that plan planned out, we can actually deliver those results for them.
Tim
Yeah, there's a massive consultation part to this too. You mentioned the strategic partnerships, like, you have to be there to help them understand where you can go with this stuff, too. Even if they've done it once. Like, you know, there's that reminder like, Don't Don't forget to think outside the box because we don't have to play inside the box anymore. And that helps them get to the next step to
Mitch
Yeah, and another thing on that too, even though like we had branch had this really cool one off thing that nobody has, I want to really speak to the listener. And and I say this in my staff, if you're listening to this, you're gonna you're going to remember the statement. Nobody cares about your stuff. Nobody cares. I mean, yeah, we got this really cool thing. I can rest on this things and look at this, I got this thing that nobody else has. But the technicality, the technical part of this is nobody cares about this. They all care about what this does for me. So in all of our messaging, we, we do talk about how this works. But we really, really focus on what this can do for the customer. So if, for example, if we're talking to a developer, and it's, heck, it's COVID, we don't say hey, this 3d printing and all this technology and how this is built and how it's put together, I don't care. But we say, Hey, I can help your building stand out like nobody else's business and be one of one within 1000 miles. He's very interested in how I can do that. So focusing in on what we can do for the customer using this technology is 100% of our messaging on the street and we say that anybody listening on your podcast today, focus on what you can do for the customer. Make sure it's something unique and it's something that they need, not just something that you have.
Tim
Now you know, a lot of Belfry now. A lot of marketing falls flat. When you Don't take the stance of the target audience and you're trying to push something onto them that they don't understand. But what you're really trying to do is match your solution to their problem, but you have to understand their problem and the angle they're coming at. And that's really part of the strategic part of marketing, which goes into how you can craft the messaging and the tone, and what types of content you put in front of them.
Mitch
Yeah, and for anybody who's really wants to dig into that, read the anything in and around jobs to be done theory, pains, gains and jobs to be done. Nobody cares about your stuff. But if you've got a problem you can solve, you got to gain that somebody wants that you can happen to sell that, create that gain or solve that problem. You become a strategic business partner, not a product supplier.
Tim
Yeah, I mean, honestly, that's part of the reason why I have this podcast too, is to put these situations in front of listeners so that I'm just not preaching about brands, creative and how to target things, but you know, what are these companies doing that I'm talking to you to meet the needs of their audiences and start to take inspiration from that and figure out how they can apply it to themselves to Yeah, and then and this stuff,
Mitch
what I'm saying works, the fact that we are one on one in the world of this, I was doing this where we're talking about right now, he had 1015 years ago, when we were in an open competitive environment selling against other people on equal playing field. But everybody was focused on product. Let me tell you, my glasses thicker, my aluminum is stronger. I can go taller, feature feature product feature product, and I like what are you trying to get done? Let me help you get there. You know, we're a business partner, and you're going to give me 10 jobs. Yeah,
Tim
yeah. So let's let's talk about a little bit more about those people that you're working with? Who is the target audience for branch technology? Are you going primarily after strategic architecture and design relationships? Are you trying to draw in building owners so that they get the inspiration to talk to their architecture, their builder, where are you going with that and how are you reaching out to them?
Mitch
Yeah, speaking right down the middle. So the built environment is dot gov and enterprise would be kind of outside the scope of your listener. The the main, the main, the main commercial focus for us, the people that we want to influence first are the building owners and the developers. So if it's a real estate holding company that's got a lot of a lot of portfolio existing on the built pipeline. Those are people that we want to influence what we can bring to the table for them. Secondly, is going to be the architect and third is the builder. I mean, the bottom line builders, I love you guys, you guys are amazing. But you're just Hey, tell me what to make. If somebody if I come to you as a builder, and I try to switch out something because I got something better. It doesn't do anything for you but create risk and pain. If a developer a building owner or portfolio or read has a lot of inventory out there and he needs to modernize and update it. And I happen to have a high performance installation, something that's going to do better for him make him stand out more give him a better ROI increases rents. Fill in the blank. He's really, really interested in what I've got. Maybe he's got, you know, 18,000 units, say rental, residential rental, and I can bring something for him to be more profitable, he's interested and I would really get the 80,000 unit deal and the one guy, and then Atlantis, I'll pick on Atlanta, one guy in Atlanta, that's thinking about renovating a building and using some new product that I might sell.
Tim
So are you those typically the decision makers then or do you need to inspire those people to work with someone else to bring in your type of product?
Mitch
Well, so let's just say we're talking so drilling in further let's just say this is a large retailer that's got a bunch of inventory. The big thing for us if we want to get it if we want to get in front of that big property on boats is probably going to freeze probably not versus a lot of inventory, people that like to mentor. We want to be able to create influence within the mid managers. And above like so for one of the things that we do, and this is again, probably right for your audience. If you want to come in on the front door and bang on the front door, please don't waste your time. I said 30 years ago that the front door is only for vacuum cleaner salespeople and encyclopedia salespeople. Tim, I'm looking at you younger. What's that? Right?
Tim
Encyclopedia baby.
Mitch
Come on, man.
Tim
I know the Dewey Decimal System. I don't use it anymore because it doesn't exist really.
Mitch
But I use all 24 letters of the alphabet most of the time, okay. There was extra ones that no idea where those
Tim
I learned cursive when I was a kid.
Mitch
I don't even know what that is, as we were in Roman numerals I'm so old. But um, you know, going in the front door is absolute waste of time. So for your listeners, please don't do that. I would say encyclopedia and vacuum cleaner salespeople. The side door of a house is reserved for friends and relatives. So you've got to get in the door. You've got to figure out a way in today's technology environment that will work in LinkedIn. is a fantastic place to build relational equity within an organization. You know, sure you can find the CEO on LinkedIn, do not connect with a CEO. Although I use the decision a lot, he don't care. He's not going to connect with you. But if you get middle management people, you start building a network with a middle management people just getting that just connecting with them getting another don't pitch them. A lot of people fatal mistake. Hey, my name is Bob and I sell installation. I would love to seven point, delete. Mm hmm. Hey, my name, my name is Bob. Hi, Bob. So he'll be here My name is Bob would love to connect with you see a lot of great things you guys doing. Do not pitch them anything. Go to middle group build up a network of people within that organization. The next time you circle around to them. And if you're using a good CRM, I highly recommend Salesforce, great plugins. There's lots of ways to do that with with with LinkedIn. The next thing you want to do is send them something of value and it's not something of value that you're selling. something of value that can help them. If they can get just get their feet. Hey, we'd love to see what you think about this. I think you guys could use this, I do a tremendous amount of goodwill. When I say goodwill, people call me all the time, hey, I'm looking for a guy, I'm looking for us person, a guy or girl, I need a supplier for XYZ. I'm always happy to help somebody because if I'm getting goodwill to them, and I'm giving them something later on, if I need something, it's really easy for me to ask. Also, if I see that you need something like you're saying, hey, I need to talk to you about this. Sure. I'm happy to do it. So I'm giving you something of value later on. If you if you need something, you see somebody that can help me, you're gonna say, hey, let me connect those people up. So connect with people offer them something of value, not from your company. Just a good article. I train people on this all the time, send people great articles that are relevant for them. Hey, in COVID this was going on I saw this thing about what people are doing to address that today. Just thought you'd like it. Nothing. Right? And then if you circle back around later, you got to write to ask them something Questions, or to get to understand something better because you've connected, you've left some time you give them something of value, and then you circle back around. By that time, you may have 20 or 30 connections with that organization. If somebody looks at you now, oh, there's 500 people, my company's connected to 23 people, he's an insider.
Mitch
You You're no longer coming through the front door.
Tim
Yeah, on that side door. We call a lot of these tactics like the mid funnel tactics, right? Yeah. You know that that article sharing whether it's an article that the company that you represent has has written or if it's something you found, it's industry related, that they would understand. You're building up a library of things that you can use as touch points that can gain interest metrics.
Mitch
Yeah. And you can run it off through a CRM.
Tim
Yeah. And you can run that on a website through Tag Manager and funnel tracking through Data Studio. So you got all these things where marketing and sales in the middle of the funnel intersect a little bit and they can both get tracked down into where you're Getting into your conversions and things like that. But it's important to have those pieces you can't share articles from your company that might relate to someone if you don't develop that content. So it's right, you always have to be thinking, and you should develop the content based off of the pain points of the audience and not make it just about bragging about yourself, which is what we talked about a couple minutes ago. Oh, all day long. I mean, I remember 20 plus years ago, when there wasn't that much content out there, because you just had to, you know, there just wasn't the content level that there is today, we would go and just have white papers done up. Hey, I need you, Mr. company to write an article about X, Y, and Z. It's just an article talking about the problem the industry. Now I don't need to sponsor me, I don't need my name and I just need to get content out there. Then you can use it. But yeah, get it get good, relevant content, get it in front of people get the conversation we often talk about being a thought leader. If you can get the conversation going about, about something then that's what people are talking about. or as a One of one of my very good friend said a long time ago, when somebody hears something they can't unhear it. If it's a value, they'll remember, it's a waste of time. Who cares? Is that how you view branches approach to the market is trying to be the thought leader, if you're going to bring in this new technology that's flexible, that people have to learn about that you should also be the one that's speaking about those things regularly so that they find when they go to vet you, they find all the surrounding content to make it make sense.
Mitch
Yeah, actually, that's a great point, john McCabe, he's my director of marketing, communications. He talks about that all the time. We need to be the thought leaders. We need to define this because if we don't somebody else will. You think about large format 3d printing. That's like, Hey, we're going to talk about the color nine. What?
Tim
Yeah, you might also think like large format printing it's Oh, they just have a bigger printer than we do. It's Atlas. Yeah, exactly. A bigger brick are bigger a bigger beam than we can.
Mitch
Yeah, I need a second. Yeah. I want something 50 foot by you. They're like, Wait, what? Yeah. So you've got to make sure that you're defining that conversation. Because if you don't the market will mean there's words that you say right now. Kleenex. You think you say the word Oh, I need some Kleenex. Well, who did Kleenex is a brand? It's, but you don't say tissue. I'll give you a tissue. I need a Kleenex. Kleenex did a really good job of defining the conversation for everybody to start talking about. You can look something up online. What do you say? Google it. Google it. Yeah. You don't say oh, I'm going to do a word search on a no, you just Google it. So if you if you define the conversation, you create the thought leadership, people are going to be talking about you. So if you're doing any kind of building products, I don't care what it is building insulation, skylights, windows and doors, floor heating systems to find the conversation, your target market, and then that's what people are talking about.
Tim
Yeah. And knowing the market allows you to do that too. Oh, yeah. Is there any specific marketing channel that stood out as successful for you guys? Is it that content through digital ecosystem or is it more the trade show network side of this where which channels performing the best for a new technology?
Mitch
Well, it's kind of funny. I mentioned LinkedIn, I find I find that LinkedIn is a fantastic place to be the dominant. And I tell people that LinkedIn is the Facebook for business. You can use, there's a lot of resources out there. And there's great things like Instagram and stuff like that. But if you look at the sheer size of the LinkedIn, in ecosystem, and if you say, Okay, I'm a Product supplier or solution provider in a given vertical domain of this thing that I offer, all of my customers around there, every single one of their employees are on there that 99.9% of employees are on there, and I have free rein and access to get to get in to get relational equity with those companies and with those employees. He's that I don't need this thing that, oh, let's buy this email list. That's four years old and half the people aren't there anymore. And then I'm going to dry email market them. Forget it. Don't waste your time. Don't waste your money. If Tim sells you an email list later on, just remember what I say cuz he's gonna edit this part out anyway.
Tim
Never, ever. So when people call me hate it, we scrub lists all the time. And it's exactly there's 60% of the people that can't validate. And you know, who knows who's email still active, but they don't want a company anymore. It's just, it's not right. Yeah. So
Mitch
I think LinkedIn is just a great place to be again, depending on what you're selling. If you're b2c, this is much different. A different marketplaces, different methodology. I'm not here to speak to that. A b2b, build your brand Viet build your brand and build your identity in LinkedIn. I started eight years ago, so I'm probably at the far end of the far end of like ninja sensei. on that, but I'm speaking from experience and it actually works. I had a guy that worked for me at my previous company, he came to work for me, great guy coachable. He had 221 connections on LinkedIn. And I'm like, whoo, we got some work to do here. Let's work on this together. He reached out to me, the beginning of this year, Hey, I just surpassed 3500 people on LinkedIn. And the guy posts content. He's always commenting on things. He's pulling things forward. He's grabbing articles that are relevant. He's tagging people. He's very active on that. And so in his space in his domain, he's a thought leader. He's an influencer. He's a trusted adviser. People know that he knows what he's talking about. He's probably the most influential guy on LinkedIn right now, in that space. I don't want to take credit for it. He took what I showed him and he ran with it, but he's just completely slays it in that particular vertical right now. And again, whatever you're doing, you want to be the number one or not Number two most influential person out there. And LinkedIn, it's just a fantastic, fantastic way to do it. And you don't have to be spending thousands of dollars in advertising, no offense, by the way, any of those people that sell any advertising services. But a fantastic place to be.
Tim
Integrated Marketing is a lot of different things, including some paid stuff, but you have to have some of this this thought leadership content generation and networking stuff to you can't just pick one and then hope that it performs better than than the other ones.
Mitch
Yeah, I'm a guy who's been doing this forever. I can do a lot of this stuff blindfold and I can sit down with four people tell me exactly what to do. Most of your listeners are listening to me like I have a third eye and they can't even see me right now. So this stuff works. You get a team around you get somebody to do it for you, but do it. You know whether you're doing it yourself, or whether somebody is doing it for you, you'll get these kinds of things going because whatever you spend this matter, people's all marketing, almost spend money in marketing. Whatever you spend, if you're focused on the things that make a difference. You're not going to care in the end. Yeah, I've seen people all they spent like $14 million in market. But you know what? They did $385 million in business. So they're feeling that was just line item, you know, but they didn't they didn't start there. It grew their business because they're focused on getting the brand awareness out there.
Tim
So how are you primarily capturing your leads? Is it web based tradeshow based? Is it direct outreach? And you because you're doing a bunch of different activities? Where Where are you seeing the best performance in what what type of were you capturing people? Do you need the consultation? Do you just need a meeting? As a form? Like we're How are you pulling people into your world?
Mitch
So again, we pre COVID we were doing a lot of events you can get we were getting invited to events or we're going that we were paying to be in events, but a lot of in person because then you can show catch and see something. Mm hmm. Because that because that's changed. We're Doing we're doing a lot of things on LinkedIn, lots of things just like this podcast, workshops, seminars, conferences that they're looking for guest speakers on sort of getting our discussion out there. We're a big proponent of creating inbound demand. You've probably heard that term before versus out, just straight out. So we're minimal on outbound. But we're really great on creating inbound demand. So when people see what we're about here, oh, so then we get a lot of incoming, you know, that people are reaching out to us on LinkedIn doing website inquiries. Hey, my name is so and so we just got a meeting this morning, with a company in Europe doing a major project that they saw through, excuse me, they saw what we were doing. Say, I see what you're doing this could really really work on a project we've got going on right now. We need something before the end of the year. Can we meet right now. So we get a ton of that during the week. So we go through those we vet out those we prequalify those To make sure that somebody is relevant for us, we anybody who think is not we discard say thanks, love you. That's not our market. We don't chase something that's not not the right kind. The ones that are, we always schedule an initial discovery call. And because we're in this ecosystem right now, listen to me people do it as a zoom video conference because you're trying to sell something. So you want to be in front of the person to visually have a conversation with them just like you would normally go visit them in their office. Do not do a call, do not do a phone call, you're going to do it great. Knock yourself out, but you're wasting your time. You've only got one first chance to get in the door. And if that person is going to potentially spend money with you, pull out all the stops, set up a zoom call, get in front of them, set up your lighting, get your audio working, right. And if you go talk to Tim, they'll tell you exactly what to do. He's got a killer studio. They're better than mine. Get in front of them. Have a discovery. Call, find out what they're about. Find out if it's something that you can help with them and then navigate that forward from there. But if you don't do that, you're starting out with it with a phone call or just a bunch of emails back and forth. It's really, really difficult to then upgrade that relationship later on. I say this to our staff all the time. If you keep it this and keep it disappear at a distance. And then you want to ask for a sale. The gap from very stoic and distant here to I want you to buy from me is a big jump. But if you start out and you set the temperature in the room, great article, by the way, I'm going to self promote, are you a thermometer or a thermostat? It's on LinkedIn, I did it four or five years ago, it talks about you setting the temperature in the room. And if you set the temperature in the room that we're going to start engaging like this. The relationships going to go closer and closer, closer, then from almost a deal to a deal is just one little last step versus distant, distant, distant, and then a Wi Fi for me. So anyway, I'm gonna
Tim
I'm hoping And the silver lining from this pandemic experience is that people are more open to that too. We should all be set up for that now. So when it's not going to be so jarring when someone says, Hey, let me send you a video conference instead of let's set up a phone call. And that opens up a world of difference. I mean, body language is 80% of communication. On top of that, you can do screen shares and videos. I mean, it's just a different way. Yeah, it's gonna be so much better and, and in the b2b world, I mean, you see this to doing international work to, you know, this opens up being able to have more personal conversations with people that are further away from you, too. We aren't doing a ton of b2b business in our little geographic areas, and working with people across the country across the world. And you have to be able to communicate better and video helps with that.
Mitch
Absolutely. And if you're listening to this, this podcast right now, please, please, please get really really good at doing zoom and teams mean by a couple things. And actually did a workshop on this in my last company and at my current company get a good microphone x. Funny thing is Tim and I are using the same microphone I'm not going to tell you what it is sent him a message he'll tell you what he's using it a good microphone, get an X terminal camera don't rely upon the camera from your computer because it's pointing up at you. It's showing the ceiling it's rookie get a camera that's straight shot at you. It's a good backlighting to where you're getting good lighting on your face. So if it looks and sounds right, people, oh, well, everything else makes sense. If you got shadows and your sound sucks, your audio quality sucks. People are going to then assume that everything from you is at that same level. So do it super Pro, figure it all out. There's all kinds of stuff content out there to help you. Again, there's guys like Tim mentary knows what they're doing. Sorry, I'm too busy. I can't help you. But uh, there's ways to make you look great and sound great and feel great from that very, very first call.
Tim
Well, and we're talking about generating content to you. So that same type of equipment can be used for generating content for LinkedIn where you're doing small videos about all topics related to your company and industry. So all we actually, before this started before people were forced into having this type of equipment, we used to actually send cameras and microphones to our clients when they started working with us like, Oh my gosh, you know, look, it's part of your welcome pack. Here's some cool swag. Here's the camera. Here's an IO thing. Get it set up. I'll see you on the first video call. I love you, Tim. I love you too. I can
Mitch
be a big big group. Dude, we used to and my old company true story and I've done it at this company to we're starting out with a new customer opportunity. And oh, yeah, I don't have a camera on my computer. I have a workstation. I would be on Amazon as we're talking which making sure I have their address. And I'm sending them a camera best 50 bucks ever spent. Yeah. And I did that multiple times of say, hey, you go package I'm just saying hey, got a package arriving tomorrow. via Amazon. Good Do like the same day or next day or whatever is super fast pay the extra 10 bucks. Because on a major enterprise level, do I want them to plug that sucker in right now? And you talking to me? Yep. And again, or am I going to wait for them to get a camera? Am I just going to decide for them and if I send them a camera, they plug it in what happens is now they can engage me. But the second thing is they're following my leadership in the whole navigating the sales process, you know, what is it the challenger sale, teach, tailor and take control, you start with control of the situation and you manage that forward, they're going to follow you to the close. And we'll get into sales tactics as a
Tim
workshop. Nice, nice little tangent but also was based on technology too. And that tied it to generating content which matches our conversation as well. All in type in terms of generally, regarding the building materials industry, I know where you're probably going to go with this being the company that you represent, but where do you see the building materials and building products industries shifting over the next few Five to 10 years, how are they going to have to adapt with the market?
Mitch
Man? That's a big question.
Tim
It is.
Mitch
One of the things is, is that the way in which we one of the things that Costco is teaching everybody right now, the way in which you've done things, no longer works, you have to be radically different and adapt to this new normal, this new market, whatever you want to call it. That's a good thing. Because people were a lot riding on the good ship lollipop for a long, long time you think it will be able to visit the greatest economic expansion in the history of the world, and what the past 10 years ballpark or something like that. And so we're printing money, we went through the 2008 mortgage crisis, and then it's been kind of up since then. So people are thinking radically different. They're having to adapt. It's going to cause the construction environment and the building products industry, to hopefully press in on being radically different and innovating. So you're going to see people like with this 3d printing as I told you I had a meeting offline at a meeting with a major, major company in the building products. Interesting yesterday at the end of the day, CEO, hey, I'm interested in understanding more about 3d printing, what can you tell me? Now I don't have something to sell him. But he's a he's a friend. And I'm here to help him. So he's trying to understand how can I use 3d printing in my space. So you're going to see a lot more 3d printing commercialized 3d printing for construction products, because costs are going to go down. Speed is going to continue to go up. It's going to be make more sense to 3d printed than using traditional methodologies. Yeah, speed to market is a theme that keeps coming up very often on these episodes. You look at solar panels, solar panels went down like 90%, constant 10 year period, people were buying it back then. You know, and now it's like, you know, cheaper than water.
Tim
Yeah, there's companies just setting up their own solar farms next to their factories because it's just so easy to acquire a grid and have it connected. The units all day long. And then you did touch on some of this stuff during our conversation so far. But is there one thing you can let everyone consider what they should be doing for their brand right now too?
Mitch
Yeah, yeah. So in light of CO and now kind of it picks the winners because I've got friends that are completely out of business, then I know that people that can't keep up with production. Okay, so so setting that all aside, I'm trying to see through all the noise of that, you know, if you're out of business, because because you can't legally open unless you're competing with the government, which is a bad idea, by the way, always lose. Or if you're, you can't keep up with production. Yeah, that's all that's all. That's setting up. All that aside. The number one thing that I feel that people can be doing for their brand is getting their head around. What does that customer really, really need? And I talk again about pains and gains from the jobs to be done theory. What's the biggest problem or problems that they have? What are the greatest thing that they would like to accomplish, and then center all your narrative around that we would go in my previous company, which you guys can look up, we would go and we sit down with a major, you know, companies doing a billion dollars a year business and we would say to them, quote, generalize this though, Mr. Customer, Mr. prospect, we see that the three biggest problems in this industry are x y&z Would you say that those are your three biggest problems? Or would you add to or change the list? 99% of the people 10 would say yeah, that's exactly me.
Tim
But you have to know it. You got to know you can't give you the homework up front as
Unknown Speaker
if you walk in the door painful. If you walk in the door, you say hello. So Tell, tell Tim help you to understand what problems you're having. You've already lost the game. You've got to tell them. Tell them this is what we see is the problem or this is what we see as the opportunity does this sound like you? If you understand what it is you already know the answer. Now strategically only talk about problems that you can solve because if you talk about the Hey Problems are that you know that everyone's jumping on planes parachutes unless you're a parachute maker. Don't talk about that problem. If you haven't even parachute maker, I've got the greatest news for you, Tim, the problem you've been having with all of your paratroopers, I'm here to self, great, best day of your entire life. So yeah, define the problems, make sure you understand it, define it with a customer opportunity and make sure you can solve it, because then the roads lead to your products and solutions.
Tim
I mean, what everyone forgets is that in marketing personas get a bad rap. Because there's this notion that personas are just like, Oh, it's a 45 to 65 year old male who makes $150,000 a year in an urban format. But the real value of doing a persona the right way is digging into the pain points. Yeah. But And to your point, the second half of that is the claims analysis. If you can't claim the thing that you can actually do, and match that with the pain points, then you can't develop the position messaging and that's what It feeds into your sales processes and your marketing collateral. So they let you know that those are starting points for any real sales and marketing initiative because it's going to go into your website, your print collateral, all your messaging and your sales team is going to pick that up and they're going to run with it when they have these conversations, like you're talking about it with the prospects.
Mitch
So yeah, now Thank you for watching that a lot of people listening right now might even be like what's personas now? Let me ask you a question. Flipping the script on you. By the way, this is not this not delete this out. Do you guys help your customers work on persona planning?
Tim
Yes, hundred percent. Usually before almost anything we do, including what people would think is a basic project like a web website, what is actually the most important project because a lot of almost all of your activities funnel from print, media and digital to the website, which is your conversion tool.
Mitch
Okay, so anybody who's listening to this, go get 10 get a minimum consulting gig of what it's like. It's like, I think you guys start at 8 million a year minimum on operation. Yeah, that's just what 8 million is gonna be a million peanuts. I'm not sure. Okay, so if you do that, that's great. That's fantastic. Yeah. Because if once you've got the personas figured out, then all your branding, all your marketing can be around what problems they're having, or what what do they want to gain. And then then it's all just a matter of, you know, lining up the deals and taking their money and helping them grow.
Tim
And sales is very useful for sales. And everyone forgets that when we bring this up, that we're not just doing this so that we can do a better creative remarketing process for you. But you can also take this information and really dial in with your sales team and craft that perfect message. So that's a really good one. I'm glad you brought it up. Perfect. Is there anything you know, regarding branch technology or any of these topics that I didn't poke you at that you're dying to get out? Or did we cover everything?
Mitch
How long is a piece of string Tim? Yeah, well start with just you know, thanks for the invitation. It's a blessing to be here. And I love the way in which you're thinking about this. And again, I think that you're really trying to help your customer base, run a better business, and anything that your customers can take out of this, that they can help them grow their business, you know, great, you know, and like a branch. It's fantastic opportunity for us to disrupt the industry and to do something that's never been done before, you know, to help enterprise, you know, companies and individual companies do something that they didn't think they could do for 10 more years. So it's a blast for us. We're thrilled to be a part of the process. Cool. And now's your time to plug your LinkedIn and how do people can find British technology online? Sure. Thanks, Tim. Easy to get their branch technology calm. That's super easy. And you can also find us on LinkedIn and you can find me on LinkedIn. I've got you can. You're welcome to connect with me. You can be one of my 10 or 15,000 closest friends and follow the things I do Mitch Lewandowski liwan toski, phonetically Chief Commercial Officer at Branch Technology.
Tim
Awesome. Well, thanks for coming on. This was a great conversation. I'm looking forward to the episode coming out. If you're interested in hearing more stories and strategic insights from industry experts, please subscribe to the building brands podcast on Apple, Spotify or Google. If you've enjoyed this episode, please post a review and share with others who may be interested as well. Thanks for listening