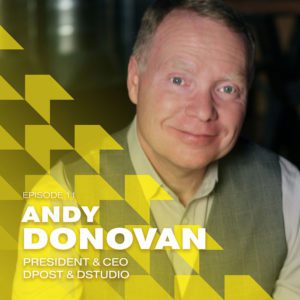 Andy Donovan, President and CEO of dPost and dStudio in Buffalo, NY talks about how video can provide extremely engaging creative as part of an integrated marketing strategy, how to approach this type of production, and the value that you can get in return depending on your objectives.
Episode Links
Find Andy on LinkedIn
Visit dPost Online
Episode Transcript
Tim
Welcome Building Brands listeners. For our 11th episode I'm joined by Andy Donovan, CEO of dPost and dStudio here in Luminus' hometown of Buffalo, New York. dPost is a full service video production and post production company offering major market services and amenities that are convenient, cost effective and ego free. And they just happen to have an amazing 15,000 square foot soundstage connected to their studio. In this episode, our conversation revolves around how video can provide extremely engaging creative as part of an integrated marketing strategy. How do we approach this type of production and the value that you can get in return depending on what your objectives are? Enjoy the episode.
If you're an owner and marketer in the building materials, manufacturing, distribution or contracting spaces, looking to set up your brand for success now and in the future, this is the podcast for you. On this show, we talk about brand and market strategies used in the real world. Grow companies and truly connect with consumer audiences. So sit back, listen in, and let's get to it.
Okay, welcome to Andy Donovan, the CEO of dPost and dStudio here in Buffalo, New York. Background on Andy. He's one of my friends in the industry here locally. And personally, I consider him a mentor with how much we talk over the last couple of years and him helping me with my business as well. So Andy, thanks for being here. It's awesome to have you on the podcast.
Andy
Well, thanks, Tim. It's great to be here. Thanks for asking me.
Tim
Yeah, I always start with letting the guests introduce themselves. So why don't we dig into your background in marketing and video production, and you could tell us a little bit about the post and how the studio came about.
Andy
Great. My career path actually had a funky start. I began in this industry as a crime scene photographer. So I would go out I was the guy that would go out at 230 in the morning, and take all these grisly pages. And things for the local DHS office. You see,
Tim
I didn't even know that. I'm learning something already.
Andy
There you go. Well, I can tell you, you know, when you're 23 year old guy, it's kind of cool, for the most part until the one day where it absolutely isn't, and it's not cool. So it took me about six months, and I decided that I was no longer fit to be a crime scene photographer. And that's what led me to video production. I had some friends in the industry, they were looking for an editor and invited me to join their staff. With my photography background, I was able to transition into a cameraman, and then I learned editing and producing skills, and I worked for that studio for about 10 years. I then transferred to another studio here in town as an editor and a producer. And after about five more years, I decided added that it was time that I opened my own shop. And that's when I opened D post a post production Video Studio. And a few years after that, I added production component called D Studio. So D Studio and D post work hand in hand, and they offer all services for video production. It's been 20 years since I've opened my doors at D post. So we are we've been doing great in the industry. It's a creative field. And we have got a terrific staff who supports many of the creative endeavors that we do.
Tim
Yeah, talk about the team real quick. What type of services do you offer is that part of the de post suite of Creative Services that you're working with your clients on? I know it's not just video production, you have a couple of extra skill sets that you can add to the mix to that help move projects into even even better spots. than just a typical video production.
Andy
We typically offer to our clients a full array of Advertising Specialties. And we do everything from ideation and project management, to filming, to post production to editing, to sound design to musical orchestration. We do animation, both 2d and 3d. And we really pretty much offer a full comprehensive package for project based thing.
Tim
Yeah, and with project management for this, you're not just talking about moving projects along you've got things like finding talent, location scouting, and the whole nine that goes along with that.
Andy
Exactly. A lot of companies turn to us and say, here's what we have need for Can you help us figure out what will best fit into our marketing strategy, and then how we can do that within a proposed budget. So we do everything from coming up with the ideas that we generate the traffic flow to their websites and to perhaps the retail organizations.
Tim
What makes dPost kind of stand out against other video production companies? I mean, there's a ton in the country, right? But you guys have a pretty lengthy history now and and you've worked with everyone from individual corporate brands, small shops, small businesses, and even advertising agencies. So what kind of sets you guys apart in the market that'll help give the audience an understanding of, of what makes you special, and then we can kind of go from there.
Andy
So I think that what really separates us from other video production companies is the fact that we do. We're not just an execution shop. So a lot of video production companies wait until somebody else does the creative does the script writing brings the ideas in and they turn them over for someone to execute that creative, and we do plenty of that. But we also do a lot of the ideations a lot of the thought behind did a lot of the branding principles that we know we can apply into that as we help to elevate others brands.
Tim
Yeah, sounds like a very collaborative process that that is true it is. And you even have to pull in and make it work when you're looking for actual production into your production network when you're shooting out of town, or if you need extra hands on set. And that's probably an area where you can really help bring projects together too.
Andy
It is in fact, over the last five or six years, we have done more out of town productions than we've done in town. So we have an ever changing schedule, where our producers and our cameraman and their directors will be in different cities working on different projects all over the country. And what we need to be able to identify is personnel on the ground in different regions that we can call upon who fit within our standards of completion, our standards of creativity and put those into the new Well,
Tim
yeah And the interesting thing about your location here in Buffalo is you do have the studio right next door to I know you've had clients and full production teams fly in, even just because they can find studio space, I mean soundstage studio space somewhere else in the country. And they're able to work with you at the same time doing quick edits for the creative directors and production directors.
Andy
That's right. And what really makes that work for other creatives when they're coming into town. It's an easy commute from just about anywhere, and we're an hour from Manhattan. We have a lot of clients who will fly in in the morning, and will be saying to us, I spent less time getting to your office than I would from to get to my office in Manhattan. It's easier to get here than it is to go there. So because of our proximity to Canada, in particular, Toronto, a very big Metropolitan City with lots of marketing and advertising needs our close proximity to New York City, as well as some great hubs like Charlotte in the southeast, we've been able to bring in a lot of clients that are not necessarily based within a 100 mile radius of Buffalo, New York. We have been over the last few years developing our entertainment based production side, where we are doing more and more feature length movies, television series, television programming, and we find that people from the west coast are saying the same thing. It's easy to get to Buffalo. And what we're able to get here is nearly unattainable for a comparable price in LA or San Francisco. And I think that what drives some of that is the cost of living here is drastically different. So even to have a comparable 15,000 square foot studio in LA or San Francisco, the rate of that is so enormous that the day rates to rent those studios are huge as well. So we're able to offer it at a competitive price point with the same creativity that they can get elsewhere in the country.
Tim
Yeah, not to make it all about price. But that's a very advantageous thing for people that are scared to do video work or advanced production because of the cost associated with it. And if there's a way to actually find a more affordable way to get the same quality product, not sacrificing any people that need to have on set or actors or bringing everyone if traveling studio space is less than what you could get locally, why not just take everyone to a different spot, produce the same quality work and save a couple bucks at the same time?
Andy
That's right. Agreed. We had an interesting project that we did late last year and the project would be a perfect project when everyone thinks of Buffalo we all think of snowy weather. And we had a client who was out of Houston, and their ad agency was out of Pittsburgh. And they were looking to film a commercial that involved. The backdrop was a snowy day and house. We needed to find a snowy house and it was decided that the best way to do this was to shoot it in Orlando. And the reason for that was because there are plethora of snowmaking companies there with the expertise. So if we were having an extremely warm December, here in Buffalo, we didn't have to worry about finding snowmaking companies that could come in in December here. We were able to easily find them there. And that's how we ended up producing that. Well speaking of client work, I know you've done some name worthy work in a lot of different industries. This podcast talks a lot about the building materials and building products and retail builder industries. Is there anyone that they might run recognise that you've worked with that we could poke at a project real quick before we talk about video a little bit more high level. Sure, we've got some great clients that we work with. But in the the building industry, I think that the, the best example of some project work that we've done would be for Lowe's, they have been engaging D post in D Studio for a little over a year now. It's been a great relationship. They're out of Charlotte is where their headquarters are, but they're very happy to spend some of their time in the northeast in Buffalo to produce many projects.
Tim
Yeah, what, you know, without going too specifically is their books to describe the type of project it was, how are they incorporating video into or what why would they come to a video production company? What type of video are they looking to produce?
Andy
So when we work with Lowe's, we work with their online video production team and as part of their marketing department, and they've engaged us with four different types. have online videos. So in the past year, we've created a series of reality tool challenges where professional construction workers are contestants and they battle head to head in a time race to complete tasks that demonstrate various properties for tools from their retail partners. So it's like an obstacle course that uses skill challenges to highlight the tool functions and advantages.
Tim
Yeah, so you get a little bit of product placement, it's good entertaining content, right?
Andy
Highly produced, we come up with these, these crazy looking skills courses where they have to run and take care of all of these things. And much of it is really based on challenges that the professionals find out in the field trying to find tools that do multiple functions, or trying to you know, is it is a battery operated tool the only option because there's no electricity on a demolition site. So those are the things that we bring into each project is the thought behind that. And we we engage with professional contractors to find out what is it that you find to be most challenging with tools? And how would you like to see them perform. And through that information, we're able to come up with these elaborate tool challenges that they have to perform. So other projects are designed to call attention to Lowe's focus on pro builders and the many services that Lowe's offers to them to assist with their companies in their businesses. The focus for many of these videos relate to Pro Tools and those attributes and how they make them reliable for contractors and construction workers for the grueling punishment that they put them through every day.
Tim
Two things one, Lowe's is a great company so they obviously have their stuff together, but you know, they know who their audiences is that they're trying to keep engaged. outside of just bringing them in for sales and new products right there trying to just engage them and give them something to keep those in front of them that they enjoy. That's right. So that's, you know, that's knowing your audience and understanding what they will respond to, and then building out the content for them. Yeah. And then to I'm wondering, did any of you guys try try any of these challenges? Oh, when they were set up.
Andy
In fact, we, we like to record them and then we played them at the Christmas party to like, have sex watching as people were, you know, using these, these great tools, hamper jackhammering through concrete cylinders and things like that. So it was pretty entertaining to watch. I'm assuming it didn't go quite as well as the pros. You know, the pros make it look really easy and then an application. It's not as easy as they make it look. So it's been a lot of fun. Another style of video that we do for Lowe's is a how to series and what they do is they introduce new and innovative products. And how to put them into application. So even things that have been around a little while but are popular, people are looking for information on how to install vinyl wood floor plank flooring. So we'll do a 15 minute how to video with a professional installing step by step and can be used as a guide if you are a do it yourselfer or a pro, looking to tackle some new new products. So that's another great area that they're using video for.
Tim
They have been quiet educating customers and and those types of videos now are even more important. I mean back 10-15 years ago it was blogging it was having a photo of the product and writing out how you can use it step by step instructions how to articles and what's happening now is that that content still exists but once it's being written and produced as videos and then it's being transcribed as as content to complement the video and then post it online so it can be taken into multiple types of channel. like YouTube, the website social media, but then on the website, you also have a landing page with those how to instructions also written out to complement the video, which is just good content building and optimization opportunities too.
Andy
Yes, agreed.
Tim
So that kind of brings us into another aspect of, you know, video is very important. Not a lot of people are doing or should I say not enough people, I believe are doing it.
Andy
What makes video so important to having a good creative plan for integrated marketing campaigns? why it's important is you're educating your consumers and you're getting to know your consumers, a company can look at you and say, here's who our customers are. But now let's break that down into subsets. We deal with construction people, but we need to be able to deal with all different kinds in all different places. And when you boil it down, there's such diversity in your audience. And it's important to know what that diversity is. And it's even regionally. There's things in Some areas that are more important than others. In the Northeast, we're dealing with extreme cold temperatures. So everything has to be thought of with that in mind in the southwest. It's extreme heat temperatures in the Northwest. It's a rainy, wet climate in the southeast. It's a, you know, a humid, wet climate as well. But it's it's a little bit different. So understanding what that diversity is. And what those needs are, is something that I think if you're looking at at doing this type of online work, or these types of videos, you need to understand who your audience is, and then speak to all of them, maybe not in every video or in every instance, but at least have something that pertains to each each one individually.
Tim
Yeah, and using them online, especially digitally in social channels. You can target those regions so that you aren't having overlapping content that's not relatable if it's seasonally dependent or or climate dependent. Sure. And that's, that's just another reason to do that type of tight demographic content that you can really relate to people. I mean, marketing is all about putting situations in front of people they can relate to you and then find an answer within that content that they want to act on. And this is a great way to put something that's way more relatable than just a still photo, or an ad or text based post or a PDF download or something like that. It's way more engaging.
Andy
We are a very visual society, and people have gotten so used to seeing videos, whether it's, you know, on television, of course, on the web, yes, but we're seeing it at the gas pump. We're seeing it, you know, certainly on our phones, but we're seeing it in the supermarket or in a retail store. We're seeing it everywhere, and it's very compelling. It The old saying a picture is worth 1000 words is true. And if that is drew a video is worth a million words, because you not only get to say, but you get to show and demonstrate. And you add all of that movement that makes it visually appealing to everyone. When people see videos, when they see content like this, they are more engaged, they are more likely to remember the things, the points of differentiation between your product or your service and your competitors. So they are able to retain more of that. And they're also quicker to react to that. So if you're looking to push sales in a certain direction, by putting out videos that pertain to that product, and call out the attributes of what makes it better, you're going to see that you can move that needle easier by having visual resources such as videos to rely on.
Tim
There on this podcast we talk about all the time, whether it's building materials company or building products, company architects and homeowners shop the same way they shop by aesthetic first and then they find out the price and the specs second. And if you're putting a static verse, one of the best ways you can do it is to have a moving video that's immersive and actually connects with someone.
Andy
No doubt, no doubt. You know, even if it's a used as an idea generator, you are able to come up with new ideas by seeing something it might not be exactly what you're looking to do, or to have or to, to purchase. But now you're you're thinking in those directions, and corporations that incorporate videos and visual presentations like this, what they're doing is they're extending their brand they're offering to their consumers a way to think of them as an expert. They have the expertise and whether the video that you're watching is 100% what you're looking for, or if you're just looking for some quick ideas, you're going to find that and you're gonna feel stronger about the originator of that content than you would if they don't have anything that is available.
Tim
Yeah, and with video, you know, it is a larger investment. But the way you can use it is so much more flexible, you can have a long form version where it's, it's a 10 to 15 minute piece maybe. But you could pull out segments of that to have as individual clips that go out through social channels and content and on the website in specific areas that relate to that content. And those videos, depending on the content within them can last for a long time, you can get yours out of that production, and reuse that content because it should, for the most part be relevant for a longer amount of time. So you can get a lot of bang for your buck if you if you do the right type of production.
Andy
One of the roles that we have within our organization is that of creative strategist. And what the creative strategist does is they come up with a plan that lays out how to amortize your creative efforts in recording to not only come up with one video, but to come up with a long form a 32nd spot six second bumper, a 15, second, pre roll, and so on and so forth. And we have some projects that are valid for two weeks. And those would be things where if we're doing an event sponsored project or something that is dependent, like a father's day promotion, those are really they have a very short shelf life. But what we try to do is make sure that the content that we're gathering for that can be used again and again and again, in other applications, therefore stretching your dollar as far as it will go. Our creative strategist is responsible for developing ideas and thinking of ways where everything can be used for as long as possible, as long as relevant.
Tim
And that's just the return on investment that you can get working with a company like yours in conjunction with, you know, whoever is working internally on the marketing campaign to make sure they're getting what they need out of that. So when it comes to someone working with a company like yours, what should they expect when they're engaging This type of production company, there's probably two angles to look look at here. One is, how should they find someone like you? And how should they be prepared to approach a company to seek out this type of service? And then to what can they expect when they start engaging a company like this?
Andy
I think it's always important for, for our customers to have a clear idea of what they're hoping that their outcome will be. So if they know that what they want to do is build brand awareness. That is, that's one thing if they want to increase sales, that's another if it's that they want to increase knowledge or educate people on innovative products and design. That's, that's a third. And if they know what their primary goal is, that's always helpful in figuring out what is the best way to get those messages created and then put into the public's eyes. I think that companies should do their homework. Take Look at at what their competitors are doing. Think about where they'd like to be, what is it that they envision themselves becoming? And then understanding what bandwidth is possible? Should everything work exactly as they hoped? Will they be able to, to handle a lot of increased volume or sales or whatever it is that their, their goals are, and if they can, and then if they study companies that do exactly what they're proposing that they would like to do, then you've got a good match, but it does start with the customer understanding the direction that they want to go in. Now, truly, if they're if if you have no idea what you want to do, or you you really want to have a consultation with someone to sit down and say, What can we do what is possible Where should I be focusing all of my attentions for say, 2021? Am I looking at getting back business Am I looking to pivot in a different direction with with my videos, those are things that take a solid conversation, some consultation to decide what is going to be your best course of action. Once you find a company that can really answer those questions, then you're on a really strong and solid path to coming up with some visuals that will make that all come true.
Tim
It's a blend of understanding the long term brand strategy, the short to mid term marketing strategy, and then finding someone that can match that creative and pull out the right way to approach that that project to meet those objectives that you're looking for. If you just go into it saying I need a video. Yeah, expect a consultation and to go a little bit into a discovery project first because someone has to help you figure that out internally or with the company that you're trying to engage with.
Andy
Agreed. And I think also people should have a fair understanding of What they're what their potential budgets are, what is it that they can afford to spend? What? What kind of investment do they want to make? frequently? We have people who will say, what is the video cost? Well, that has about 300 questions that I could ask that will change the cost with every answer that you give. It's kind of like saying, you know, how much does a house cost? What depends how many, how much square footage, what is the building material of choice, how high end or moderate end or low end? Do you want to put different products in? What are your cabinets look like? What does your countertop look like? All of those things, add them up into into a column and that's going to tell you what the cost is. But the price to build a modest Cape Cod is not the same to build a large 4000 square foot home.
Tim
But you can take a budget and you can find the right way to create something Within that budget that should work towards an objective, and then that's something that can still be done. The expectation level just has to match what that budget is.
Andy
Right. Right. And a lot of times, it's just kind of thinking through the process and saying, well, I am looking to increase sales by 25%. That equals this many dollars. And you have to keep in mind that if you want a big increase, you should be looking at a stronger investment to make that happen. If you have truly no idea what the costs are, what you can afford, then you need to figure that out. You have to figure out what is it that my company is willing to spend? What makes sense to me? Now speaking of, of the people that would be in charge of the search, who are you normally working with at the companies on the other side of the table, whether it's, you know, you probably have a little bit of a variety between direct corporate relationship potentially through an agency or you know, who Companies is engaging and reaching out to you for this type of work. Yeah, we are. We work through an advertising agency, we work with their creative directors and their teams that are assembled for their end client. And if we're working for a client directly without an agency in the middle, we're usually working with a marketing department or product manager, or someone who is in charge. promotions.
Tim
Gotcha. For this industry, particularly building materials, building products, we mentioned a few different styles of videos, education and product demos, is there anything else that from a content standpoint that could still be valuable for these types of companies to consider investing in in the future?
Andy
Sure. I mean, a lot of times companies need to have self promotional pieces that will help to educate just in general on who they are and what they offer and what makes them Special, we also do a lot of work that is driven by retail or times of the year. So that's something that is a little bit different projects that helped to give consumers ideas of what end products will look like are popular things. And we're seeing more and more companies who are interested in augmented reality and virtual reality. We've done projects where we've taken video of a parcel of land and we'll drive around the block. And then as companies are looking for investors for a proposed apartment complex, what they're seeing is all of a sudden this lot has been cleared and leveled and ready to go. And then the buildings start to grow up through animation around it. You get all the way around and now you've seen finished building that you can then go into the front door, go up to the third floor, get off the elevator and walk into a beautiful object. apartment. So, you know, those are the types of things where investors now get a real sense of what's going on. So virtual reality plays a huge part in what I think will be the future of project based video based projects.
Tim
And think about that for Home Builders or, you know, even product manufacturers, if they're looking for immersive installation experiences, that could be really cool too. And you're talking about people that love seeing things installed, because like everyone says, on HGTV shows, I could see myself in this space because blank, I mean, that's basically the situation you want to put everyone into every time you're putting creative content out there, try and lure them into your product or service.
Andy
Oh, sure. And the more convincingly that that can be done, the more likely it is that you'll find customers. One of the big things that it also does is getting, you know, there's only so many customers that are willing to come to your main line. And then you know, if we say that people are willing to drive 100 miles as an example, there's a lot of people that that are outside that 100 miles who can potentially become customers through that immersive experience. So it's just like them being there, we're very close to them being there in person. But now they're walking through remodeled homes or, or built homes where they wouldn't be able to do that by traveling in.
Tim
And this could become even more important moving forward with how everything is becoming virtual now due to separation, social distancing, and, you know, who knows how long that will last, but people might get used to the idea that companies will provide them an easy way to see things without traveling a distance to get to a physical space to see it.
Andy
Very good point. Yes, absolutely.
Tim
Do you have any other thoughts on how interactive technology might advance in the coming years AR and VR is definitely one of them. Is there anything else that's kind of out there on the outskirts that you see in the future that this industry might be able to poke at?
Andy
I think that there's a lot of opportunity in particular around the AR and VR. And I think that there's always opportunity with innovation and innovative products and design. To tell you the truth, Tim, it's really how far can we stretch our imagination? What can we what can we dream? Next? What is the best way to present that to someone else? I'm not sure I can come up with another really solid example. But all of those things are pretty fascinating.
Tim
It'll be interesting to see who is first to the finish line, the first group of people to the finish line when it comes to really throwing augmented reality and virtual reality in front of customers on a regular basis, that and at the same time when the technology at home catches up so that it's easier for people to do this on their own without a company providing a technology piece of tech, like equipment for them to be able to do it when when phones can be put into a device and used as a VR piece of equipment and just go to a link or download an app, and like that just becomes a regular way of serving content. That'll be super interesting. And I'm not sure who will get there. First, I'm assuming some of the bigger companies but it'll definitely change the game for the rest of us photos will, images just will not be enough anymore videos will still be relevant. But AR and VR are going to start taking over in the next decade or so.
Andy
We'll all look back and say remember when we used to hold brochures in our hands? Yeah, we'd look through them that way. And then after that everyone was doing all their research on the web. And now it's, you're you're seeing more and more video applications being applied. And I think that the virtual and augmented will Definitely be taking over that space. And it's important to remember that the consumers of tomorrow are all utilizing that in gaming platforms every day. So they're growing up with this stuff. And they're utilizing that technology. So to them, it's not so far fetched. And if you want to be relevant in your field, you've got to keep up with that technology. And you've got to be willing to show that not only is my company really strong at what we do as our core business, but we're also forward thinking when it comes to creating those experiences for our customers so that they can understand things that we offer things that we do products that we manufacture or sell.
Tim
Well, let's bring it back to the fundamental question. This is one that I always like to kind of wrap up with towards the end. What's one critical thing that everyone should be doing for their brand right now you've mentioned a lot of things that people can do in preparation of working with a video company and some of them are brand related, but what's the one thing stands out to you to be the most important.
Andy
I think that it's finding where you fit in, and then making sure that you are not lost in the clutter of everybody else. Make sure that you are frequently getting your messages out there. I think that if at all possible, pick your best point of differentiation and make that what everyone thinks of when they think of your company. It's like, oh, they're the company that's known for this or they're the company that's known for that. If you can figure out a way to make yourself an expert and the leader, then that's really what your brand should be doing. When you think about people's mission statements. And it's always like we produce great products or we manufacture innovative ideas that's frequently that is just the price for admission into into what it is that you do in your industry. So find out how you are better different, faster. You're more innovative than everybody else and make that your your rallying cry.
Tim
Positioning is key. You can't be everything to everyone. And once you do to find that, that will drive what your creative speaks to, from a copy standpoint, visuals, what audiences you're relating to, and everything will start to fall together after that. I mean, positioning is, is definitely a biggie.
Andy
Yeah, I think that if you if you sit back and allow yourself to be just one of many that do exactly the same thing. You will be quickly unseated by the next company that comes along and is the frequency of their brand and their name will start to take over and make your brand obsolete. They'll be the ones saying, now you want you want to know what to do in building products. Here's the company that we are and we think that you should bring all your business tops and I think that those that make the The most noise in a relevant way are going to be those that are going to outpace the others. Yeah.
Tim
Or even worse, it'll come down to price and you never want to lose on price. That's true. Yeah. all true. Is there anything that I haven't asked you during this conversation that you'd like to get in before we wrap up?
Andy
I, you know, I think that we've talked about everything, I think, you know, just to continue for people to think about how they can be more engaging, you know, I mean, video should keep in mind who their target is, figure out what their messages are, and relevance equates in adoption in terms of the message that you're delivering. So find a way that is entertaining, that is memorable. That is something that people want to seek out. And I think that if you can do that you are well on your way to successful marketing and branding.
Tim
Build that brand loyalty. Yes. So, before we go, where can people find out more about you and D post and D Studio,
Andy
Our website is dpost.com. And that kind of outlines all the things that we do. And it has contact information on how to get in touch with us. We love to have consultations, we are always eager to sit down and listen to a company explain what their challenges are, as well as their goals. And we have a great highly skilled team who can help to think through that clutter, think in innovative ways and offer suggestions. So please reach out for a consultation is what I would, I would say.
Tim
Great. Well, this conversation has been awesome. It's always great catching up with you like I will see you around town and thanks for being on the episode.
Andy
My pleasure. Thanks. For having the temp.
Tim
If you're interested in hearing more stories and strategic insights from industry experts, please subscribe to the building brands podcast on Apple, Spotify or Google. If you've enjoyed this episode, please post a review and share with others who may be interested as well. Thanks for listening.