Build to convert
Excelsior Orthopaedics
Excelsior Orthopaedics is a Western New York orthopaedic care practice. Our team had been working with them for nearly a decade - and in 2020, that's how old their website was. As a healthcare practice that prides itself on staying on the cutting-edge of its field and providing top-notch care and service to their patients, they knew it was time for their website to reflect and showcase those commitments.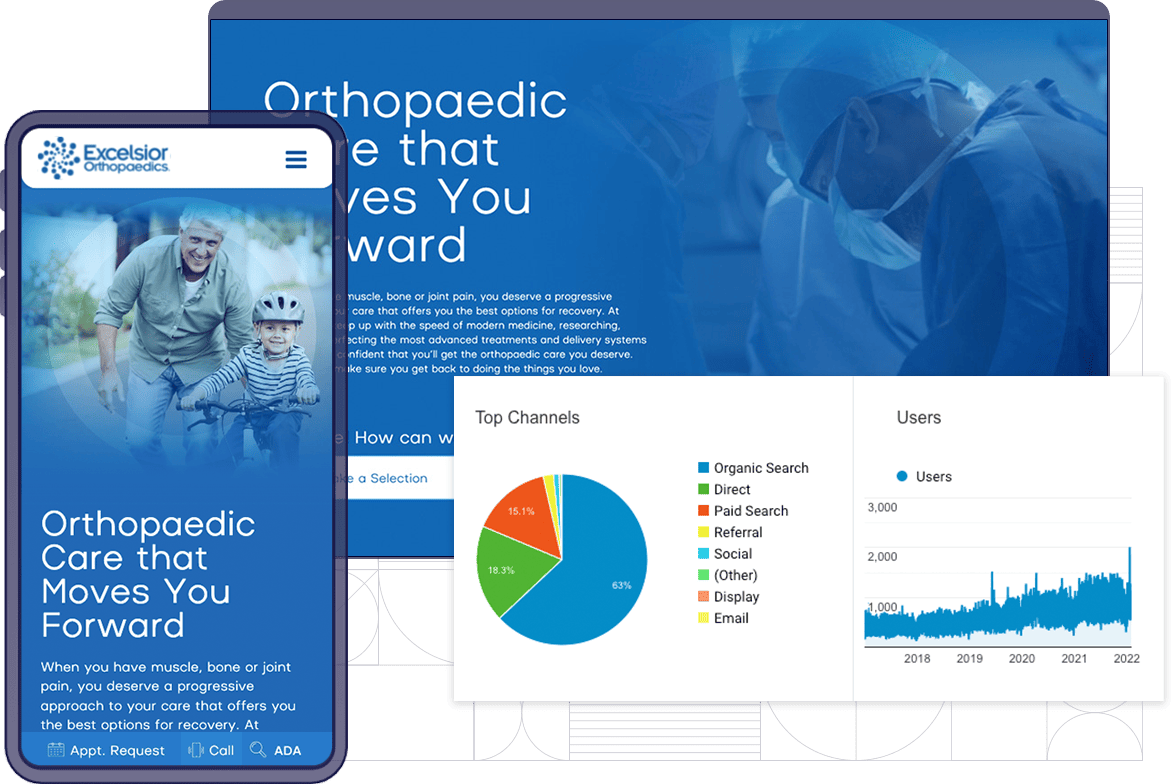 The challenge:
A well-organized website, built to convert.
In 2020, Excelsior Orthopaedics needed their website totally revamped to better communicate their broad range of services, differentiate their doctors from the competition, and convert more patients in an industry fraught with fear and anxiety.
To create a website that positioned them as one of the top providers in the nation, we took the Excelsior team back to the beginning. We started with a total rebrand, to be sure that the company values were aligned, the audience was understood, the goals were clearly defined, and the visual elements were an accurate depiction of everything else.
Branding
Moving the brand forward.
A brand is about so much more than a logo and a set of colors. At Excelsior, it was important to dig deep into what their brand represented to identify the best opportunities for messaging.

Consistent messaging that taps into the core motivations and emotions of their various types of patients is critical to creating the type of content that will lead to conversions. Creating a brand experience that leaves their full range of patient personas feeling confident and trusting was the name of the game, and to do that we first explored their services, their personas, their approach to care, and their voice & tone.

They had recently updated their logo, so our role was to build out the rest of the visual system with fonts, atmospheric elements, additional colors, and photo styles. As with the messaging, creating a bright, audience-driven environment that inspired confidence and got people excited about the possibilities of a life without pain was our main priority.
Web Design & Development
New web design that maintains growth trends.
The existing website that we had designed in 2015 wasn't performing poorly. In fact, the conversion rate on the old site had been on a steady year-over-year incline and was already around 20%. Our goal with the new site was to first and foremost ensure that they did not see any decline in conversions or traffic post launch.

Not only did we achieve our goal of maintaining the high perfomance, we were able to improve site analytics in a few meaningful areas.

In 2017, the website was seeing about 10,000 visits a month. After our website launch, traffic increased to nearly 25,000 visits a month. And of those visits, more than 1 in 5 resulted in meaningful website engagement - meaning filling out one of the relevant forms, making a phone call, or spending significant time on the site.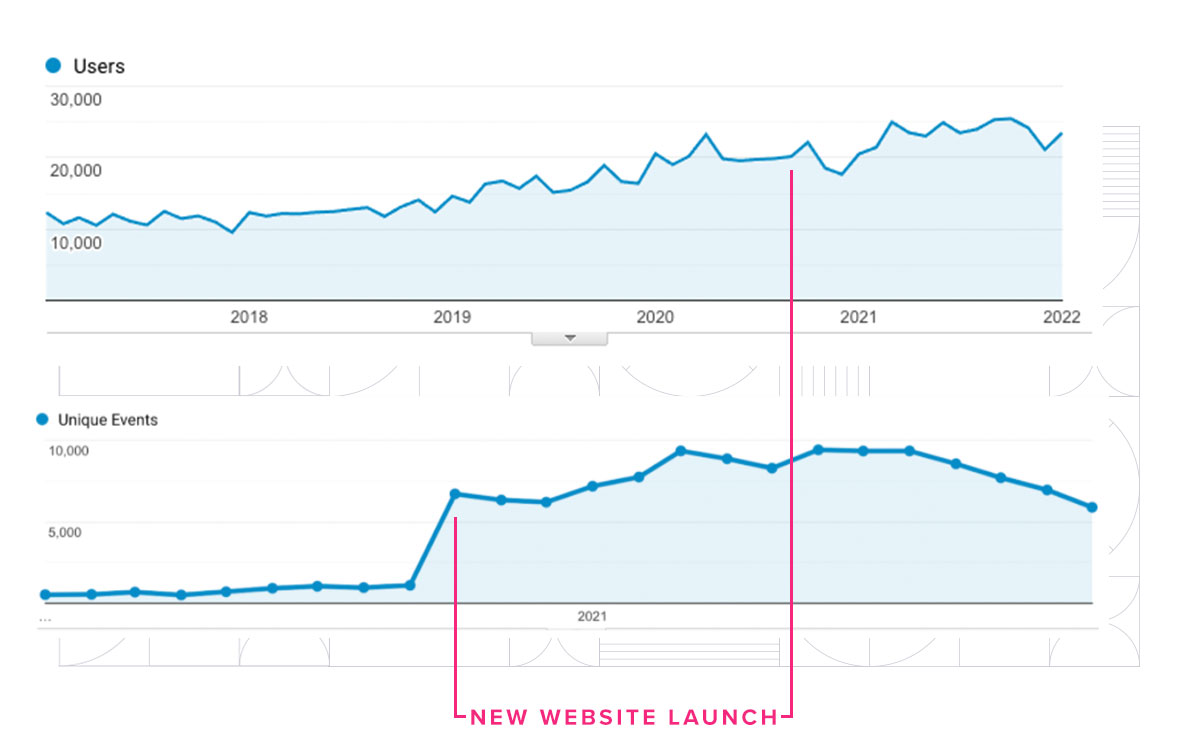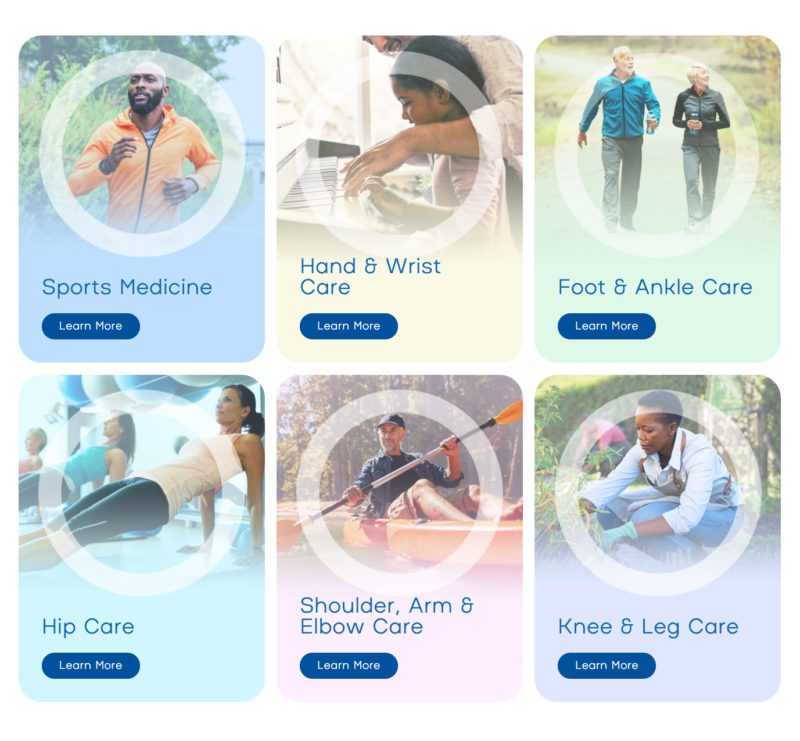 UI/UX Strategy
Revamped site structure for better user experience.
To achieve the right site structure, we went back to the buyers' journeys. Someone has pain in their hip, and they don't know why. Someone has already gotten a diagnosis, and they're looking for the right doctor to provide the right treatment for them. We created a deceptively simple page structure to allow people to quickly and easily navigate based on their goals - complete with plenty of inter-site links to additional resources and related topics to make sure patients could make educated decisions about their care.

These structure and content updates lead to overall users spending 10% longer on the site, and organic search users spending nearly 20% longer on the site. We saw measurable website engagement increase a whopping 11x, including a 41% increase in online appointments scheduled and 17% increase in phone calls originating from the website.

Building connection
Helping you choose the right doctor.
Choosing a doctor is often left to trial and error, based on one or two online reviews or maybe a referral from a friend. Excelsior Orthopaedics has over 30 physicians within a handful of subspecialties, and each one has their own approach to patient care and medicine.

A significant cornerstone of the new Excelsior website is the doctor biographies. Each physician has a video interview, allowing potential patients to get a sense of their personalities, mannerisms and philosophy before making an appointment. These are accompanied by detailed written bios and credentials, ensuring every potential patient has the opportunity to feel a connection with their physician before they ever step into the office. And that kind of connection leads to higher conversion rates, more satisfied patients, and a higher chance of making that appointment to take the first step toward a life without pain.
The Results:
A highly converting website and aligned brand strategy.
Excelsior Orthopaedics new website achieves all their goals and more. They have a well-aligned brand from top to bottom, ensuring that every brand experience is similar and accurately represents who Excelsior and their staff aim to be.
The website not only maintained its performance, but saw meaningful, measurable increases in several key areas, including visitor engagement and patient conversion. Additionally, we were able to reduce the average page load time by nearly 2 seconds – an often overlooked indicator of overall website performance.
As Excelsior evolved their business model, Luminus was able to ensure their brand and website helped them continue to move forward.
Knowing that I have an agency in my corner that I can go to about things makes my life easier. I don't worry about the product. From a business and budgetary standpoint, Luminus has always been fair in regards to the time and overall costs of projects. From a cost and ease perspective, I'm not sure the bigger shops can compete.
- Mark Wolbert, Excelsior Orthopaedics
Featured Excelsior Orthopaedics Work
Browse the amazing projects that we've done with Excelsior over the years.
Interested in having our team help with branding and digital marketing for your healthcare practice?
If branding and an optimized approach to a patient-centric website with measurable digital marketing campaigns are part of your needs for your practice, give us a call at (716) 332-1640 x2 or email us using the form below!