A New Era
Eaton Brothers
Since 1934, Eaton Brothers has been a leading supplier and manufacturer of lawn and garden supplies. A few years ago, the well-established company was purchased by two new intrepid owners. With this evolution in ownership and vision came the need for a revamped brand. Luminus was able to help this local company invigorate their vintage brand with a touch of modernity.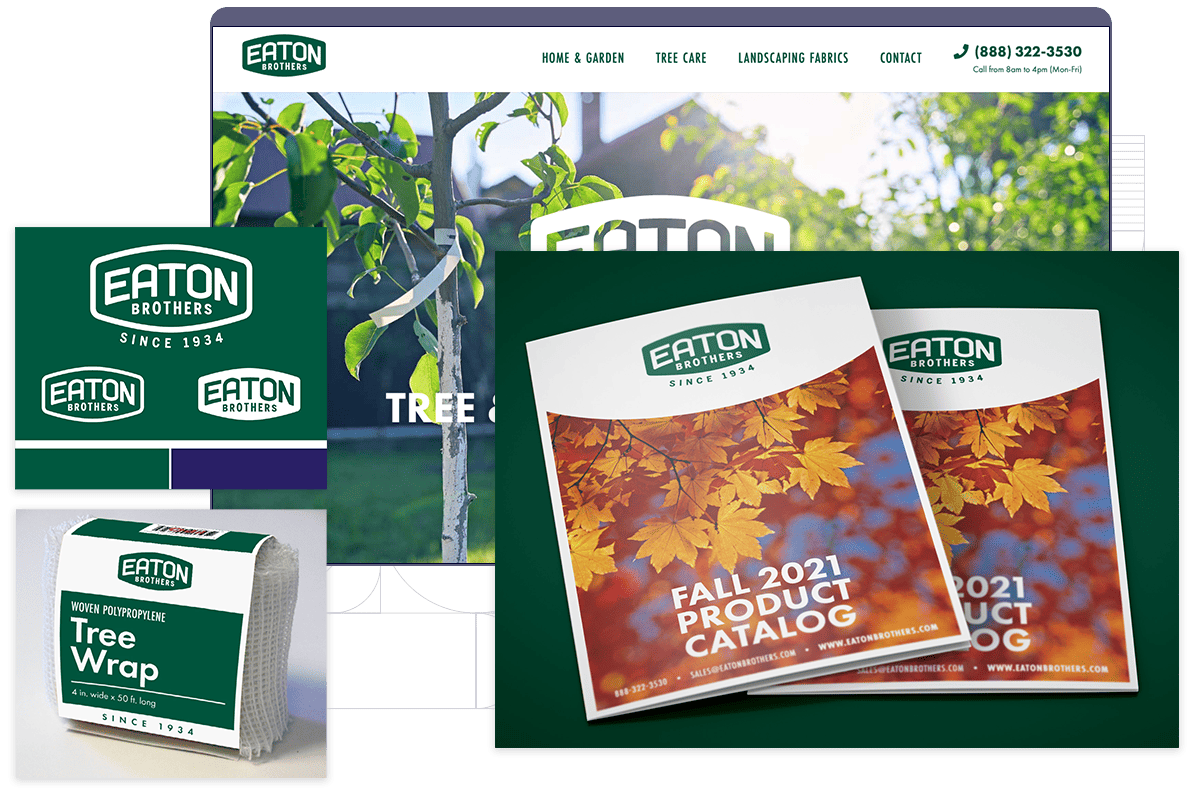 Evolving a vintage brand.
In 2021, Eaton Brothers and its new owners were ready to take some steps to evolve the brand to reflect the modern age. The previous owners had established a strong network of garden centers and an in-demand catalog of products, but the brand itself hadn't been updated in decades.
Our team was brought in as a marketing partner to help bring the brand into the 21st century. This included a new logo and brand colors, a website remodel, packaging design, voice and tone development, and more.

Rebranding
Vintage-inspired logo design.
The Eaton Brothers brand had been around for decades gaining recognition. The old logo had a distinctly retro feel to it, but it was a little overcomplicated for today's marketing and design landscape. The new ownership wanted to update the logo to look more modern, but didn't want to throw away the company's history or heritage.

The Luminus design team started with an inspiration board filled with a variety of logo styles we thought would work well to bridge this gap. From there, we moved into the concept and design stages. Through several rounds of elimination, fine-tuning, and closed market research, we were able to settle on a design.

The past meets present.
The design chosen is reminiscent of mid-century industrial logos in a forest green color that nods to the garden industry. The simple design is a stark contrast to the design it replaces, making it both more memorable and easier to replicate across print, web and physical uses.

Due to its simple 2 color design, it can easily be translated to different colors to represent various divisions within Eaton Brothers - such as using a blue version for their cemetery division. It includes several lockup options to be used solo or in combination, adding variety and versatility in its application.
Establishing the Eaton Brothers voice.
A defined and consistent brand is about more than the logo. With the ownership change, Eaton Brothers needed to establish who they are as a company. Our Brand Persona process helped them get there.
We started by imagining the company as a person - how would others take in and assess their presence and personality? Which traits should be prominent in their brand personality? Eaton Brothers wants to be seen as experienced but forward-thinking. They are innovative in their approach, but rooted in the goal of ensuring products are first and foremost trustworthy and high-performing. They are humble and authentic, but don't take themselves too seriously.

Exploring and establishing these core personality traits allows Luminus to establish a set of rules and guidelines to follow when writing on behalf of Eaton Brothers. This not only ensures the Eaton Brothers voice is consistent across every experience, it also ensures that we're conveying and evoking the right feelings and emotions with every interaction.

Design Elements
Applying the brand across experiences.
With the updated logo and brand persona completed, the next step was to implement the new brand into the other elements of the company. After all- consistency is key.

We started with the website. With a distribution network of independent garden centers, popular Amazon and eBay stores, and an existing ecommerce store, we wanted to ensure we kept the website simple and to the point. An updated site structure eliminated some outdated pages, organized the product catalog in a meaningful way, and provided enough product information to get people off to the ecommerce site for purchase. With the bright, modern green and white color scheme and updated fonts and design elements, the resulting website is clean, modern and to the point - just like the company itself.
We also needed to update the product packaging to reflect the unified and updated brand. The old packaging represented several iterations of brand and varied widely in layout, color and information. Our updated design can be applied similarly across every product type, established a clear hierarchy of elements within the layout, and will look sharp and clean on retail shelves.

The Results
A unified brand to grow with the company.
For a company reinventing itself, a renewed and unified brand is critical to maintaining trust with your longtime customers while making space for a new generation of customers.

By establishing a brand voice that complements the visual identity, Luminus helped ensure Eaton Brothers reentered the lawn and garden supply market with a strong statement about who they are and where they're going - and we're excited to watch them grow!
Great company to work with, friendly and passionate about taking your business to the next level.
- Alex Keogan, Eaton Brothers (Google Review)
Featured Eaton Brothers Work
Browse the amazing projects that we've done with Eaton Brothers.
Interested in having our team help with your retail branding?
If a professional brand with meaning and thoughtful creative that connects with your customers is what you need from your creative marketing, give us a call at (716) 332-1640 x2 or send an email using the form below!