Helping child care centers grow
Doodle Bugs!
Doodle Bugs! Early Childhood Education Centers has used Luminus as their marketing partner for years. Several years ago, we helped them execute a total creative and strategic rebrand after 25 successful years in operation, including a state-of-the-art website, visual identity, brand strategy, photography, videography, and more. Since then, we've been building up their digital marketing ecosystem, including website updates and automation, social media campaigns, search engine marketing, and search engine optimization.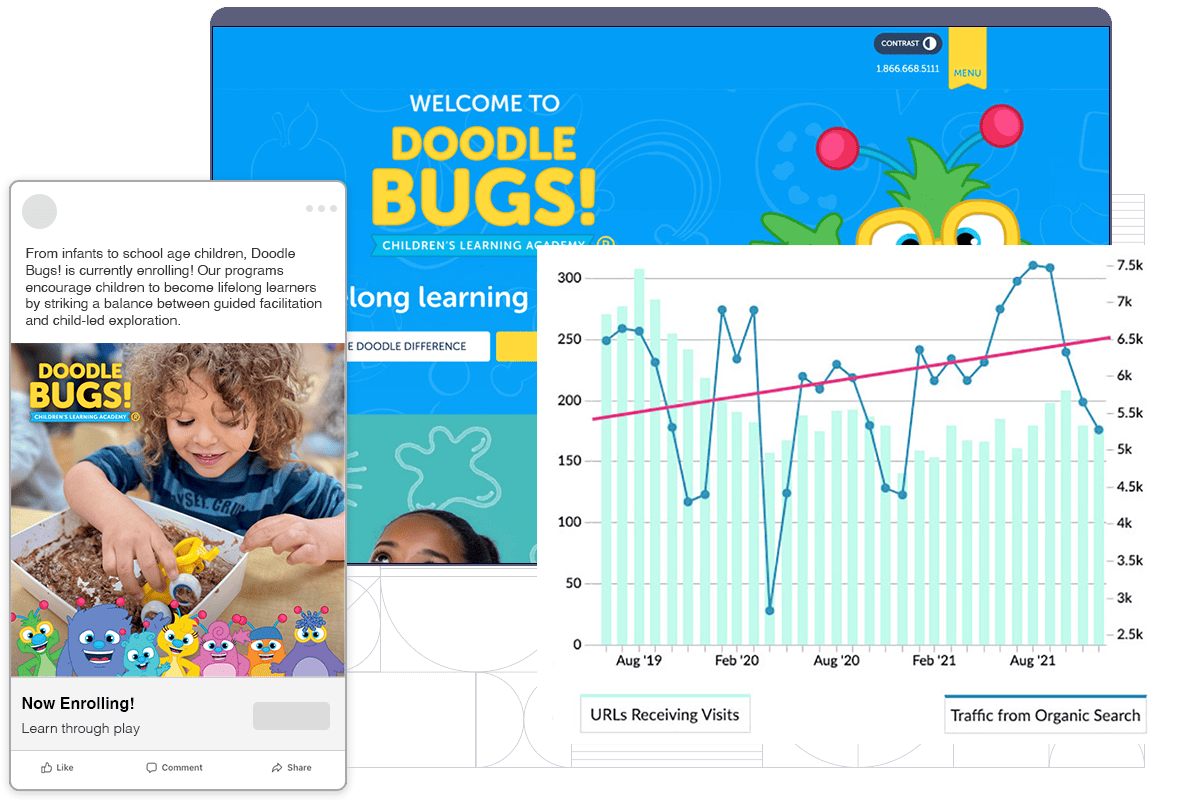 The Challenge:
Optimize budgets while increasing results.
With a well-established and fully developed brand, the path was paved to updating the website and developing digital campaigns with high conversion rates and high return on investment. Luminus partnered with their in-house Marketing Director to set up campaigns and budgets, optimize website pages, concept and create ad campaigns, and continue building automation tools and processes to improve overall user experience and conversion rates across their 17 physical child care sites spanning 3 states.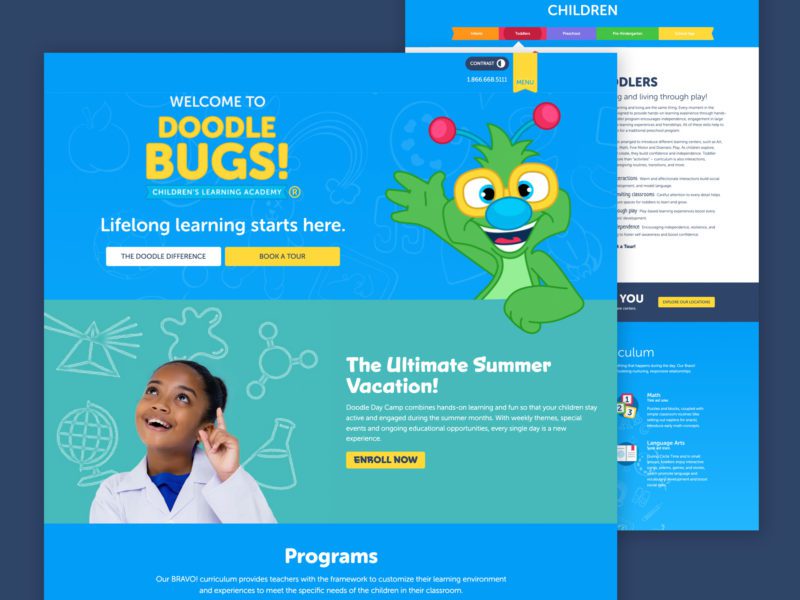 Web Design
Website features built for parents.
For Doodle Bugs!, the key conversion is to get parents to request a tour of the facility near them. With their highly engaging and inspiring center designs, once parents see the environment they're likely to want to enroll. With the original website, Luminus built a Request a Tour tool that lived on the bottom of every website page. This form allowed parents to indicate interest, and alerted a Center Director to follow up with an email and phone call to schedule a tour. In the childcare world, a conversion is a long-term investment - enrolled students come back year after year.

In May of 2021, we wanted to take this powerful conversion opportunity a step further. We replaced Request a Tour with a Book a Tour tool - center directors were able to integrate their calendars and parents could choose a location and available time, booking an appointment right then and there.

Advanced Functionality
Process automation tools that convert.
Similarly, Doodle Bugs! runs a summer camp each year for their students and the general public. Doodle Day Camp enrollment was being done by mailing paper packets to parents who requested information. In 2019, Luminus built an online pre-enrollment form to replace this outdated (and time consuming) system. Now, parents could provide all relevant information, choose dates and locations, and confirm interest online.

The result of the Book a Tour tool implementation has been a conversion rate nearly 4x the Request a Tour conversion rate. This tool not only makes it easier on parents and center directors, but each submission is an extremely firm, qualified lead for Doodle Bugs! to capitalize on. The summer camp pre-enrollment tool saw a season-best conversion rate triple (3x), with each location consistently filling up earlier and faster than before.

Fully Optimized
A highly trafficked website.
Driving traffic to a website takes a multi-prong approach. SEO efforts can take a little time to pay off, and are only effective if the website is full of optimized pages with rich, relevant content. Luminus began managing digital marketing for Doodle Bugs! in 2018, and since then our SEO efforts have tracked a 20% increase in average monthly website search traffic from 5,200 visits to 6,600 visits since day one.

Overall, the website session duration (average amount of time each user spends on the website) improved by over :20, landing well over 2:00 and trending as high as 2:35 - a very healthy period of time for a website in the child care industry. For traffic from organic search, the average session duration improved by :40 seconds to 3:05 seconds - indicating that people being introduced to Doodle Bugs or searching for childcare are spending significant time on the website, visiting several pages, and staying engaged.
Digital campaigns that grow traffic and conversions.
Luminus took over digital campaign for Doodle Bugs! in early 2018. These include paid search and social media campaigns, broken down into general enrollment campaigns, summer camp campaigns, recruitment campaigns, and occasional specialty campaigns (think: health and safety at the onset of Covid-19). The campaign creative is always rooted in the Doodle Bugs! philosophy of learn-through-play, and features custom photography and smiling children or bright, engaging learning center photos as much as possible. You'll also see the Doodle Buds chipping in to wash windows, give high fives, and more!

In the time since we began our campaigns, the average session duration from paid search results increased by over :25, landing in the coveted 2:00+ time bracket. In that same time, the overall site conversion rate improved by 14x, going from just above .5% to nearly 7.5%! This is a due to combination of driving qualified traffic to the website and ensuring the content on the site lives up to expectations.

For the campaigns themselves, the Google ad campaign saw the click-through-rate (CTR) more than double (2x), and the ad conversion rate improve more than 2.5%, with an overall conversion percentage of nearly 6%. Phone calls increased and interaction rates increased as well - all this data confirms that the ads were written for the right audience persona, with language and visuals that compel action.

The Facebook campaigns saw a CTR that quadrupled (4x) with action rates on a steady incline as well. Most impressively, the Facebook campaign's ad cost per website conversion fell to nearly ⅓ of where it started. With a steady budget over that time period, the digital campaigns allowed Doodle Bugs! to spend the same amount of money they always had, but get dramatically improved results from the campaigns.
The Results
Budget efficiency, effective advertising, & high conversions.
Working with a client like Doodle Bugs! over several iterations of their brand, website and marketing efforts allows us to laser-focus on what we know will work for them. Our website improvements and digital marketing campaigns are proof of how the early branding work, strong and intentional website content development, and digital marketing strategy can come together to result in significant improvements to overall ROI while also generating more website traffic, more qualified website traffic, and more high-value, long-term conversions based on our efforts.
Interested in having our team help with branding and digital marketing for your child care centers?
If branding and an optimized approach to a parent-centric website with measurable digital marketing campaigns are part of your needs for your child care centers, give us a call at (716) 332-1640 x2 or email us using the form below!