Digital marketing with a lasting impact.
Thermory USA
Thermory stands firmly on the belief that not all wood is created equally. Well, not all wood is modified equally, to be more accurate. They take responsibly sourced non-tropical wood and send it through their modification chambers, using only heat, steam, and a certified wood scientist. They end up with building material that is highly durable, rot resistant, and naturally beautiful. Luminus partnered with Thermory USA over several years. Early in the relationship, we focused on building up the brand and preparing it for national-level marketing campaigns. The last few years, we were able to shift our focus to digital marketing and see how a strategic, long-term approach can yield lasting, impressive results.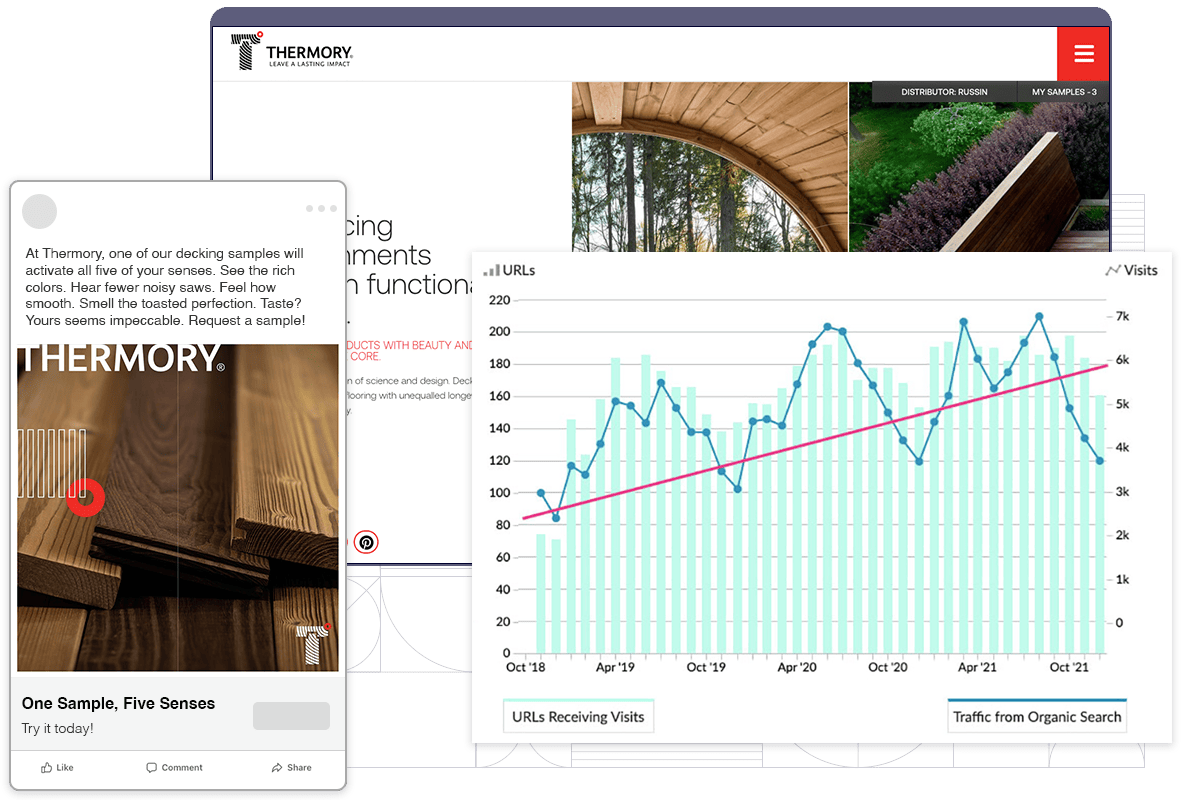 The Challenge:
Long-term, sustainable growth and digital marketing success.
With the help of the Luminus team, Thermory USA and the Estonian parent company saw the brand through several evolutions. Each evolution included deep dives in brand strategy, including audience personas, buyers' journeys, messaging, visual identity, and positioning. With all these pieces in place, Luminus was also able to achieve extraordinary digital marketing growth over three years of SEO, SEM, and social media marketing.

Digital Campaigns
Social media campaigns that convert.
Thermory has several product lines that span several uses, and their personas include aesthetic-driven architects, performance-driven contractors, and combination homeowners. Social media campaigns needed to strategically parse out the message groupings into ad sets and campaigns that achieved the right result with those variables in mind. In the first year, we ran 15 unique social media campaigns. By year 3, we had streamlined the audience and messages down to just 5 campaigns total, and achieved better results and ROI for the client.

Our first year, Thermory's social media campaigns boasted a $0.53 cost per click and $25 cost per result. By year three, our Thermory campaigns had been streamlined, reorganized and optimized for messaging, visuals and formats that had proven to engage the audiences. The cost per click dropped to an impressive $0.30, and the cost per result was down 30% to $17.63 - on ⅓ of the original budget. We also saw the click through rate nearly triple (3x), demonstrating that the benefits of a long-term marketing partnership yields exponential success.

Search Optimization
Consistent traffic growth year over year.
When Thermory began their digital marketing journey, they had modest recognition in the US and were struggling to gain traction and authority in the SEO game. Done properly, SEO benefits should continue to build over time and result in growing authority within your industry, leading to decreased demand for paid results and increased organic traffic.

As product pages and content pieces were added and optimized for relevant key phrases, the opportunities for Thermory's search visibility increased year over year. Every opportunity to create a landing page and optimize for a mid to high volume keyword paid off with a first-page ranking. From the initial launch of the website, over three years, traffic generated from organic search doubled.

Keyword domination.
One common metric for SEO success is keyword rankings. This is the place your company shows up in the results based on someone searching a specific keyword. Keyword rankings are dependent on a number of factors, the largest being the quality and relevance of the content on your website in relation to that keyword. Luminus was able to continually add new and expanded to the Thermory website, creating a powerful SEO hub that Google continued to reward with better keyword results.

In the first year, Thermory had 15 keywords ranked in the top 3 and 16 in the top 10. By the end of our third year, they boasted 81 top 3 keywords, and 110 top 10 keywords - a greater than 5x and 6x improvement, respectively. These expanded keyword rankings and high-quality, rich website content also resulted in an organic monthly website traffic increase of over 100% (2x). When it comes to SEO efforts, the results were clear, measurable and intentional.
Search Advertising
Efficient, effective paid search campaigns.
When it comes to search engine marketing and paid search campaigns, the secret is finding the right balance between clicks and conversions to optimize your budget. Getting clicks that are ultimately unqualified leads looks good on paper, but doesn't do much for your business. Alternatively, a lower click through rate with a higher conversion rate may initially look like a decline, when the results are far more beneficial to your sales process. For Thermory, finding the right balance meant a few cycles of experiment/test/refine/repeat.

In year 1, we used both paid search campaigns and the Google Display Network to generate website traffic and conversions. This proved highly effective in brand awareness - a great long-tail approach to generating consistent sales and top-of-mind customers.

In year 2, after the initial digital rebrand launch, we pulled out of display advertising since we had established a more effective and cost-efficient paid search advertising strategy specifically meant to generate leads, beyond awareness.

By year 3, we had evolved the campaigns to be more conversion focused, generating not only website traffic but phone calls and, our main conversion point, requesting samples through the online form.

Over those three years, we saw the click through rate (CTR) go from just under 1% to nearly 7% - an extremely high percentage based on industry benchmarks. Our SEM campaigns also generated more sample requests, with that conversion metric increasing 12x in that time - and a similar increase in phone call conversions. Perhaps most importantly, we were able to optimize the money spend on these campaigns, with lower budgets year over year but better results. The cost per sample request through Google ads decreased by 77%, achieving significantly better results with far more budget efficiency.

The Results:
Exponential digital marketing growth and success.
Over three years of creating and managing digital marketing campaigns across several platforms, Luminus was able to help Thermory USA become a dominant force in the industry when it comes to online presence and visibility. Because we were able to constantly learn from and adjust their campaigns over time, this long-term partnership was able to achieve results far better than industry benchmarks. When it comes to digital marketing, patience pays off.
Featured Thermory USA Work
Browse the amazing digital marketing and creative work that we've done with Thermory USA over the years.
Interested in having our team help with your company's building materials marketing?
If brand strategy, strategic marketing analysis, and an optimized approach to a high performance website with measurable digital creative campaigns are part of your needs for marketing, give us a call at (716) 332-1640 x2 or send an email using the form below!