Web Design
Comprehensive Design
A fully-formed, comprehensive and professionally-designed website is one of the most important demonstrations of a brand. Your website will likely be the largest piece of collateral your audience is presented with. It's imperative that your website has unified visuals and consistent messaging.
15+ Years
The Buffalo web design OGs.
Luminus was born as a Buffalo NY web design team and websites will always have a special place in our agency's heart. Our web design processes surpass the typically-available skill set of most creative agencies, allowing us to provide distinct value to our clients when web is integrated into your brand and campaigns. We take particular pride in the thought and care we put into doing web right.

What makes the Luminus web design team different?
We are not a buffalo web design chop shop agency looking to pump out hundreds of subpar websites to make sales quota. Every website project we tackle starts with strategy, content planning, copywriting, interface design by a digital specific designer and built by an in-house developer. Content dictates the design of our client's websites, we don't simply default to a stock WordPress theme or prefabbed page layout system.
How we do it.
Our web design process is what sets our client's websites apart in the market. When the process starts with strategy and content planning, the design and development processes result in a higher quality end product that can move the needle for your organization.
Advanced Discovery
Every web design project kicks off with a conversation between our team and the client team. In our discovery meetings we discuss business goals, audience pain points, and functionality needs. From there, we pair what we learn in that meeting with our own research digging around in keyword tools and your current website (if one exists). This gives us an informed understanding of where the performance opportunities are before we dive into content.
Content Planning & Copywriting
We have writers on our team. They know how to take the information gathered during the advanced discovery process and turn those findings into a site map and page outlines that are ready for design. Page content and photography needs will be written before the site even makes it to our digital designers.
Strategic Web Design
Your website is then designed by one of our digital specific designers. They take your brand's visual identity styles and pair it with the content provided by our writers and photography and graphics provided by our graphic designers. The websites we produce don't just have beautifully designed pages, they have strategically designed pages. With content that's relevant to the audience, the design can guide visitors to a point of action. That's what gets you results from your website.
Excelsior Orthopaedics
A well-organized website, built to convert.
As a healthcare practice that prides itself on staying on the cutting-edge of its field and providing top-notch care and service to their patients, they knew it was time for their website to reflect and showcase those commitments.
View Case Study >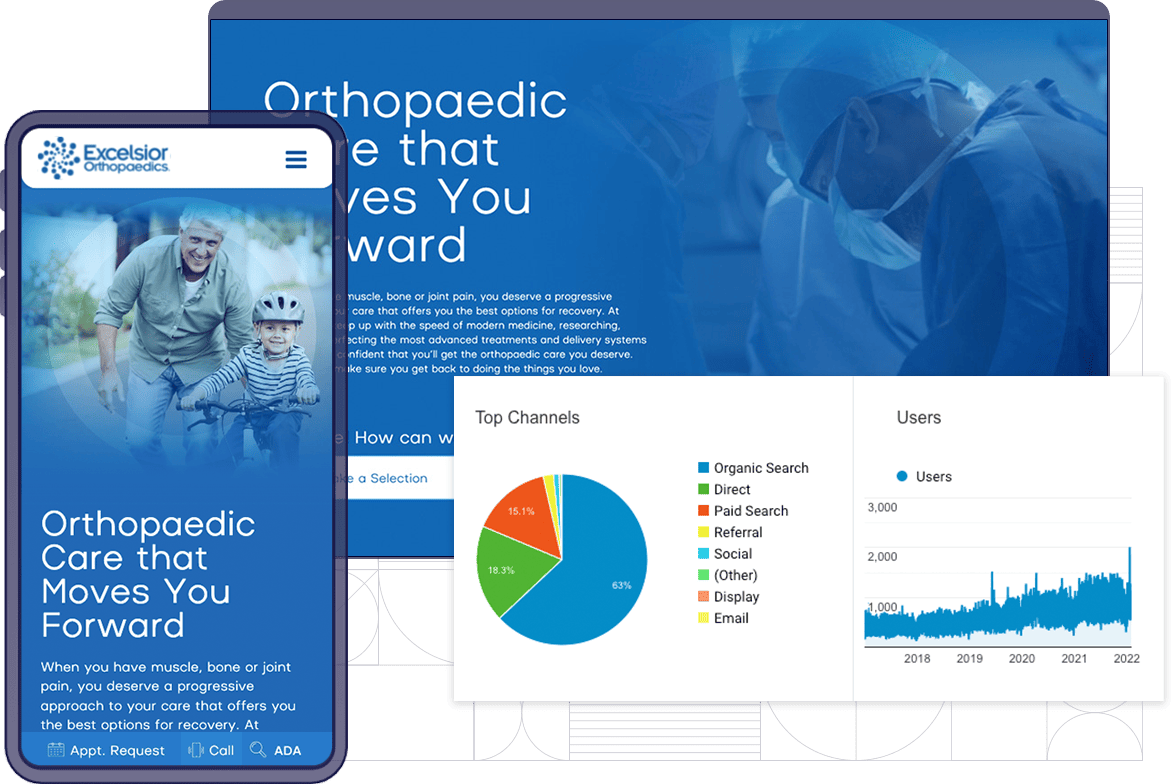 Buffalo Web Design
Team Feature: P.U.N.T. Brand & Website
Josh Robinson, Digital Marketing Manager at Luminus talks about his favorite project that he was a part of for the P.U.N.T. Foundation's 2019 brand refresh and website overhaul that really improved the organization's ability to communicate its benefits to the public as well as more advanced donation functionality.
Web Design Agency Insights
Interested in having our Buffalo web design agency help with the design and development of your WordPress website?
If you're looking for web design that results in a high performance marketing tool for your business or organization, give us a call at (716) 332-1640 x2 or email us using the form below!