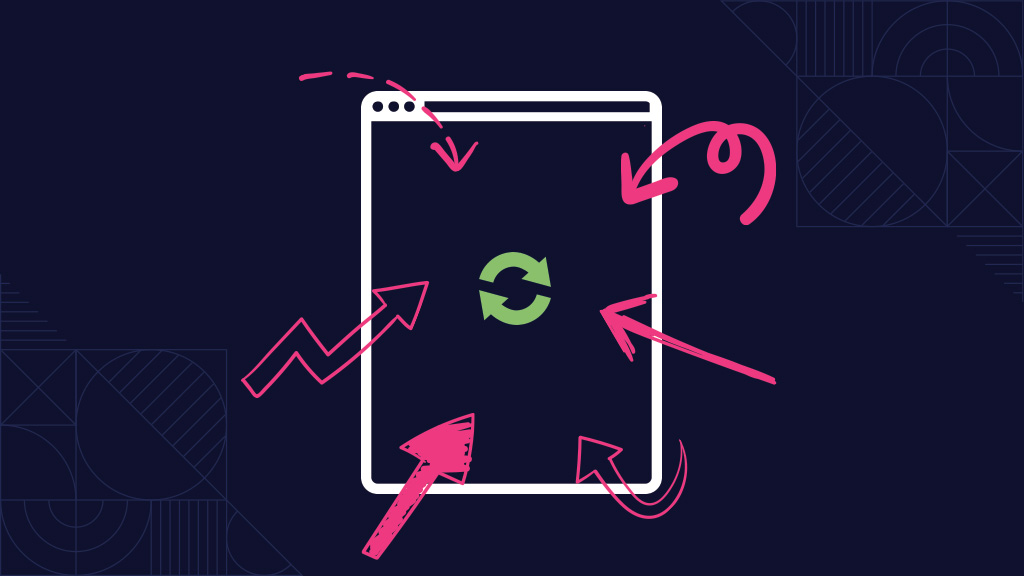 It's no secret that marketing has started to lean heavily into the digital advertising and engagement channels of search, social, and web publications. All of this has opened up the world of cost-effective, efficient, highly-targeted, and performance-based marketing opportunities that can have really impactful returns for businesses of all sizes.
Inbound marketing positions your website as one of your best marketing tools to fuel business growth. This article outlines how to make a website that is ready to perform for you.
A quick history of websites over time
The idea of what a website is and how it should be utilized has shifted dramatically over the last 20 or so years. In the late 90s through mid-2000s, the need for a website was simply to provide information online. Words and images that amounted to nothing more than simply a digital brochure. As "web 2.0" came about, the idea of what a website could do for a user changed drastically. Websites became dynamic in how they tailored information for visitors through database driven content. Add to that, the advent of user-driven websites such as Facebook, Twitter, and LinkedIn, that created new media delivery channels and thus advertising channels.
Today, the expectations that a visitor has for a website are much higher. It should load fast, be easy to navigate, allow them to tailor the information viewed, and interact with them to perform a task if desired.
All these expectations exist without even considering how marketing plays into the value and success of a website for a business. When digital marketing is introduced to the mix, the website needs to be one of your best marketing tools and that requires careful consideration for what the visitor expects from a user experience and what your marketing team or digital marketing agency team expect from a performance standard.
It's critical to have a high-performance website to be the central marketing tool as a destination for all of your digital marketing efforts. Anything else and the proverbial cart is before the horse.
(Oh, Web 3.0? Well let's not distract you with that debate for now. Let's just say, if you aren't a bored ape, you probably aren't interested in that yet.)
The approach to making a website that is high-performance
As a digital marketing agency with a strong creative team, we've always been able to hang our hat on the fact that the websites we make not only look amazing, but educate and motivate visitors to take action. When we design and develop websites, one of the first things we do is consider how the website will be used in conjunction with digital marketing (and traditional marketing if that's in the plan).
Everyone reading this has likely been through a website project themselves before. The process usually starts because someone says "We need a new website." Thus establishing the goal to obtain a new website, which makes sense. In reality, the goal is more likely something like "We need more leads" or "We need more search visibility" or "We need more customer service features."
In our work, what sets the websites we've produced up for success starts well before that delivery. We take the same approach to every website project discovery by simply asking "why?"
"Why do you need a new website?"
This is the difference between planning to simply build a website and planning to build a high-performance website that becomes one of your best marketing tools. This approach leads to a project that starts with strategic thinking and then moves into content planning, design and development.
To be completely honest, this is also what makes a successful website project have a longer production timeline and have a higher cost than whipping up a site that is more or less limited to being a quick fix online brochure. But why shouldn't it be an investment in time and funds though? This is the central marketing tool and destination for all of your digital marketing efforts.
Starting a website project with strategy
"Why?" is such a great question to start with even though it may not be the first thing that comes to mind. Some may not even know why, they just know the competition's website has one up on them. Or maybe their boss has just determined that this is a project that needs to be done.
When we ask "Why?" the question is meant to uncover the real visitor and business needs that should be considered that will make the website an amazing marketing tool. This question relies on some knowledge of both sides of the user-base. Basic knowledge of what customer pain points, needs, and interactions could be to add value to their experience , as well as insights from the internal business development and marketing teams regarding process integrations, opportunities for automation, and reporting desires.
These are the types of early conversations that lead to effectively planning a clear content structure, visitor flow, and functionality list. Having an understanding of these needs makes planning for the subject matter of the content, photography needs, conversion points, number of pages, and design of the site a more calculated exercise.
After all of that planning, then and only then, can the fun part begin. Design.
Designing a website to be a marketing tool
When it comes to designing a website, let's get one thing out of the way. If a business does not have a style guide for brand identity standards that dictates the usage of colors, fonts, icons, and graphic treatments in design projects, that will be a necessary first step.
Brand Identity
As the central marketing tool in your digital marketing toolkit, the website needs to look, feel, and sound the same as all of your other marketing and advertising creative assets. This consistency in presentation is a subliminal tool that strengthens the perception of your business as it pertains to professionalism, quality, and familiarity.
Content Mapping
Before the brand identity can take shape in the form of user interface (UI) designs, a content plan needs to be established. Content informs design, not the other way around. By starting with content mapping, the types of pages and sections within those pages can give an early look into the potential user experience and functionality needs of a site. Are there opportunities for inter-site linked content (i.e. projects linked on a service page), a need for sub-pages, reasons for tagging or categorization of content, a call-to-action or conversion point, etc.
Taking a design-first approach tends to be the weakness of what most experience with pre-built WordPress themes on the market. The design is already established and the business needs to shape content around the design, which proves difficult in most cases. If the content can't fit into the theme's design, the site will end up looking nothing like the demo theme that convinced them to buy it in the first place.
Wireframe & Design
Armed with a completed content map, a UI Designer can tackle the look and feel of the website and best presentation of content within each page. They will combine the established brand identity guidelines with the necessary page types and content needs. This becomes an exercise in visual appeal now, knowing that the design process is informed by the legwork done up front during the prior phases.
Visitor Intent & Page Goals
The last performance-based step of the process is planning the intent of every page. This ensures that the website meets the needs of your inbound digital marketing strategy. Typically the intent of a page would be to guide, educate, help, or sell. Each purpose should align with a goal in the funnel, which means most pages have a conversion opportunity for mid-late funnel activity.
Top of Funnel
These goals would be to guide and educate. Guiding pages are meant to help visitors get to their desired information: searches, filters, and category pages are examples of these types of pages. The objective is to get a click-through to a more conversion ready page. Educational pages revolve around information regarding history, processes, value, and decision supporting content. The goal is to maintain high time-on-page viewing along with a potential click-through to a conversion ready page.
Mid Funnel
These are pages intended to help visitors with resources for those that have a growing interest in a service or product. Content such as data sheets, digital catalogs, interactive 3D models, calculators, etc. all provide useful tools that help a visitor accomplish a task. The goal is to elicit a click or download of an asset that allows for off-site sales support.
Late Funnel
These are conversion based tools that show a desire to purchase such as guided forms, sample carts, consultation lists, click-to-call buttons, shopping cart checkouts, etc. The goal is to convert the visitor using a sales process.
Tracking the website's performance and ROI
Lastly, let's talk about how we know this works. Any high-performance website needs robust tracking associated with it. This is not your set it and forget it Google Analytics installation to see vanity metrics like visits.
From the strategy work done early in the project, it will be known exactly what to track and how to pull it into a digital marketing report that shows funnel activity at various stages along with conversions.
At the very least, all conversion points on the website should be trackable, but it's helpful to also have appropriate mid-funnel metrics on the site that show future intent to buy. Examples of mid-late funnel metrics would be: phone calls, form submissions, document downloads, interactive tool clicks, sample requests.
Tools like Google Data Studio can be used to build customized funnel reporting and pull data from call tracking, website events like clicks and downloads, form submissions, click to email, and shopping cart conversions.
These metrics can also be attributed back to the source of the visitor as a way to understand what digital marketing channels are producing the best results between paid search, paid social, organic search, organic social, email, programmatic display, etc.
If you can't understand what your site is doing for you, then it is not yet a high-performance website. Performance is based on measurable, positive results.
So ask yourself…
Is my website a high-performance website?
Have we done enough to understand the right site structure for our audiences?
Do I know the activity and value my website is returning?
Are my digital marketing campaigns working in unison with my website?
If not, then it's a good idea to start thinking about that "why?" question and perhaps read back through this article to get some new ideas cookin'. And don't forget, you can always ask us to help!