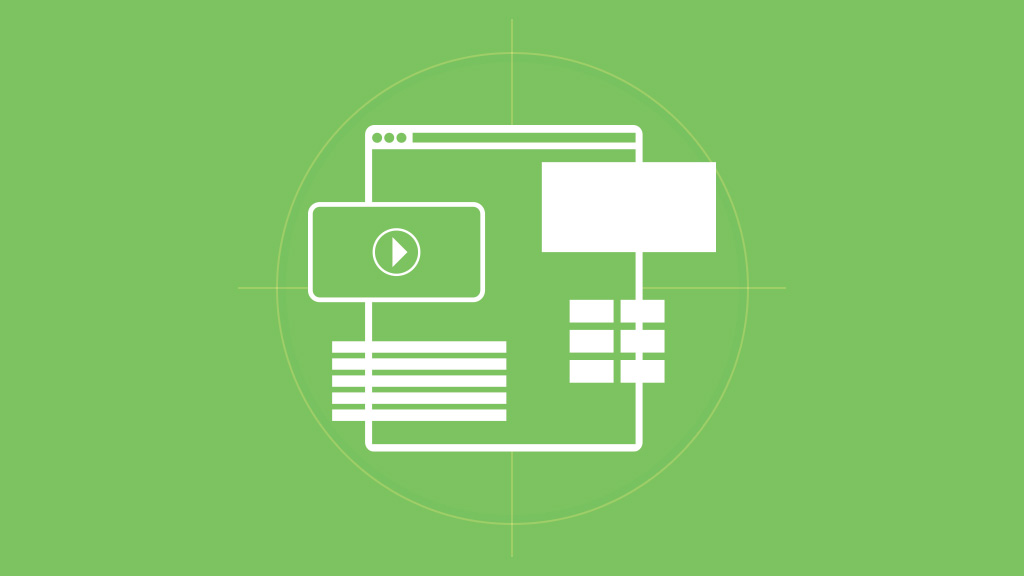 An optimized landing page design is an incredibly valuable tool in the inbound marketing and sales toolbox. Unfortunately, it's all too common to see website pages that are labeled as "landing pages" underperforming. It leaves website owners wondering why nobody is visiting the page, why it doesn't rank for any keywords, and most importantly why doesn't it convert?
In this article, we're going to break down the critical elements that contribute to an optimized landing page design that delivers results.
First off, what does "landing page" mean?
There are two types of landing pages. First, there are public facing pages built for Search Engine Optimization (SEO) with the intent to rank for a specific keyword. Second, there are private landing pages built specifically for use as a destination page for Search Engine Marketing (SEM) campaigns with the intent to sell. Each serves a different purpose, but for this article, we're going to focus on the critical elements of a public facing landing page that's optimized as part of a high-performance website.
When it comes to public facing landing pages created for SEO performance, these highly optimized landing pages are sometimes referred to as pillar pages (defined by HubSpot) or cornerstone content (defined by Yoast). Whether you call it a pillar page or cornerstone content page is fairly irrelevant. What it means, is that it is a focal point meant to be the primary page regarding a specific topic on a website. These pages are inter-site linking machines with the intent to be so comprehensive in information that search engines simply can't ignore them as resources for users.
What is the purpose of an optimized landing page?
At a high level, a landing page is expected to increase exposure, educate the visitor, motivate them to act, and solicit a conversion of some sort.
Increased exposure comes through the improved SEO performance. The first goal is to increase traffic to the website by building multiple landing pages, thus creating multiple entry points for the website for high-volume search terms. The next goal is to retain the attention of the visitor by having comprehensive content within the optimized landing page design.
The definition of a conversion can vary. Some mid-funnel conversions might be soft in the form of a document download, newsletter signup, or click-through to another page on the site (sub-service, product page, etc). Soft conversions are lead generation in the sense that the seeds of a relationship between the visitor and the brand are being planted. The more popular conversion types are at the bottom of the funnel and hard in nature with tangible measurements that include ROI. Hard conversions come in the form of contact form submissions, phone calls, and purchases directly on the website.
A great landing page doubles as both a salesperson and a customer service representative. Its simple purpose is to help the visitor and answer the question posed during their search that led them to the page.
How to create an optimized landing page design
Planning for a well optimized landing page can seem overwhelming at first. These types of pages are a fairly large undertaking, but with a little planning a roadmap can be laid out to help pave the path to success.
Start with the goals of your landing page
Before you can even plan what content will be included on the landing page you have to clearly define the goals of the page.
The first goal should be achieving a first-page SEO ranking to boost search visibility for the website related to an attainable high-volume keyword. The key word here is "attainable" in that if you're a bookstore from a small town in Iowa, you're not going to out rank Barnes & Noble for "non-fiction books."
Next, move onto your education and lead nurturing goals. What types of content can you develop to educate and engage your visitors? This is where document downloads, opt-ins, and click-through actions come into play. These actions can even be tracked in analytics if you desire.
Lastly, the most important goal, the conversion. What is the ROI goal for the page? If you're a service provider, you're hoping for an email, form message, or phone call. If you're a Saas company, you're hoping for a demo request or free trial sign up. If you're an e-commerce company, you're pushing for a purchase. Each of these can easily be tracked and should be tracked to prove the ROI of an optimized landing page.
Plan and create the critical elements of your landing page
This is the part where you start making commitments to the work that needs to be done to create this page and improve it over time. In this case "content" does not mean a few paragraphs of text. It means a commitment to building a comprehensive delivery of information that makes this page THE best page on the internet about this topic.
Title & URL
The title and url need to include the high-volume keyword targeted for SEO benefits. The rest of the content will support this.
Relevant Rich Content
A well opted page should have 500 words or more. The ideal range would be 500-1500 words. The copy written for this page needs to speak to the visitor's pain points, not sell. Public facing landing pages are guides for visitors to an action. They should take a helpful approach.
Imagery & Graphics
Imagery is all but required to both break up the content and make it more easily digestible. It also provides optimization opportunities since the related images and graphics will support the optimization of the page through their descriptive ALT tags.
Complimentary Content Features
To truly make these websites pillar or cornerstone pages, they need to showcase related content from within your own site as a way to support the main theme of the page. This could include related blog articles, products, industry pages, case studies, or sub-service detail pages.
Document Downloads
Documents offer the ability to include long-form content, or content simply not important enough to be on the page, as a take-away. Useful documents could include eBooks, data sheets, sell sheets, or manuals. The content within these is not necessary for the page itself, but the information is still useful to the visitor.
Multimedia
The use of multimedia on a landing page may be the single most effective tactic to keep visitors' attention and drive up time-on-page metrics. This type of content includes embedded video elements or links (i.e. YouTube or Vimeo), embedded audio elements or links (i.e. Buzzsprout), or even embedded slide decks (i.e. Slides.com).
CTA & Conversion points
Whether you're looking for a mid or bottom funnel conversion, well written and unobtrusive CTAs will get users to those conversion points. These elements will be your feature elements with phone, email, form, or purchase buttons. All very much trackable and will inform your ROI calculations.
How to track the performance of your landing pages
Once the page is live, it will need some time to hit a groove in both rankings and activity. It should also be noted that the page should be updated regularly over time and not left to become stale, even if it is very well crafted. There's always room for improvements and augmentations.
Search Ranking
First, the ranking for the page for its target keyword. This is the most important and clear metric for the value of the page as an inbound asset to marketing and sales. It takes some time for pages to rank and depending on the difficulty and search volume for the page, it may take months to years. The benefit of creating a landing page as a pillar or cornerstone page is that it has the structure to expand easily and always work to improve the ranking over time by making the page more valuable as more content and improved content is added to it.
Page Traffic
This goes somewhat hand-in-hand with the search ranking, but is still worth tracking because not all traffic is entry-point traffic. Some traffic is coming from other pages on the website as well and that's ok. A well built page that is linked within the website in multiple areas is also a valuable asset.
Bounce Rate / Click-Through Rate
You'll want to keep an eye on how many visitors leave the page without clicking through or converting. This metric shows the relevancy of the page to the visitor and how effective the content is. Bounce rates should decrease over time.
Time On Page
If you're wondering if your page has high quality content, this is the metric to tell. The longer a visitor is on the page, the more likely it is that they are digesting the rich content you've included in your landing page design. It's also more likely that they convert into a soft or hard conversion.
Conversions
You can track conversions directly related to a landing page or overall for the site. In either case, strong landing pages will increase qualified site traffic and improve the chance of converting visitors into leads or customers overall. This is also the metric with the most direct correlation to the ROI of a landing page.
Start utilizing optimized landing pages to up your inbound marketing game
Too often, website pages are written with one paragraph of textual content and with expectation that they will perform in search and sell to visitors if they land on the page. Making an effective landing page is a strategic endeavor that involves more than just the content on the page.
Effective landing pages rely on a strong website and content plan as a whole. Enhanced content such as images, videos, audio, articles, documents are all critical elements for an optimized landing page design, but they are extra work beyond the page copy itself.
If the pages on your website are relying on one paragraph of basic text to carry the load of inbound lead generation, it's time to look at what can be done to optimize those pages and turn them into real tools that contribute to your marketing success.