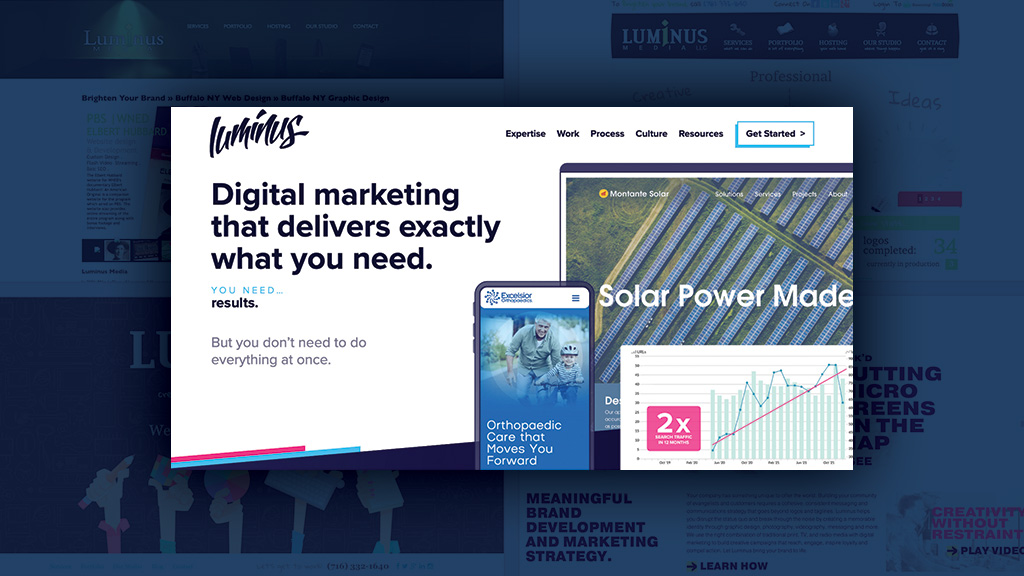 Websites. Gotta have 'em right? They aren't cheap, take a long time to produce, require a large effort, and come with some level of risk. A website redesign is a commonly dreaded topic and the last thing anyone wants to tackle, but it's a necessity for many reasons. We're going to run through all of those reasons by sharing the story of our very own agency website over the last 12 years.
What makes a website redesign necessary?
"Times change man."
– Tommy Chong, probably.
It doesn't matter if a website exists for personal or professional reasons, over time there are multiple internal and external factors that put pressure on a website. A topical or service based pivot, rebranding, advancements in technology, and security are just a few of many reasons.
We typically tell clients that a well written, designed, and developed website should confidently last 3-5 years, then be a candidate for updates or a redesign. Websites can cost anywhere from a few thousand dollars to tens or hundreds of thousands of dollars. No matter the initial cost, that cost will be spread in value over a number of years and is an investment in your business or organization's future success.
A website redesign or rebuild doesn't always have to be a complete overhaul either. In some cases a well designed and maintained website could simply benefit from a content structure update and/or additional design modifications to extend its life cycle.
Having to redesign or rebuild a website within a few years does not necessarily mean the website was poorly made. It's nearly impossible to predict what influences will put pressure on a website years after launch. This is the nature of life, business, society, and technology.
Why we've redesigned our website 5 times in 12 years.
Well the obvious reason is we're creative masochists and can't help ourselves, but it's more than that really. The digital marketing industry sees advancements exponentially for the options we have to serve our clients when it comes to available tools, technology advancements, and marketing channels.
A lot of the previously mentioned factors apply to our agency the same way they apply to everyone else. We've had business pivots. Had to keep up with evolving technology. Wanted to refine and make our website management processes more efficient. It all matters to us and as hard as it is to find time to work on our own projects, it's necessary to stay up-to-date.
Here's the story of our 5 website redesigns over the 12 year history of our digital marketing agency.
Luminus Media v1: Business Launch (2009)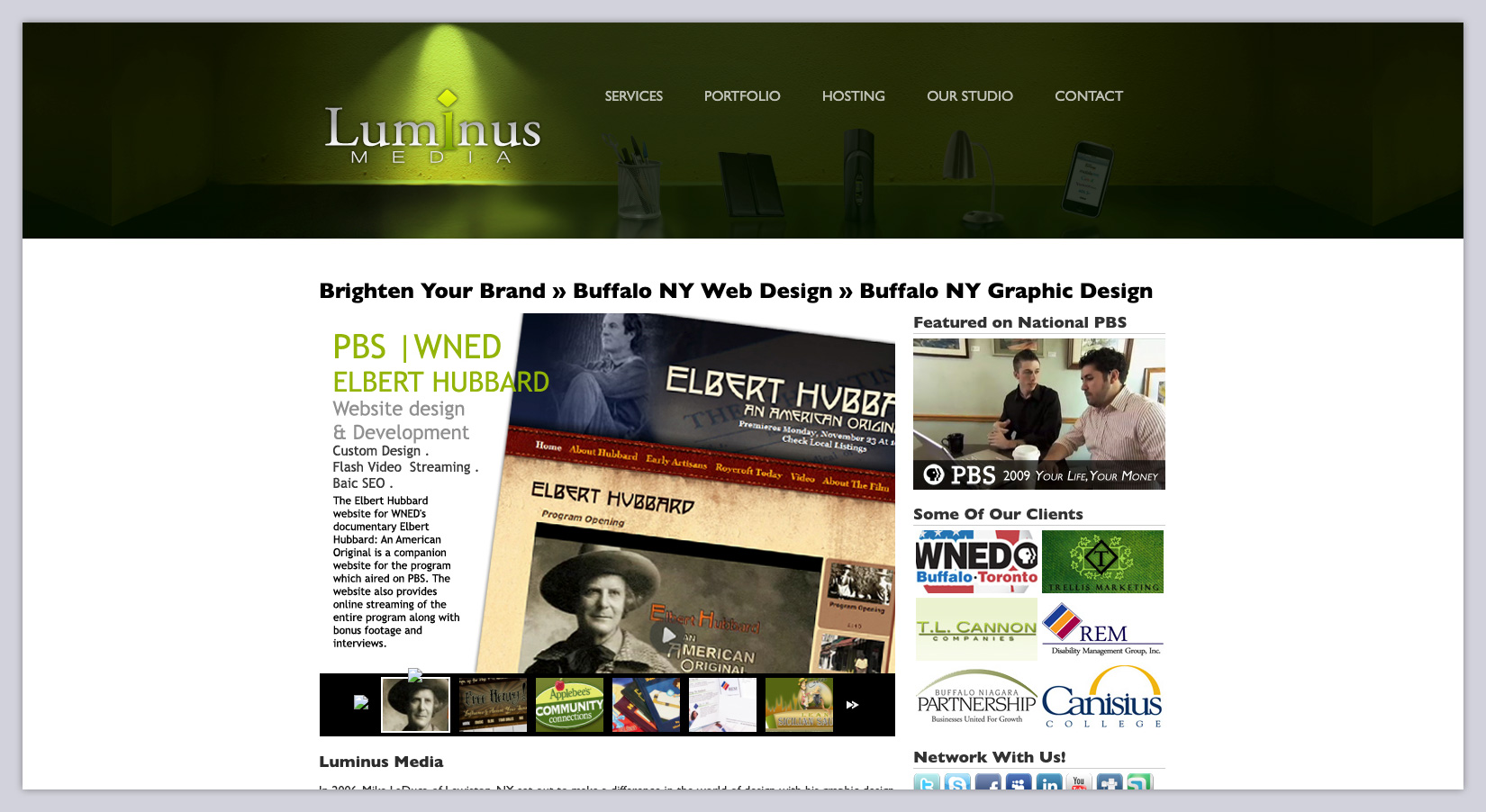 Overall Goals
Our goals for the first ever "Luminus Media" (yes Media ?) website were simply to launch the company in the most efficient way possible and have good content within the site.
Initial Benefits
This site got the job done. Our new company name, logo, and informative content structure were released for the world to see. We even had a cool effect that had our Luminus "light" follow the mouse over the navigation items to reveal them (we were overly proud of that one). Our content was well written and we established a solid presence online to build our business off of.
Discovered Weaknesses
After only a year or so, we started to realize that the site wasn't very scalable. We had "hard-coded" this website in an effort to make the build more manageable and straight-forward, but that created an issue down the road when adding new content into the portfolio and blog on a regular basis.
Luminus Media v2: Brand Update (2012)
Overall Goals
In 2012, we moved into our second office, started building a team, established ourselves in the market, and felt that the brand needed to be cleaned up to represent that. So with that rebrand came a new website design and opportunity to solve the problems we had uncovered with our first website.
Initial Benefits
We used this rebuild to make one huge update and developed a database driven website, built in PHP within a proprietary CMS we called the "LM Panel" that made content management so much easier. This allowed us to easily scale our growing portfolio and blog sections within the website. The rebrand gave the site a more professional feel and the content had more room to breathe within the light colors and white space throughout the design.
Discovered Weaknesses
The design utilized the "960-grid" which, back in the day, meant that the content was confined to a 960 pixel wide container. Initially that was no problem, but as higher resolution monitors started to become more widely used, the site looked incredibly skinny and cramped in full screen view. The site was also not responsive yet and mobile browsers for the iPhone and Android devices were starting to become more capable for browsing and popular with users. So it was not an ideal mobile viewing experience.
Luminus Media v3: Growth Update (2015)
Overall Goals
Our agency had grown in team size, client size, and services offered. The new site needed updated messaging to convey this. The design itself saw a massive improvement in screen usage and responsive flexibility for optimal viewing on devices of all sizes. This update was less about the content structure, which remained nearly the same, with the addition of digital marketing services content. This was also the first time "Media" was visibly dropped from the logo, although the company name had not yet changed.
Initial Benefits
We took another huge step in the quality of our content and brand presentation. This site made the progressional impression we had been chasing for nearly five years. In the year leading up to this website launch we had been selling, designing, and developing responsive websites for our clients, but didn't have one for ourselves. A classic shoemaker complex. We also had a newer version of our proprietary LM Panel CMS that we utilized for this build that was easier to use and introduced some needed SEO functionality.
Discovered Weaknesses
Around 2016, we realized that despite the positive feedback from clients about our LM Panel, we knew that as the web became more interconnected between apps and sites, our system would not be able to keep up. At this point, popular CMSs like WordPress were gobbling up market share and were so flexible that it was hard to ignore any longer. We also needed more functionality for SEO related tasks and the proprietary system was limiting in that regard.
Luminus v4: Business Pivot & Rebrand Update (2017)
Overall Goals
Our company name officially changed from Luminus Media to Luminus and our business model pivoted from a digital marketing agency to a creative agency that focused on brand strategy and integrated marketing. With this redesign we took the opportunity to switch to the WordPress CMS, which we had done for our clients a year or so prior (again, shoemaker complex). We also repositioned all of our content, the content structure, and removed our portfolio section with nearly 400 projects and replaced it with 6 in-depth case studies.
Initial Benefits
This site had a very sleek look and portrayed our message very well. It was clear that we weren't just some kids that built websites. The WordPress CMS added much more functionality and flexibility for SEO management and had a more stable codeset than our aging proprietary CMS code developed in 2014.
Discovered Weaknesses
Over time we learned our very intentional decision to remove the portfolio section had a drastically negative impact on our website traffic and search visibility. Our inbound lead generation saw a similarly drastic decline in activity. It was pretty apparent that our site's content was intimidating visitors as we saw bounce rates increase. We also had some design complications with the homepage not behaving well responsively and the banner animation not rendering properly within different browsers. Lastly, we started to notice that the font styles we had chosen for our new brand were somewhat complicated to read in some layouts.
Luminus v5: Business Re-Pivot & Brand Update (2022)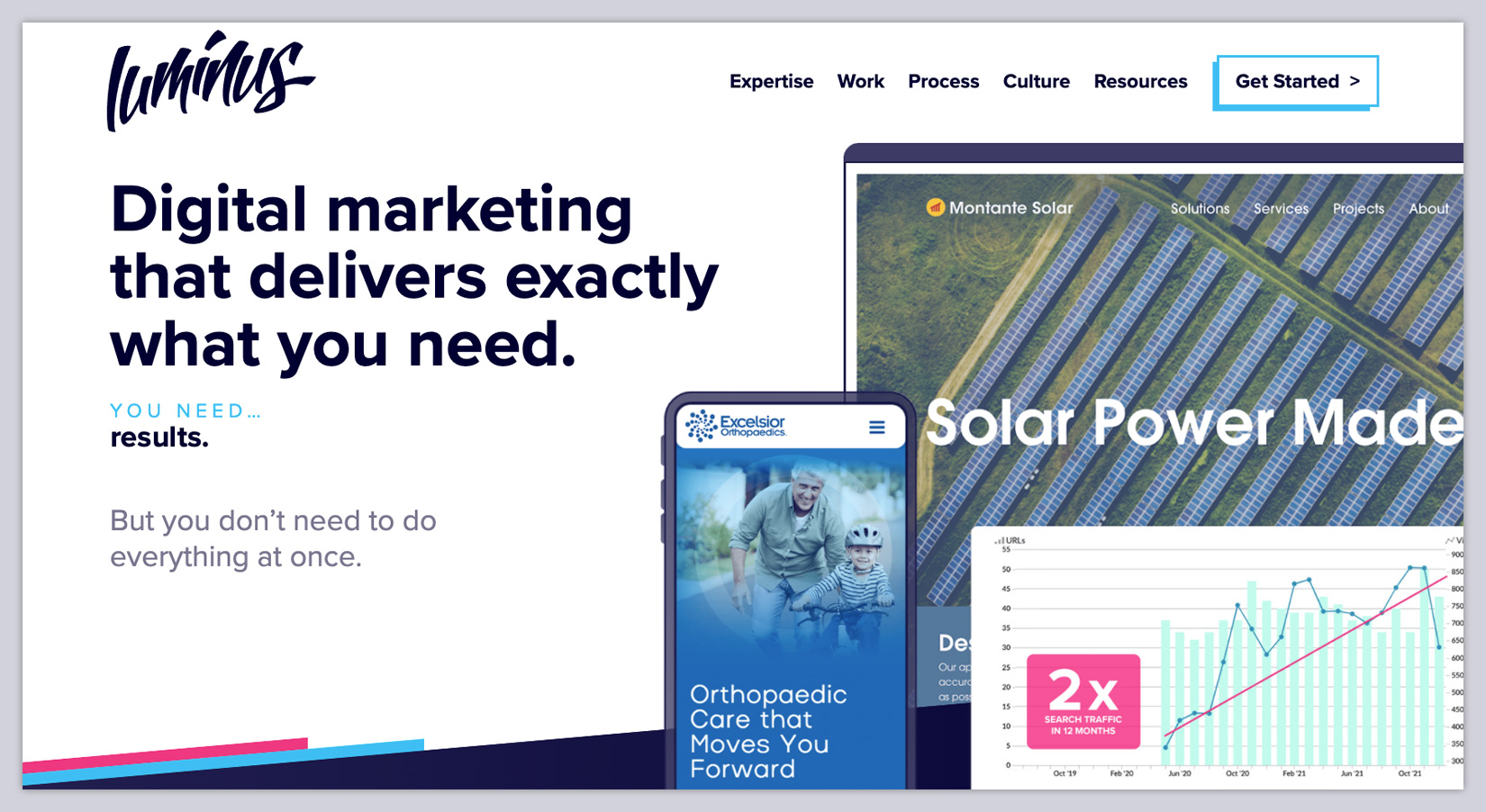 Overall Goals
Refine the new Luminus brand so that it was still primarily intact, but address the legibility issues with the fonts and patterns used in the previous iteration. It was absolutely necessary to re-introduce a portfolio into the website that showed relevant projects visitors may be able to connect with. We also needed to add more content to the site through the portfolio to start growing inbound traffic again. Lastly, an overhaul of the website's messaging was needed so that it was more inviting, inclusive, and tied back to our most widely known expert proficiencies in digital creative and digital marketing.
Initial Benefits
While our 2022 site has only been live for one month, it's seen its site traffic double and make progress towards our pre-2017 traffic metrics. Inbound lead volume is up. The website content is laser focused on digital creative quality and digital marketing results. Our new WordPress theme is more flexible in the types of modules available to build pages with, including inter-connected content between sections of the site. The new brand font is easier to read and titles within content are more lightweight and less distracting.
Discovered Weaknesses
To be determined. We know we'll find some in time. We always have and that's the point.
This website took our team 6 months to strategize, write, design, develop, and populate with transferred and new content. We hope to update and maintain this version of the site for the next 3-5 years and see it grow with us.
A website redesign is a growth opportunity.
Your website is the number one representation of your organization or business online. Your business model, brand, internal processes, available technology, society, or marketing needs will change. It's not a matter of if, but when. Your website needs to follow suit and meet those demands as they crop up through either an appropriate update or a larger redesign.
A website left unmaintained or ignored will result in public confusion, security concerns, and potentially the stagnation or loss of business as a result. That can result in a much larger loss of revenue and opportunity than a website redesign project.
If you have any questions about the state of your current website or what possibilities there are for improvements, hit us up.