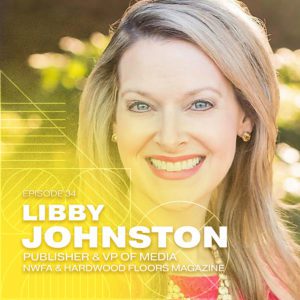 Libby Johnston, Publisher & VP of Media at the National Wood Flooring Association (NWFA) & Hardwood Floors Magazine shares her thoughts on the benefits of having a communications plan, what it entails, and how to enact it. She offers actionable advice on where to get started and how to use your plan moving forward.
Episode Links
Find Libby on LinkedIn
Visit the HWFA Online
Visit Hardwood Floors Magazine Online
Episode Transcript
Tim
Welcome Building Brands listeners. For Episode 34. I'm joined by Libby Johnston, Publisher and VP of Media at the National Wood Flooring Association, the NWFA and Hardwood Floors Magazine. The NWFA's mission is to unify and strengthen the wood flooring community through technical standards education, networking and advocacy. In this episode, Libby shares her thoughts on the benefits of having a communications plan what it entails and how to enact it. She offers actionable advice and where to get started and how to use your plan moving forward. Enjoy the episode.
Tim
If you're an owner or marketer in the building materials, manufacturing, distribution, or contracting spaces, looking to set up your brand for success now and in the future, this is the podcast for you. On this show, we talk about brand and market strategies used in the real world that grow companies and truly connect with consumer audiences. So sit back, listen in and let's get to it.
Tim
Welcome Libby Johnston, Publisher and VP of Media at the National Wood Flooring Association, the NWFA and Hardwood Floors Magazine. Thanks for coming on the podcast.
Libby
Hi, Tim. I'm so glad to be here. Thanks for having me.
Tim
Cool. Why don't you tell the listeners a little bit about your professional background? Why I have you on the show and how you're associated with the NWFA and Hardwood Floors Magazine?
Libby
Yeah, so I've been in journalism and communications for 18 years now after I graduated with a degree in mass communication. I actually started out as a local television news reporter, and then ultimately moved over into public relations. I later ended up working for a public relations agency where I counseled clients ranging from nonprofits to fortune 500 companies about crisis and issues management, Media Relations and Public Affairs. I've been with the NWFA now for four and a half years. And it's just been a really great place to be for me because it really meshes. Together my communications and journalism experience. And being able to tell our member stories and the stories of the wood flooring industry is a lot of fun. And we have a really great team that's always excited about helping our members and the industry as a whole.
Tim
It is a fun industry, I found that no matter what skill set you have, if you end up in this industry, you're usually surrounded by good people and interesting products and and projects that are happening around you.
Libby
Yeah, absolutely. A lot of great stories to tell.
Tim
When you were on in the in the news business. Were you a TV person? Or were you just out in the field person? or What were you doing?
Libby
A little bit of all of it, you know, I was a reporter out in the field as well as anchoring, working on morning shows. I did all sorts of things from you know, the fun morning, show live shots where they have you test and try out different things to covering politics to hurricanes, you name it, a big variety of experiences there. It was a lot of fun.
Tim
So how did you end up at NWFA? Was it just an opportunity that came to you? Or did you think it would be interesting, and that was like looking for a different challenge to apply your skill set? How did you end up over in this area of the world? The industry?
Libby
Yeah, I mean, like I said, it was just such a good opportunity to mesh together my skill sets there with with journalism and communications and getting to dive into both because, you know, I have had along the way where I was strictly doing journalism, or strictly doing public relations. And this gave me the opportunity to really be on both sides of things by being with NWFA. And again, it's just such a great industry with great people. And there's so many good stories to tell people love wood flooring. So it's a you know, something people are pretty passionate about. And it's just been a good experience for, for me, as well as working with our awesome team.
Tim
Cool. Why don't you talk about the organization a little bit so people know what we're talking about? Who benefits, what it's involved with, what types of things you guys do. And then what we really want to get into is we could talk a little bit more about communications, because that's your wheelhouse, and then we can pick it that a little bit too.
Libby
Yeah, so really my role at NWFA, I'm the publisher of Hardwood Floors Magazine. It's the official publication of NWFA. I handle strategy and work with our team on editorial and advertising across our print and digital offerings. I also work on interview phase real wood real life. It's a consumer campaign that really equips our members with the marketing materials to talk about all the benefits of real wood to homeowners. And then I also work on outreach and media requests that NWFA receives from consumer publications. But diving into what NWFA is. It's a nonprofit trade organization. We have 3000 member companies around the world, and it represents all segments of the wood flooring industry. So you know that's something different with us. Not just manufacturers, we also have the distributors, importers, exporters, retailers, installers, and consultants and inspectors. So we work as a mission to strengthen the wood flooring community through technical standards, education, networking, and advocacy.
Tim
And that's like the full ecosystem, you must have a plethora of stories and things to pull together when you're putting together like magazine editorials and publication content.
Libby
Yeah, it really is. And, you know, there's such an opportunity to bring things that fit across the board to all these audiences, because our readership obviously fits into those buckets as well, you know, it's not, it's pretty well matches up with our membership. And you know, in terms of categories of the flooring supply chain.
Tim
And what's nice about that is you really want a trade association and the content that it's putting out to bring people together. And if you are really catering to all those different aspects of that segment of the industry, you get to do that you get to be one of the glue pieces that connects installers with manufacturers and designers, with manufacturers and all the things that happen in between.
Libby
Yeah, that's absolutely right. You know, we we do it in a variety of ways. Besides just hardwood floors, magazines, that we have events, for instance, the NWFA Wood Flooring Expo is hosted annually. That's our trade show, and conferences dedicated exclusively to wood flooring. But again, that caters to the entire supply chain there. We have speakers, education sessions, technical demos, where they can learn how to do some new things as well as senior products. And of course, networking at that event each year.
Tim
Very cool. So you're, you're in communications, you're a communications person, you've gone through all sorts of different positions where you've used different skill sets within that. I think that it would be great to dive into that aspect of what your experiences and maybe use this to drive the conversation for how manufacturers could start to pull together some of the things that you've seen in your past that could benefit them from actually creating a full fledged communication strategy. Before we get into that, maybe you can start to talk about like how it's important for people or why they should be thinking about it as like the starting point and foundation for the conversation. We can dive off into different topics like things to think about and and how to move forward once you do it. Once we kind of set what the importance is. Could you talk about that a little bit?
Libby
Well, the reason to have a communications plan is really because if you're offering a product or service, how else do you get the word out about it? Besides communicating for real? There's, there's just no other way to tell people what it is that you have to offer. And in terms of a plan, I think for a lot of people, it's really easy just to keep doing what you've been doing. But it's really smart to step back and say, why are we doing this? What's the reason for that? Could we be doing it better. And then, really, when we talk about a plan, it's identifying your goals, and then drilling it down into communications tactics, that can help you achieve those goals. So that you're putting your business in a proactive state, rather than just living in this constant state of reacting to whatever comes your way.
Tim
Brand strategy is very similar. I knew as the based on our pre conversation, I kind of knew that we were going to feed off each other on this brand strategy is the same thing. If you don't look at it after 5, 10, 15 years, and you don't step back, you could be out of date, you can be out of touch with the people you're doing business with It's same thing with communication strategy, too. And another interesting thing about communications is it's not this isn't advertising, necessarily advertising is one outlet of how communications, you know, touches audiences that the brand works with. But this can also this is internal communications. It's operational communications, it's brand communication, it's content of it. There's all sorts of things that go into this, right.
Libby
Yeah, absolutely. So you know, when we talk about our backup, just a second to talk about, you know, what should be in a plan? Yeah, for instance, if you're ready to go down down that road, it can really range from having a couple of pages, you know, that that nail down what your strategy is going to be to being an entire thick binder. And that really depends upon Are you willing to dedicate the time to do that? How prepared Do you want to be and what works for your business? So I guess before I dive deeper into that backup, just a step to say, some folks may say, I don't have a big company with a 20 person marketing department, you know, or communication staff like that. How can I do a plan? Well, you don't have to have that to have a communications plan. It's not just big companies that really need a communications plan, everybody needs one. So the first thing that you need to do before we talk about what to put in that plan is figure out who at your company should be taking the lead on it. Obviously, if you are the marketing and communications person at your company, it's likely going to be you tag your ad. If you have someone in that role at your company, they're probably going to take the lead on that. But if you don't, maybe there's an agency that you work with, who could outsource this for you and help you along the way. Or if you're a one person show, and you're the CEO and the owner, nobody knows your business better than you. Maybe you're the person who starts sketching out this plan there, too.
Tim
Yeah, and just an agency note to since you brought that up, there are plenty of types of agencies out there, too. There's full service agencies that have PR, they have creative, they have media, by management, and the whole all sorts of different departments. There's also creative agencies, there's dedicated media buying agencies, and there are dedicated PR and communications agencies to where they focus on communications plans, and outreach and network development. There's all sorts of different content outreach, publication outreach. So knowing what you're looking for, would help you if you go outside of your internal team, or DIY approach. So just dropping that note to from my side, I can add to that as well. So let's say they are small, medium sized business, they don't have a department that can develop these things, what are what should they what's on the to do list for them to start considering prioritizing to even if they want to take baby steps start to chip off a little by little by little.
Libby
Okay, so at a high level, the plan should be starting with writing out your company's goals for the full year. Again, in an ideal world, you're doing this, you know, q3 before q4 is up each year, so that you're ready to take that first calendar year. Or maybe you operate on a fiscal year schedule, you know, whatever works for you, but it's never too late to start getting that ball rolling. So write out those goals, and then write out the communication tactics that are going to support those goals. That's ultimately where you're trying to land. So for example, a table of contents that might look like goals, measurable objectives, the audience, you're trying to reach some top line key messages that are relevant to your goals, then the tactics and the timeline, that's just real high level there. And breaking that down a little bit more. You know, your audience, identify the relevant stakeholder groups that you need to communicate to distributors, customers, employees, government officials, news media, and like you'd mentioned, think of it in terms of his two buckets of internal communications, which are your employees, and then external communications, everybody else. So that's important so that you know who you're speaking to, because you may have a little bit of a different message or approach based on who that audiences. And then think about what channels you have to communicate with each of those audiences. Some cases, that's going to be email, or maybe you have mass text system, social media, blogs, videos, podcasts, all of those things. And when you identify those channels, that's really going to help you match up the tactics that you can take to really communicate with them. And a really important part of this, again, just being very basic here is having a timeline of when these communications should roll out, plug in dates, and then plug in deadlines for the collateral and the materials that have to be developed. In order to meet those deadlines. You know, because you may need a product catalog, you may need photography, you know, all of these things, press releases, things of that nature, have deadlines and hold yourself and your team accountable. By putting those deadlines into a calendar, setting up some system, you know, like Asana or something that pings you with reminders of when projects are coming up. And you have to have those deadlines and timelines to keep yourself honest, so that you don't blow past them. Those are just some very baseline things to start sketching out a plan.
Tim
There's some stuff in there that is crossover work to from a brand standpoint as a creative agency. luminess does a lot of this some of these pieces. We are a PR agency. But we do also help with documenting and building some of the profiles for things like audience profiles, pain points and buyers matrix where you have channel listings and types of collateral and communications tools that you can develop through someone like our agency where you have, whether it's brochures, social media assets, like graphics and captions, campaigns, whatever it might be, and where PR and internal department might be able to help is take those things and put them into action through their networks or through the publication channel. knows that they're managing as an internal team. Or if you're an owner or marketer, in a company, like you're the person that's taking those things. So I like that you brought up the audience too, because communication is only good if it's relevant to the people that you're sending it to. If you're, if you're 32 year old, in Florida, you don't really care about AARP membership plan, right? Like there's a disconnect there. And you have to make sure that there's a connection before you start releasing your communications assets and messages out in their message was the other one that I thought you said that was just very important to bring up again, if you don't know how to communicate, why your company is different. And what makes it desirable company to do business with whether it's a product purchase, or a service collaboration, then you don't have anything to communicate. So those were two key pieces that I love that you mentioned, knowing what to talk about about your company, and who to say it to you and how they're just priceless strategic knowledge that you have to have before you can even do a creative piece or a PR outreach or anything like that. So I'm glad you brought that up. That hit me right in the fields. And so and you mentioned it also being proactive, too. We went through a period over the last year where a lot of people had to be reactive, because most of us were not seeing a global event happening in our in the near future. So you may be able to speak to how a communications plan can help you be proactive, let's say when a pandemic hits and economies shut down, and society goes inside for 16 months or however long at this point. But yeah, talk about how, you know, crisis management, you mentioned it during your past PR experience. That's part of it. So let's talk about the productivity a little bit.
Libby
Yes. So in terms of a crisis communications plan, you know, and you mentioned, what everybody's been dealing with, since March of last year. You know, if you think back to that time, when the stay at home orders were coming out, business shutdowns were happening. People needed to quickly communicate with their employees, their customers, and and others regarding whether or not they could come into work, whether or not they were going to show up at your job site, safety procedures, all of those things. And I think folks should look back at that moment, back in March, when this all happened, and say, when I needed to communicate with everybody, what was that process? Like? Was it easy? Or was it chaotic? And remember what it was like in that moment? Because you're right, what you said earlier, you know, when I used to be at an agency, and I would write crisis communications plans for companies, you know, I have to say that global pandemic was not necessarily always high on that list of scenarios for which to plan,
Tim
right, and that was a company that already had a plan, and it still wasn't on there. But you know, what it is what it is.
Libby
And you can bet that it's top of mind for everyone. Now, some people may have gotten a little bit comfortable in the space now where we're in this constant mode of shift and roll with the punches. But they should also remember that there are plenty of other potential crises situations out there for which to plan, you know, they're on different scales. And crisis means different things to a different organization. So when we talk about those, can you go ahead and plan for something potentially, like a job site injury, Hurricane heading your way that would cause business to shut down for an undetermined amount of time, there's so many situations where you need to reach your audience, audiences plural, and in a thoughtful way to maintain your relationships with them, but also to be able to continue to conduct business. So having a plan in place to react to that really does make you proactive in a lot of ways. And I had also mentioned this to you that I wrote an article about crisis communications planning as it relates to the the pandemic for hardwood floors magazine last year, and some very basic steps to building, you know, a starter communications plan for for crisis. I can take you through those steps really quickly, because otherwise, I could fill an entire other podcast just talking about crisis planning.
Tim
Yeah, take the quick version. Yeah, exactly.
Libby
So start by defining what crisis means to your organization. Then create a crisis management team who needs to be involved, define who leads the communications of that so that, you know for instance, when it's time to push out an email, who's pushing send on that, know who your spokesperson is going to be? and work with that person on some practice interviews. So that the First time they're doing an interview is not during the most stressful time of their lives. Have a list of contact information for all of your audiences, that seems very elementary. But in the moment, when you need something quickly, make sure you have a list of all of your key audiences that you can reach out to quickly and have a list of all your communications channels with usernames and passwords, and some really basic instructions, for an example of how to post something on your website, because you might have one person at your company who's responsible for posting on the website. And what happens because a crisis doesn't care if it's between the hours of nine to five, Monday through Friday, what happens when a crisis happens, and your person who posts on the website, you can't reach them, and you need to get something out there, have those basic instructions so that someone else can help out there in that situation, and then do a risk assessment. Like I mentioned, everyone has different scenarios that are relevant to their business, that would be considered a crisis. They're all at different levels, choose which ones you need to plan for, and when you would need to communicate with stakeholders. So we've talked a lot about the pandemic. But some others that could be very common, would be, for instance, a data breach. customer complaints on social media that go viral, or you know, an employee strike, things of that nature, are very realistic to plan for. And then if you really want extra credit, those extra points, after you come up with a scenarios, draft some template statements for those scenarios. So again, you're going to have a lot of holes in there. But you're trying to think about two to three sentences that you would want to push out to media or customers, if an emergency situation came up. And you'll obviously leave the blanks in there that you can't fill in date, time who's involved all of that stuff until you're actually in it. But having a template to start from in the heat of the moment is going to make life so much easier for you than starting from scratch.
Tim
It's like anything else in life, the high school play, or the military or Boy Scouts, whatever the more you prepare, the less stress you will have in the moment when it comes time to do the thing that you're preparing for. And in crisis management, any sort of PR word demands a quick response that sounds intelligent and appropriate, you can really reduce the stress level trying to get that stuff put together if you have something to work off of and a plan already in place. So that's pretty straightforward and why it's valuable.
Libby
Yes.
Tim
It sounds like gathering documents, making up processes and plans, identifying team members, logging logins and creating extra resources. It sounds like a lot of work. So some people might be saying this sounds great. But I don't have time to deal with this. Do you have any way of helping us as an audience get over the hump of starting something like this and taking it in stride? A little bit? Like, it seems like something is better than nothing? When it comes to this? You might have experienced this in the past? How to coach people through starting this anyways?
Libby
Yeah, I mean, of course, you know, I think that when we talk about communications plans, what we've talked about in terms of having proactive and reactive planning, you know, maybe the place for someone to start is with having that proactive plan, you can always include crisis as part of that overall proactive plan. But you may want to break these two apart, you know, and tackle them separately. Because there there is a lot involved with it. But I would say take baby steps, you know, and if it's something if someone on your team can devote some time to it over a period of time, set a deadline, get it done, you know, don't necessarily say I have to have this done in a week, you know, take the time to think it through, you can find some templates, or use some templates of things you've done in the past, to build it out from have those baby steps to really start pulling something together, you know, some of the most important things are just thinking about it, you know, bringing that to the table, because that's where you start to get that strategy and go from there.
Tim
It sounds like really just taking the initiative to start is a lot of what people think of, Oh, this is too much work, I'm not even gonna bother. So if you look at it slightly differently and say, Look, the first step is I got to put together a team, I have to think about what things I want to address First, if you can't even get over that hump, you'll never get to the second one. But also it sounds like that even though this can be a lot of work upfront, once you get it set. It's not like you have to do this entire process every year. It's you get your communications plan put together and then you either add to it or you adjust it based on how the economy shifts, the business shifts or society shifts and what the demands of the audiences are from you or what might happen globally from a crisis management standpoint. So it sounds like it's an investment in time but it over. But once you've done it the first time that you have a full plan or the majority of a plan put together, it's easier to manage once you get over that first hump. And I think that that relates a little bit to what we do from a brand strategy standpoint is, it's also a lot of work to do a brand strategy upfront. But once you have it to shift with new product lines or changes in the business, or what new audiences that you might be communicating to, it's easier to adapt a brand strategy to what your new campaigns might need. So I feel like there's a good similarity there. And you might, you might be able to confirm that I'm not making the wrong assumption, but it sounds like upfront work can really pay off in making it easier to maintain overtime.
Libby
Absolutely, you know, once you have that plan in place, you've done the biggest lift. So you have to do it one time really is going to be the the hardest part. And then you're going to be going back, like you said, and activating it each year, you know, on the proactive side and the crisis side. So on the proactive side, you are going to make those updates in terms of what are the priorities for the year what new communications channels do you have what new audiences Do you have to deliver these messages to all of those things on the proactive side, it's really some minor tweaks each year, it's not a complete overhaul each year with the plan. And then in terms of the the crisis plan, you know, you really just want to make sure that you're keeping contacts in it updated. They are keeping messages at data, logins, all of those kind of details are updated each year. And then after, you have to put that plan into play where you know, an unfortunate situation pops up, and you have to go to that plan and use it. Sit down with the team and debrief. what worked, what didn't what can we do better next time and make those changes immediately while it's still fresh in everyone's head?
Tim
Yeah. So once you have the plan in place, and you've taken the baby steps, you may even have had it for a couple of years, where can you talk a little bit more about the channel usage that you've been mentioning, you know, through social speaking of social media, that's something that's a really good example of if you don't update a strategy over the course of years, you could lose touch with your audience, because there was a solid five to 10 years between 2007 and 2017. Were companies ignored that social media could be used as a customer service messaging platform, and they got ripped apart when people would complain and not hear back through comments, or DMS. So that's just a really good example of how to use PR to develop a new channel to assist your audiences. And I just wanted to throw that out there. But why don't you talk about channels and whole a little bit about where you can enact some of these non crisis related necessarily, but even brand building type of communications?
Libby
Seriously, the best communications plans are really a multi pronged approach. You know, you want to have print, and digital, and probably, you know, events, and you may want to think about it in those buckets. So you're looking at public relations, advertising, b2b pubs, editorial, podcasts, things that nature system, questions to ask would be, what trade shows? Will you attend? Which publications Do you want to advertise in? And when? How many press releases? Do you want to send out each year? Is there a topic you could pitch to media to be willing to write an editorial or an op ed for them? What events in the community are you going to be doing where you might want to invite local media to attend and see that? How often are you going to post on social media? Are you going to blog on your website? And with what frequency Are we going to email customers, you know, those are just some baseline questions of ways to think through those channels and tactics. And again, all of that is proactive to your point. So schedule it and think about that timing in advance.
Tim
Yeah, and our agency is big on the digital space, but we don't neglect for our clients, the fact that print and in person experiences are still valuable as a complimentary piece, there's so much out there about how digital is so much more affordable. And it is you can get clicks lead information for dollars, rather than hundreds of dollars or whatever it might cost to be in a publication or at a show. But there is something still to brand reputation to being involved in being present at certain things as well. So a mixture of all those things satisfies, remember, you have multiple audience types to satisfies all types of demographics, and people need to meet you where they like to communicate to. So the integration of all those together is super valuable. So let's let's talk about you mentioned, publications, you have two angles that you can address this and then maybe you can give us some more info on both the trade association side because of the NW, fa affiliation that you have and also you do help manage their publication. Maybe you can talk about those two channels specifically about ways that they can help support a communication strategy as those types of pieces.
Libby
Yeah, so in terms of trade publications, You know, for for us for an example. And I think Association trade publications as a whole are about helping their industry and sharing knowledge. You know, it's really what it boils down to. So hardwood floors magazine, you know us, for example, we have in the publication, business best practices, we have industry news features so they can get to know other members, new product focuses. And of course, we have technical articles that tell them how to do different things. And then our members are incredible about providing content for those sharing their experiences, and their knowledge to help others. So there's connections to be made through that content. And then we want to be able to provide our readers with the information that they need to be successful. And trade association publications for all those reasons, including their digital offerings are important communications tools for the b2b world.
Tim
The one thing that I think is really something to emphasize about this, too, is you aren't creating a sales magazine, you're creating a valuable piece of content that is a collaboration between multiple companies, people, the divisions of the industry, and bring it all together. And I think not only is that important to understand about what happens with what you do with the Trade Association and the publication, but if people are crafting their own communication strategies, it's not to sell through them. They are value based informational things that build up your reputation, how people view your your place in the industry, and make you valuable to people. So I just wanted to hit on that too, because a lot of people think that if they're writing a blog, or they're creating an article for a publication that they should sell themselves through, what you're doing is you're providing information that makes you look like someone that as you should, that someone wants to do business with, because you provide a unique viewpoint or a unique value to the industry, and you can be the face of it. So I wanted to put that out there. Because a lot of people think that oh, we should write a blog about, you know, how great our product is, well, that's not interesting content, you might think it's going to value the value, but it's not, it's not going to communicate and resonate. So just throwing that out there too, because I think that's a difference. And you're not just creating a sales directory and sending it out once a month, you're creating valuable stories and information and educational, inspirational resources for people.
Libby
We try to have a variety of companies contribute articles, you know, and sometimes that's through folks pitching us on an idea of a large industry issue that they see impacting across the board, and they want to provide, how they're handling it or, you know, some experience that they've been through that they think that knowledge is going to help others in the industry, you know, so they aren't coming at those articles from the standpoint of just selling something about their business. And, of course, we do have sponsored content or advertorials, you know, in the publication, but we always recommend to folks taking that route that, you know, approach it from being a subject matter expert, exactly Can you share, that's going to solve a problem. And we've found from reader surveys that our readers really resonate with that type of content. So I think that you're right about that approach of, you know, all the content from a subject matter expert standpoint, works.
Tim
Now, if someone gets involved with the trade organization that has a publication. In your experience, are you reaching out to companies more to see if they want to get involved in content? Are you seeing them reach out to you with pitch ideas to include in your publication? What's the balance of that? If someone's like, how do I even get involved with this? Should I wait for someone to reach out to me? Or should I get my stuff together? And go reach out to my trade association and say, Hey, I can bring this viewpoint to you? what's what's that look? Like?
Libby
I would say it's probably a pretty even split.
Tim
Okay.
Libby
You know, folks, my advice to someone would be be a resource. You know, this goes for trade publications, this goes for local media, public relations, the that resource reached out to those, the writer that covers what you are dealing with, and offer to be that resource, and maybe they have a spot for you right then to be able to contribute something, or maybe they don't, but if you provide good relevant subject ideas, and ways to localize that, whether it's to your industry, or you know, in local media localizing a national topic, and providing that perspective, if you can provide good content, and be a great resource to them, that's going to work out in the long run, you know, people like having someone that's easy to work with and has great resources that they're willing to contribute to. So yeah, I would say it's, it's about half and half of us, you know, having contacts and resources we've worked with and say, oh, they'd be great to talk about X, Y, or Z. And then other times we have folks reaching out to us saying, you know, I'm really sorry. Seeing this as anybody else seeing this, because I'd like to share my experience with what I'm going through in case it helps someone else.
Tim
And it sounds like it's out there, if you want to go get it. And it sounds like if they are someone that reaches out to you and becomes that first resource for an article, they can become the other side where you start to think about them to reach out to based off of what you've done with them in the past to so if anyone's shy about it, there's no sense in not trying to come at a topic with unique angle and seeing if you can't get involved with the publication, and then becoming further down the road, someone that they reach out to and flipping to the other side of the equation. So just putting that out there to know imposter syndrome. Know your info, and get out there and share it. Oh, yeah. Is there any other I know you guys do events, too? Do you want to talk about any of the in person stuff or how you bring people together? We talked a lot about the publication so far.
Libby
Yes. So in terms of events, I mentioned our Wood Flooring Expo earlier, you know, networking through us, as well as other trade associations, because I know that, you know, while I'm really focused on wood flooring, here, your audience are in other aspects of the building industry. And there's probably a relevant Association out there for them, who wants to help and make them successful. So I would recommend that they find their association to help bring some of their marketing goals to success in the in the year ahead. So again, for us with with events, we have our trade show, and it's a great place for b2b communications and successful outreach to happen, getting new products in front of the intended audience, learning new business strategies and techniques and education sessions, and networking to open doors for business, mentorship, camaraderie, sharing those experiences and best practices. And then of course, we also do training and schools, we have a certification program. So think of it we have certified sand and finish certified installer. It's kind of like the CPA for wood flooring, pros. And at those schools, you know, not only are they learning so much, but there's just the opportunity for them to meet installers from across the country, and different states. And they connect and bond while they're in one of those schools. And then they're calling each other for advice down the road. And we've heard stories of folks who've met at a training and they fly across the country to help each other out on a project. Where else do you get that kind of networking? You know, I'd either, you know, a trade show that an association puts on or a school besides a trade association.
Tim
Yeah, that's, that's really I see that a lot in this industry, too. There's a lot of collaboration. And that's just another one of the great things about working in this space. So that makes a lot of sense to me. When it comes to communications moving forward. Do you see any, any ways that the strategy might shift over the next couple of years in your crystal ball?
Libby
Oh, I mean, after the last year, and how that has changed. I don't even want to pretend. So to try to predict what's going to happen. I mean, I will tell you one, one trend that I've just found to be very interesting in the building and construction world over the last year has been what has happened due to the fact of everyone's spending so much time at home. And the renovations and the desire for renovations or new homes that that has brought about and how they are, everyone's working from home, they have kids were taking school and classes from home. So they want walls, and people are diverting away from the Open, open floor concept. And then you know, this idea of people's sitting around and looking at their floors and saying I need to get new wood floors. I can't look at this anymore. That whole process over the last year has just been very interesting to me. And I'm I'm excited to see what happens with those trends in the years to come. And what that means for the industry as a whole.
Tim
Yeah, for sure. You're not the first one to say that. So it makes a lot of sense. I think we're all thinking that to some degree. When it comes to brands and communication as part of a brand outreach. Is there anything you think brands should be doing right now? Maybe besides obviously coming up with a communications plan, because we just talked about that for half hour, but is there anything from a brand strategy standpoint that you think would is it going to be invaluable right now with the way that the industry is working and everything is trending?
Libby
You know, I know you told me not to say it, but I'm going to say what we've been talking about family planning, planning. Take the time to step back and develop a communications plan for your brand. Try to build a crisis communications plan. For your brands, you know, it's just so important because if you see a company that's handling communications, or a crisis and what appears to be a really flawless manner, that's not by luck or chance, because they prepared.
Tim
Yep. Yep, they have all the pieces in place and everything set up. They just had to fine tune it for the situation. Is there any other final thoughts that I mean? Did I not ask anything that you may wanted to make sure you brought up before we got off?
Libby
I don't think so. I feel like we had a pretty well rounded conversation today. Thanks for having me on.
Tim
It was awesome. Before we go if you want to let people know where they can find out more about you, NW FA and the publication. Drop that info now so we can make sure we get it in the notes.
Libby
Sure, so I'm happy to connect on LinkedIn. As for NWFA there are three places I would send everyone for more information. So to learn about joining NWFA attending the wood flooring Expo or the education opportunities either in person training or online courses through NWFA University. Go to nw fa.org. So read about wood flooring industry news, those who hardwood floors, magazines, website, hardwood floors, mag COMM And then finally for more information about the benefits of real wood flooring and how to properly maintain it, I would send everyone to wood floors, that org.
Tim
Awesome. Well, thanks for coming on. This was a super conversation.
Libby
Oh, thanks so much. I enjoyed it.
Tim
If you're interested in hearing more stories and strategic insights from industry experts, please subscribe to the Building Brands Podcast on Apple, Spotify or Google. If you've enjoyed this episode, please post a review and share with others who may be interested as well. Thanks for listening.