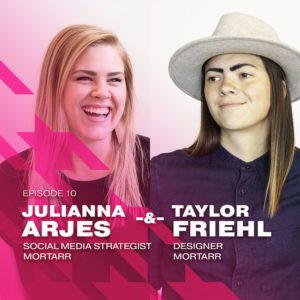 Julianna Arjes, Social Media Strategist and Taylor Friehl, Designer at Mortarr dive into the importance of creating connections with your audiences through social media, what to expect when committing to a social media strategy, and how to measure its effectiveness.
Episode Links
Find Julianna on LinkedIn
Find Taylor on LinkedIn
Visit the Mortarr Website
Episode Transcript
Tim
Welcome Building Brands listeners. For our 10th episode, I'm joined by Julianna Arjes, Social Media Strategist and Taylor Friehl, Designer from Mortarr. Mortarr is the leading inspiration gallery networking site for commercial construction and design. Where anyone can find inspiring commercial projects, source top products, meet leading pros and collaborate to move projects from dream state to brick and mortar reality. In this episode, our conversation dives into the importance of creating connections with your audiences through social media. What to expect when committing to a social media strategy and how to measure its effectiveness. Enjoy the episode. If you're an owner or marketer in the building materials manufacturing, distribution or contracting spaces looking to set up your brand for success now and in the future, this is the podcast for you. On this show we talk about brand and market strategies used in the real world, that grow companies and truly connect with consumer audiences. So sit back, listen in, and let's get to it.
Tim
Okay, welcome to my two guests from Mortarr. Julianna Arjes, Social Media Strategist and Taylor Friehl, Designer. Thank you guys for coming on. It's awesome to have two people on the podcast again. I did this once a couple months ago, so this should be fun. Why don't we start with you guys? Give us a little background on where you've been in marketing and design and how you've got to where you are with Mortarr now. Taylor, why don't we start with you. We'll have you kick it off and then we'll go over to Julianna.
Taylor
Yeah. Hey, Tim. Yeah. Thanks for having us. We're excited to be a part of this, so I have been at Mortarr for 2.5 years. Before that, graduated college in a graphic design background. Moved out Colorado and basically was doing freelance for a couple of years and anything from social media for a health company, logos, web, website design, anything I could get my hands on basically. I was doing my, even started my own little outdoor apparel brand that I still do today. So that's kind of fun. Yeah, for sure. I had a connection back in Minnesota at Mortarr, and he reached out and asked if I wanted to join the team. That was in the very early early stages of Mortarr. So I took the leap, I moved back to Minnesota, and I've been there for 2.5 years now. And so basically, I make anything visual, digital, digital print, collateral for Mortarr. Try to make people fall in love with the brand and just try to make us look cool. It's basically what I do.
Tim
And Giuliana, how are you involved in Mortarr from the social media side?
Julianna
I am the Social Strategist. I think we went between Strategist and Specialist for about the first 3 months of my of my time at Mortarr. But Social Strategist here. It'll be one year coming up in June and just loveing life. My path is a little less linear than, than Taylor's. My degree is actually in psychology and then I owned a photo and video production company with my husband for a little less than a decade. So doing all of the social content marketing stuff for that. I was basically born and raised into the built industry. My dad's a salesman for Mohawk Industries which is a large flooring company, and so I ended up as an executive assistant there doing a bunch of stuff for them and then was actually fortunate enough to be a Delta Airlines flight attendant as well. So that was really my like, first glimpse or front row seat at what I would consider some of the best of the best in in marketing and voice and brand and in my opinion. So really got a front row seat to how they do things and how many people fall in love with their brands and I kind of fell in love with that process. So there was an opening at Mortarr. Kind of similar to Taylor, had a friend that was already there and now I get to use the things that I've learned throughout my years of all that different experience in the seat that I'm in now and it's my job to get people fall in love with not only Mortarr, but the companies and the brands that are on Mortarr showcased on our site. And then I'm also the resident like dog treat desk in the office for our HR dog Birdie. Feel like that's as an important part of my role as well.
Tim
You guys have a lot of alternate specialties that you contribute to Mortarr It's what's interesting about both of your paths, I think, is relevant to this topic is that you know, Taylor, you're from design and production, but you also with that side hustle had to do marketing and content and understand that aspect of the execution two and then Julianna, you started in production and then also we're helping with, you know, some of the execution in that brand outreach for your business to you and that's kind of, you know, a really good position. I'm sure that's why Mortarr brought you guys on. So that means a lot of sense. And Jiuliana, you were talking a little bit about serving the clients and companies that Mortarr works with. But you guys also mention the Mortarr is a little bit of a younger brand and a younger company and what what are they doing for them? The industry itself. Maybe you can start there and then talk about how you're supporting the companies and brands that are working with the mortar?
Taylor
Yeah, I mean, it's really hard when someone asks us to explain, like what it is that Mortarr does because no one is doing what we're doing. So it's hard to give an example. Like we say Mortarr is like Houzz, but for commercial. That is basically one of the only ways we can compare it to something else that's out there already. So it's just the single online source for inspiration, products and pros like end users and then the professional side. So some marketing platform, essentially for professionals in the commercial construction industry to showcase their projects and products. And so we, I don't want to say struggle, but we struggle with how we explain that to end users and then how we explain it to the other side, the B2B, like the brands and the pros that are showcasing their work because we have to audiences that we're trying to push this platform out to,
Julianna
You know, any time you're you're forging into a space that no one has done before, there's that tension of trying to meet them where they're at while bringing them in to something new and that's really where we see success. But also difficulty in in this you know the industry is so old and so many like generations passed on and you're trying to meet these people who have watched how there parents and their parents' parents have done business and you know whether that was a handshake in the in a storefront or a trade show or whatever and moving them to an online platform where everyone is accessible. And I think back to the cool thing like Taylor was saying about Mortarr is that like we exist for everybody. You know we have the top firms on our site, but we also have those mom and pop shops, and we really want to level that playing field for commercial design so that everyone can be seen. Everyone could be heard and their work can be shared.
Tim
How did the founders come up with the idea that the commercial side needed this? You mentioned how it's sort of like house for the commercial market. What was the gap that was missing for these companies that are primarily serving be to be in on the commercial side that you guys help fill?
Taylor
One of the founders, Abby Murray. She started out with a small marketing agency, and they were doing a remodel of their office, and they were trying to find products and then pros to work on this project, and they struggled with finding those and going down a rabbit hole of like going on Pinterest and I like that sconce on the wall. Where is it from? And then they click a link, click a link, click a link. Just go down this deep rabbit hole and not be able to find where this actual light is from.
Tim
You can never find it. Pinterest is great for looking at pictures, but it's terrible for finding the links. It's always that way.
Taylor
Yeah, yeah. And then they had small interior design projects that they were come for other clients and found the same struggle. So that's where the idea of Mortarr came up. Just having one single source that you can find all this inspiration where pros can showcase all these. The beautiful imagery is what makes our site and actually having links. Whether they're to a material Bank or to BIM. People can actually find what they're looking for.
Tim
Yeah, I had the CEO of BIMsmith on earlier in the In the second episode, I believe, and you know, that's one of those things where if you could help the architects and designers do their jobs much easier, it makes them more prone to want to work with a company that's giving them those resources. So from an inspiration standpoint, actually finding the products that they're looking at from the imagery, which is a whole another issue that we could talk about with having right installation photos. An example, case study, photography not and even in that case, going one level up actually have a good product photography, too. When you're talking about design and collateral, whether it's print or digital, the photography and the copy carry everything you have people like timber that are able to put that together into the best combination that you can from layout perspective. But without good copy coming from really strong brand foundation and having good insulation photos, it's not gonna come out very useful. So that's a that's a very good point too. I like the idea of that inspiration tool. That's just another resource that you can actually provide your potential customers for. You know, not only can you get the inspiration, you can find the link to the product, and then on top of that you can grab the been files and development we respect cheat. So that's really cool. The two of you, your primary job mortars that, like you said, make people fall in love with the brand and keep them in gates. Not only the companies that you're working with from an activity and engagement standpoint keeping them active, but also the people that are on your site, the designers and architects looking for that inspiration. What are you doing to keep them engaged through their research phases?
Julianna
We like to say that were the were the info behind the inspo. Um, we really want to be that robust search engine that exists solely for them. It's similar to them going on to LinkedIn or Pinterest or Google even. We just want them to be able to do all of what they need to do in one place. And so really, the interactions between we've got what we called tags on the site, which is really linking that product information as well as the professionals behind it. So you're gonna have a manufacturer on the site. But you're also gonna have you that manufacturer's rep. And so really, I can sit in my office in Minnesota and see that sconce on the wall, find the brand that created it, but then all I can also find a professional to come install it for me. And so really, that interconnectivity is what drives the site. And that's what hopefully keeps people engaged water on it in the middle. Also, I mean, there's last different tools there, adding things into design rooms to keep them connected to their clients to keep them connected to their teammates. Their team members the can do a whole slew of things right within the platform so.
Tim
And from your end, you're also trying to draw in people to participate in that process. You know Taylor and Jiulinana the team, the dynamic duo. I don't know. I just made that up. You know and you're pretty active on all these platforms, you know, you're you're on social trying to put this content in front of people so they understand that one. It's out there to how they can take advantage of it. What led to Mortarr understanding that they needed to have this team contributing that content out into the world and having this service provided to to the audiences that exist out there?
Julianna
Yeah, I think we can be grateful that we started with a someone with a background in marketing like that. The company started there. You know because she appreciates the value of what that is. But the reality is that we're a startup, and so we have to be scrappy and are in our efforts and our and our team. And that led to, I mean, social channels are a free tool for any company to get their name out there to get their product out there and then the coolest part of it mortar. At least we get to talk about other people. Like what? We don't have to talk about ourselves because the whole point is that we're talking about those companies and brands. So the goal was to really get that relationship built on social channels to drive it over to the Mortarr platform.
Taylor
It's nice that our site is an imagery driven site, so we can just take these beautiful images that are subscribers have uploaded and just translate them to our social channels. So that makes it easier for us. And Jules writes amazing copy. But the clients to all the the imagery, which is yeah, so great and why we have a high standard of what images you can upload to the site and what not. But I think that makes it easier for us that we just want to showcase other people and get them work.
Tim
Well, I have a question about the photography you mentioned having certain standards to the imagery that's uploaded. Do you ever come across the client that is, that wants to be on the site, wants to showcase, but doesn't have the imagery? Are you doing anything to help them? Are you helping them make recommendations on where they can source that content from?
Taylor
We're in the process of developing a photography network. We do have some on the site what right now that you can go and look at their projects that they've shot and stuff, And that's been really cool to see, and it helps us get even cooler projects on the site that end users conceive an inspiration feed. We have a standard of recommendations of images that people upload necessarily. We don't stop them from uploading, but we won't showcase them on other features or featured placement things like that unless they are to our standard.
Tim
The importance of having that photography all boils down to the fact that the main purpose of Mortarr follows the knowledge that most of us have where these people are searching for inspiration and aesthetics first, and then they'll go find out if the specs in pricing and product will meet their needs afterwards. So right when you're very high up in the funnel, that's the type of collateral that you need is good photography and showcasing products.
Julianna
Yeah, yeah, I mean, we're an imagery driven site. We're also an imagery driven society. Like that photography, videography, whatever avenue you take that content is king and its currency in today's marketing world. And so we really want our subscribers to understand the benefit of having that, like they work so hard and put blood, sweat and tears into these projects. We just want back to translate visually for our end users coming onto the site. And so, like, Taylor said, it's been cool to have. We're slowly building that photography network. We have worked one on one with subscribers to source photographers in their local area. Just because as big as the world is, the marketing world, is a close knit community, and so being able to find that and help them get that imagery that they can then put onto the site and put on their own social channels has been something that will definitely building and working towards.
Tim
Yeah and all their print materials. And once you have that set of photos and you can keep adding to it over time, But once you have that, you can use those photos for years and years. I mean, an investment like that isn't just a one time. Oh, great. We're getting photos taken. It's like now we have a library of assets we can use for ads for social content, for case studies for anything, right?
Julianna
Totally. You're talking to two photographers so you're speaking our language.
Taylor
You know, exactly. For sure, the importance of that.
Tim
When you're doing the Mortarr account specifically, are you primarily doing organic content or paid content? Really trying to mix the two depending on what your goal is for the post that you're putting up?
Julianna
Yes. Yeah, we're definitely we focus a lot on again, start up, we're balling on a budget., but we focus a lot on the organic reach, mostly because it it's a true sense of like whether or not you're building relationships and community. We would rather have less followers and super high engagement that's driving business back to our subscribers than an enormous following with nobody actually paying attention. And so we do do you know paid. Paid social posts have their, paid campaigns have their place. We love using them for sales and getting the word out to more people than we could with an organic post. But I would say that 90% of our focus is really driven into creating content for organic reach.
Tim
A lot of people look to the follower count as what they believe is successful social media strategy, which is it's great if your followers are growing. But what you really need to see is, are you getting the views because you're putting this in the right channels? Hashtags, whatever. Are you getting the comments of the likes and clicks that you want? If those numbers are happening, the number of followers is irrelevant to the constantly putting out now. In theory, that could go up if you had more followers, but with platforms limiting and kind of tweaking their algorithms for what they're showing people in organic sense, you're better off having really high quality content that people want engage with to boost it in that algorithm, then just simply having a large number of people to put it in front of, and they might not even see it anyways.
Taylor
Yeah, we would much rather have high quality followers for high quality engagement, just like we would on our side have high quality users that are actually going to use the site rather than people that sign up that never touch Mortarr.com again. So, yes, you want the right people to see the site? Yeah.
Tim
What type of content of you guys posting that gets the best pop in the food?
Julianna
Oh, and, uh, way it is that our team always land well way have a running joke that we've got a pretty solid Mortarr moms following they like. They like to hang out in our feeds, but I think also it's the fact that we're putting a face to who they're interacting with. I think any time that you can put yourself or your team out on your social channels, it's an opportunity for people to see that there's a human behind the emails that they're getting behind the sales calls that they're getting. But you know, whatever it is that somebody's friend or spouse, their son? Or, you know, whatever the post, is that there's a face to it. I think that that adds value no matter where you are. So those always do really well. And then because we're that gallery based or or gallery showcased site. The carousel in the galleries on the different channels always get a good, good interaction. People they like see more than just one, one option from whatever the project is that we're sharing. So I feel like those are the two. I don't know Taylor. Maybe you can jump in there.
Taylor
I think people like seeing faces on the site for sure. We're not just a company that works out of our mom's basement, or actually or some other country. We're here. We're really we've got quite a few of us, and people like seeing our faces to, and it's really important for, like our customer service CSM team. They're really important between our subscribers and mortar because there are middleman. They keep our subscribers engaged with the platform. And so I think people like to see who was handling these images, who is trying to get their company out there. And but also I agree. I think people of beautiful spaces I mean, I'm scrolling through and I see a super cool office face. Yeah, I'm going to save that. I'm gonna like that because I want to look at it later. You know, I think both of those are great answers so.
Tim
Putting people in the post having faces. I mean, I can't tell you how many times we work, we worked with a bunch of different levels of building materials companies, distributors, manufacturers. What happens is if you get too focused on the sales post or the product he posts and you take away that, like real life installation feel, or the team or contractor that was involved or this customer service rep to help solve a problem. Everyone wants to claim beyond just having a good product. They want to claim they have some of the best staff to help people work through things. You don't put the staff in front of people publicly. Why should they believe you on and honestly, social media is supposed to be social. Put their face, put a personality behind that that contributes to the brand in front of people so that they can relate to it. And it's not just sales based messaging and post its, you know, it's about who we are, how we help people and the benefits that they get from working with a company like ours.
Julianna
Yeah, we've even, you know, we've kind of poked fun at our own at ourselves. Our own industry. We know one of things have gotten a ton of engagement with is on Wednesdays. We do it just in our stories. We go out and find design. We want to call them fails, but…
Taylor
They're fails.
Julianna
They're fails, just some really bad badly executed designs and we just started using the hashtag #designmatters, you know, because the whole point of our site, they you don't want to end up with this as your final project and mortar can help with that. And so just kind of like having some lightheartedness within the content as well. Can have a shockingly awesome impact on on your followers and their engagement with it.
Tim
For sure. So speaking of the brand, Mortarr has a pretty awesome brand put together, and I know Taylor is very big on she said. She liked protecting the brand and like that's that's one thing that she's supposed to put out in the world for people to quote two part question. How important is it for you to have that brand put together and then as a follow up, why is that important? How does that impact the quality of what you're doing from a social media standpoint? In a content generation standpoint.
Taylor
It's been very important from the beginning of Mortarr that everyone is on the same page. The social media goes along with that, too. But the creative team, the accounts team, sales team just that, all that we're on the same level the same page. So we're constantly trying to distribute our brand materials consistently throughout all of our departments. And that is one thing. Even when you're hired, like we have a set of core values that we follow and everyone believes we eat, sleep, breathe mortar like I don't want to say that we do, but we actually do that like all of us believe so much in this brand and it is so important to show that energy because that's going to get people to fall in love with it with you, like we do. And so we've tried to create this edgy yet, like Jules said, we're scrappy. We are scrapping. We do scrappy things with the small team, all in on a budget. But we just create this edgy brands this bold we just wanted. That's how we can get people's attention and how. We've won a few awards at some award shows and people like what we're doing. So we continue to do that. I want them to scroll through on their feeds and see like that's a mortar post without even know in its mortar posts. And so we try to focus on just keeping things consistent through all of our platforms, all of our departments on Mortarr, our website or app everything. We just try to keep it all bold and edgy and trying to make a statement because we are, we're new and no one's doing what we're doing in this industry. And so, like, we have to make a movement and we have to make a movement and people get it and understand it and like us instead of like oh, they're they're too strong.
Tim
So you mentioned two things that are super important in that that I thought rephrase perfectly. One was. You have a strong set of values that you're basing everything off of, which is probably affecting copyrighting and how you want to make everything bold and make a statement. And then, too, you want people to be able to recognize post as Mortarr without actually seeing the name Mortarr. And that's what everyone gets caught up in. And there's been a misconception in the past where the brand is like the logo and even maybe the fonts and colors. But it's the visual presentation and tone and the foundation that you're basing off of this all of this offer from a personality standpoint that makes it feel like it without even knowing what the company is. And, you know, the example that can be easily used is like Apple. If you took the apple logo out of a photo of like, I don't know, the old trash can, uh, computer set up and you just had this, like black photo with a piece of technology in it and the little rim of light shining off of it. You know that that's an apple photo on, and you and you don't need to see Apple the name that's just that's their style. You've seen it multiple times, and it just makes sense. So that's really important. And sometimes it's difficult for people to take a step back. And so do we have all the foundational pieces also put together and documented, so that all of our departments and staff and salespeople and executives and service people are all on the same page, too, because they're the living in breathing portion of the brand.
Julianna
Right. We have are ours written on the walls of our office. And so that's just a cool thing to you can sit in the break room with a We've evolved, you know, like wherever you are in the space you're taking in those core values before you're putting anything out into the world. And so yeah, what Taylor said was was spot on. We want the brand and the voices, how you feel when you interact with it. Not that the logo looks like so that's really what drives all of our all of our decisions.
Tim
So when it comes to producing all this content, what type of effort are you putting in from a planning and execution standpoint because I think that's really important to touch on to you. If if companies are interested in building out their social and content strategy, what types of things should they be considering from a time and preparation and production effort standpoint to consider putting together that plan?
Julianna
We're anywhere from day of to two months out with some of our stuff. We really do try. Taylor probably has more fires on her desk than she'd prefer some days, but she could crank stuff out like nobody else can. So we always want to be firm with the purpose but flexible with the plan, and that helps all of our decision on the actual creation of stuff. We have a give a team of three of us that are always writing. We're ready content or different avenues at all times. We've got our internal stuff. We've got sales materials, you know, campaigns social. The forum is are like where we tell ourselves driver stories and industry news, and so we're constantly creating content, and we just have an insanely talented creative director, Cole Thompson and our communications director Jen Levison, and they just always blow me away with with what they're coming up with and words, nothing things. And so I have taken over the social copy for the most part. But it truly is. We're always in Basecamp, bouncing ideas off of each other and really feeding one another's thoughts and where we can take things. And so that makes the when you have something day offs like, Hey, this is a net. A lot of that stems from all back up. A lot of that stems from being on the channels. You know, if you don't have someone dedicated to you being out there and listening to what's going on on the social channels, you're not gonna know that there is a missed opportunity or something you could be speaking to or need.
Tim
Then you're just you're blindly publishing at that point, it's not, you lose the social.
Julianna
Totally, you're putting stuff out and hoping that it lands. There's no there's no science with that versus here's what's going on. Here's what we're facing Here is something that popped up.
Taylor
Here's what works. Here's what doesn't work. We are constantly going through that. So, yeah, people needed to realize the importance of watching and seeing what people like. And if you don't have a person that's interacting every single day or going through all of the content, the different types of content contents and seeing what looks so what's not? There's like, no point. If you don't want to go all in and social media, you got to go all in, You can't. You can't half it, you know?
Tim
You can't have it. So what are some of the pros and cons and committing to social media? I mean, you're talking about the commitment that it takes from a time and engagement standpoint, maybe even a creative and production standpoint, but there's a lot of benefits that you could get out of it to like. Can you explain the trade off for why it's really good to get into it? But what you should make sure you consider before you jump in?
Julianna
There's been times when I'm messaging. Taylor at 7 p.m. realizing that I needed graphic for the next day or something popped up that I want, you know, push out. And so it's not in the con, you know, not to leave with the negatives, but it's not a 9 to 5 like you. I mean, we work 9 to 5, but we're also working at…
Taylor
Well why do people say 9 to 5? Because we have eight to five.
Julianna
eah, eating while producing, Um, there's no, you know, it's, it's a 7 p.m. job and a 6 a.m. job in the 9 to 5 and even when you're not pushing stuff out, I think I can speak for Taylor and creatives like you're always seeing things and taking brings in and being inspired, and the clock never really stops. But what's so cool about it is that you get to create this community in this hub for whether it's B2B or B2C. You're creating a space for your end user for your clients that allows a daily interaction that you're not gonna get anywhere else. You can't. Your sales team doesn't get to talk to these people every day. Your email crew. I mean, people will just click Sam if it's at that point, like your social channels air where you get to have that every single day interaction with the people that you want to be reaching, and so it keeps them front of mind. It's building business trust, and it's building relationships all in one space so that's a pro for me.
Tim
Yeah, They could be really nice, soft touch points that don't feel pressure anything. And they're very interesting and useful, but could totally aid customer service for keeping the brand relationship positive and even sales if it's someone that's looking to engage with a brand or manufacturer or content publishing platform.
Julianna
Yeah.
Tim
Do you guys use or have you seen any of the brands you work with use social as a customer service platform too? Direct messaging is just one of those ways that people are starting to reach out to companies to see if they can, like, cut through the back door and get someone personal. Do you have any experience with people using that as a strategy is part of social engagement, and if so, how can people help manage that? If that's something that's happening to them?
Julianna
Yeah, I mean, I don't Talyor you're on Instagram, probably just as much as I am like interacting with brands that you love like, but I think it that's a that's a goal for us. That's something that we're working towards that people know that they can reach out to us and on those spaces, like were I mean, currently it's me, myself and I that would be interacting with them in DMs or whatever, but our whole team is constantly monitoring that stuff. Who's commenting? Who's sharing, who has something to say? You know, if I missed tagging one of their clients, they are the first to reach out and let me know, and our team has fostered that culture. But I think some people are may be afraid of it, using it in that way, when in all reality, it's an awesome space to be able. To have that one on one person to person, hopefully real time. You know what's in? That's not an email to get lost in your in box. That's someone's managing it the right way that customer service can be faster than anything. They're gonna get no elsewhere with your company. So currently we use our channels more for education and news and sharing our our companies and brands. But eventually I think that that we'll see a lot more of that.
Taylor
And if people do reach out like we're responding, we're present in them all and around right people. And I think some brands might be afraid to use social media. Is that customer service? Just because it may seem informal, but it's. But that also makes it like better. People are going to want to engage with somebody that wants to, like, answer like it's like it's a conversation. And I think brands can really benefit from using Social Media's customer service. I mean, I've definitely reached out to companies asking a question and maybe not hear back. But we we always try to get back and point people in the right direction and try to educate them as much as we can from social media. Just in general.
Tim
Yeah, I mean, public tagging someone online basically giving you the opportunity to show what your brand is made of in response. That's a great opportunity. And then if it's a DM and a direct message, that's no different really than someone emailing you texting or calling. It's just another communication platform. If you ignore it because of the stigma that Taylor brought up, which is it's it's so informal. Why would we take a customer service message over Instagram? Well, it's somewhere where someone can type something and send a message gets delivered to an end and end person that can help them with an answer and used to take advantage of being able to. Make that a positive experience
Julianna
Absolutely.
Tim
But you definitely need someone that that's in tune with that and keeps on top of monitoring those things. And they should understand how to speak on behalf of the brand and customer service to be able that either get them off to the right contact or actually answer the question for them.
Julianna
Yes, yeah.
Tim
What are you guys doing for a Mortarr to measure? You know what metrics do you look to you say that you guys are putting out successful content and getting that? Is it engagement? Is there something that you're actually tracking you don't like through a platform that says, like, oh, these posts are doing good? Because they get this type of reaction.
Taylor
We track weekly I would say. We meet on Mondays as a marketing team, and we go through our scorecard and basically successful means impressions, to engagement, to referrals to Mortarr. So successful posts to be directing people to mortarr.com to subscribers posts just, um, mortarr.com in general to search office design. So basically, we learned from that what we want to post and what works and what doesn't. Is if it's successful, leading to mortarr.com referrals is our main goal.
Tim
And that's no different than a normal sales funnel. To a certain degree, you know, your impressions is like getting in front of people. Your clicks off to the site is your mid funnel can conversion and that the newsletter subscription or doing a referral is your Is your sales conversion basically,.
Taylor
Yeah, yeah, totally in contact activities to subscribers.
Tim
Yeah,
Julianna
Which also helps guide the process of deciding what goes out on the channels at the end of the day. Like, does this get to our end goal of directing the audience? You, our subscribers on the site, you know what what leads to that referral traffic for them?
Tim
Then I would venture to guess that most posts that deal with real life situations and installs or people are going to start rising to the top of people start adding those to their arsenal of content choices.
Julianna
Yes yes absolutely.
Tim
So when it comes to building materials manufacturer's, product manufacturers. If you had to sum it up, why is it so important for them to have this as part of their marketing communications strategy for this industry? Social media specifically.
Taylor
People want to see your product and beautiful spaces, so I think it's important. Once you have a product installed, get those beautiful images. You showcase them on mortar, your social media, whatever platform you choose, and then people will be inspired like Oh, I love, love this flooring. I want this in my kitchen, in my office. Whatever. And they want to be able to find that product. They find that product, find the program and sold it. It's and it's just so important. Toe. You're trying to sell a product. People need to see it in the finished space. They don't want to just see the floor example on a website showcase. Showcase your images on your social media in beautiful spaces that's going to get people driven to buy your product to use your products.
Julianna
Absolutely. I think you know, we talked earlier about these this generational like passing things down, which is such a cool thing, But nobody's gonna know that unless you're telling them, you know, I'm so much more inclined. I went to a donut. Well, this was a while back cause quarantine. But, you know, I went to the donut shop because I saw in one of their posts that it's a fifth generation store. That's cool to me. That's that's something I want to be a part of that something I want to support. But I wouldn't have known if it hadn't put it on their Facebook or their Instagram channel. And so, really, recognizing that you have to meet people where they're at and asking them, expecting them to search for you, go to your website, find your products from a broken link on Pinterest, find you on the Google like and then expect them to make a purchase from you on your website. That's a really big ask. And in our generation, the generation about us the generation below us is starting to or is already using social media as that, like as that virtual handshake or that referral platform. I don't I don't go out just a new restaurant or a new coffee shop without first checking them out on Instagram or Facebook and not having a presence. There also speaks volumes, and it's free like it's free free marketing for you. It's free interactions with people that you you want the interacting with.
Tim
Well, it's it's just another one of those litmus test things, right? If if you either hear of a company, you go look them up, then you go look up and see what they're about. And…
Julianna
yeah
Tim
You know, these newer generations, like you said, we don't just want to buy the product. We want a few, like we're buying it from someone that we cannot do we relate to. So if your brand doesn't set up in your communication strategies and set up to communicate things that aren't just selling me a product to give me that extra trust in you, then I'm gonna go to the person that I do get that feeling from and social like you said, it's It's a free organic way. Or even if you're not putting paid posts in front of people, it gives them something to go find that gives them that extra amount of trust and feeling that they want to go deeper into that relationship you much in and we brought this up a couple times because it's true, Like this industry is growing up right now and meeting the needs of the newer generations. Where do you think it will go in the next couple of years? And we've already started to see the transition into digital. We're getting into more social based content and more personalized content. Where do you think it can go from from here?
Taylor
Well, not to bring up this terrible time that we're all in right now, but this is a great example to show you the importance of on online presence for your company without showcasing products and stuff that you have your restaurant, your food. Whatever online, you're going to struggle right now because people can't see that probably can't walk in and grab. They can't see what a trade show, you know. And so I think right now is a good example that everyone needs to be online. Those endless, um, different types of companies and brands need to be online. This is the only way we can show you can. A showcase your projects and products right now is to through a screen, and that just shows you that's where the future is going, more people are working from home. More people are staying home, you know, And this is just just like a starting point of where things are going to go.
Julianna
With the whole current situation. It's it's really just propelled. What was already coming, we're just experiencing it faster, and there's gonna be pain points there. We totally understand that. But Mortarr exists to mitigate some of them. I love the vision of are three founders and what they saw three years ago that no one else saw and trying to usher that into a pretty rigid space of how we do things and what we do. And that's not to the gate. You know, your trade shows and your print materials and all of that. But you have to be supplementing that, and I think right now is only proving that point more. And it's some of the best trackable our ally that you're gonna get online. You may not know you can hand out 500 business cards at a trade show. I have no idea who's gonna call me in three weeks, seven months, two years, you know. But being on online platforms I can see right away what's working, who's interacting with me and where my clients are. If that makes sense.
Tim
Yeah, totally. In the same vein, though, since it is such a data driven area online and digital, you have to remember a lot of things we talked about in this to where you're tracking the data. But you also need to make sure the content you're putting out is a mixture of sales, personal and relatable things that build that trust factor, too. A lot of times when you go online because it's so measurable, we get wrapped up in what is the funnel doing? How is that giving me my ROI? Is the ROI just sales? Not always. If you break that pie apart. Some of it is engagement, customer interaction and customer satisfaction along with sales. So that's one thing to keep in mind too. And you're doing, you know, social gets a bad rap because it cannot feel salesy sometimes. And but if you align your expectations and your goals two engagements and consumer trust instead of sales, then that can help you justify why you're you're keeping those recurring customers in your family so that they buy from you again. The next time their purchase comes up.
Julianna
Yeah, yeah, we joke about you know, what's what's the campaign's KPI? Figured in some of those some of those things out, but just you headed on the head, recognizing that it's not always just about the sales final. It's about food overall, subtle. And who are you keeping inside it for? Those future future interactions?
Taylor
Yeah, building that trust and building that community is where you need to start from.
Tim
If all you're focused on is the initial sale, then there's no way you can even measure what a long term value of a customer is. You have to keep them involved with your company to make it possible to have that long term value for a customer, and that's where these extra activities in communication strategies come into play. If if there is one thing from a brand perspective that you would recommend everyone make sure they have buttoned up right now, what would that be?
Taylor
Core values. You know, that's I think what makes mortar so strong is that our core values everyone in the department and all the departments knows what those core values are and you follow them. You believe in them. You need people that were clear that believe in your brand.
Julianna
Yeah, and I think you know that's a top down. That's a leadership charge. You have to be casting that vision effectively. Like if there's things falling apart, make sure that you're looking at what a my one of my communicating or what am I not communicating both in action and and inward and so really casting that vision and getting that brand voice, which again is not the logo? But it's your core values coming out in what you're saying and really, really nailing that, so that when people experience you, they're experiencing all of your core values. And within that,
Tim
Yeah, build that connection.
Taylor
Yeah, yeah, that brand voice that's a good, I agree Jules.
Tim
Brand voices left out so much. You know, when you think of an identity, voice and tone and building out that persona for the brand itself is what makes good copy writing. Make the the designs in the imagery work for you and you know you can't beat that, and that's something that gets overlooked a lot because people understand the value. If you have 10 different people writing for you. If you don't have the voice intoned to find, you're going to get 10 different voices and who are they listening to with that?
Julianna
Okay, it's everybody talking at once. Yeah.
Taylor
I have a joke that will Cole Thompson, our Creative Director. I have a joke that I just make his words look cool. It's not the picture that comes first. It's like I make his words look cool. So.
Tim
Yeah, copywriting definitely helps guide design, but design has to bring it all together. Or else it won't make an impact.
Taylor
Absolutely.
Tim
Is there anything that I didn't ask you that you think is important to get in before we wrap up?
Julianna
We covered a lot. I guess my final plug would just be, You know, don't be afraid to try new things. And we've done a lot of outside the box stuff just to see what reaches people. I'm so grateful for a team that's not afraid to fail and not afraid to look a little goose. Leave the process to see what impacts them, to see what no like how they respond to stuff and you don't know what you don't know. Like sit down with your team, have Ah, my husband called them and all all bad ideas meet a like literally throw everything out on the table will call them all bad ideas until one of them feels like a good idea and try it out because it's done a lot of really cool stuff for our brand. And in the process, we've had fun with fails, so you know it's a win win.
Tim
At Luminus, we have a turkey trophy that we put on the table, and whoever has the stupidest idea gets the turkey trophy at the end.
Julianna
That's amazing.
Taylor
I agree with Jules and you don't I don't think you should be like if you don't think you have the budget for social, you do. Just everyone has that we you can make it work and just put time into it like it takes a lot of time. You have to be prepared, Toby scrolling at 7 p.m. Liking perspective clients, posts and stuff like that toe. Try to get them to follow you And yeah, so you don't think you have the budget? You do just put the time in the time it's your budget basically.
Tim
You have to start somewhere.
Taylor
Yep.
Tim
Before we go, why don't you guys plug Mortarr? And then if you want to let people know where they confined you both as well, because you're so awesome they'll want to connect with you.
Taylor
Okay, well, you can You can follow Mortarr on Facebook, Instagram, LinkedIn, @mortarr and on Twitter at @mortarrdesign. And then you can follow me on LinkedIn Taylor Friel, uh, you can probably spell my or find my spelling somewhere on the landing page of this podcast and then on Instagram it @taylorfriehl,
Julianna
You can find me on LinkedIn, Julianna Arjes, just hoping that's spelled as well for you somewhere on the landing page. And then I am @jumpseatjules on Instagram. Would love to hang out with you there. But really, we hope to see you all on the Mortarr platform and get to hang out with you in our space.
Tim
Yeah, I will link to the Mortarr, it's profiles, and your guys' profiles on the episode page. This was super cool. Thanks for coming on. It's been educational and funny.
Taylor
Yeah, thanks for having us Tim.
Julianna
This was super awesome. Thank you for reaching out. I love what you guys are doing.
Tim
If you're interested in hearing more stories and strategic insights from industry experts, please subscribe to the Building Brands podcast on Apple, Spotify or Google. If you've enjoyed this episode, please post a review and share with others who may be interested as well. Thanks for listening.