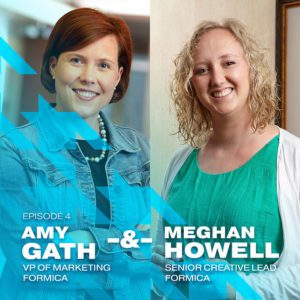 Amy & Meghan touch on the importance of a corporate brand strategy, marketing's involvement in new product development, and the most important things to keep in mind when bringing a new product into the market.
Episode Links
Find Amy on LinkedIn
Find Meghan on LinkedIn
Visit the Formica Website
Episode Transcript
Tim
Welcome Building Brands listeners. In our fourth episode, I'm joined by Amy Gath, VP of Marketing, and Meghan Howell, Senior Creative Lead at Formica. Formica is a leading provider of branded design surfacing solutions for commercial and residential customers worldwide. Our conversation touches on a number of topics revolving around the importance of a corporate brand strategy, marketing's involvement in new product development and the most important things to keep in mind when bringing a new product into the market. Enjoy the episode. If you're an owner or marketer in the building materials manufacturing, distribution or contracting spaces looking to set up your brand for success now and in the future, this is the podcast for you. On this show we talked about brand and market strategies used in the real world that grow companies and truly connect with consumer audiences. So sit back. Listen in and let's get to it. Okay, so welcome, everybody. I have Amy Gath, VP of marketing for Formica and Megan Howell the Senior Creative Lead for Formica today. Um, the easiest way to get into this is to let you guys introduce yourselves because you know yourselves better than I do. So why don't we start with Amy? Want to give me a little bit about your background, how you got into marketing and how you ended up in the Formica family.
Amy
Hey, you bet. Thanks for having us. So I actually started my work life in television. My undergraduate degrees are in economics and journalism, and I thought I was going to be a financial journalist and set the world on fire. I ended up starting a community relations department for a small television station in Georgia that was owned by Gannett. And I had an awesome time and really loved kind of building a department. I also realized that I needed to know more about business. And so I went and got my MBA. And while I was getting my MBA, I did a graduate internship at Walt Disney World in their marketing department and absolutely fell in love with marketing and really with the idea of building brands and got to learn from the best of them at Disney World. I went on to work for Mars on the M&M's and Snickers brands and then went to work for Scotts Miracle Gro on Miracle Gro and worked on some M & A and then came to Formica about seven years ago. And really, that was driven by our president saying, "You know, the Formica brand is the strongest it has been in our 100 year history, and now is the opportunity for marketing and sales to take it to the next level." And that was extremely exciting. And so in I came to the building materials category.
Tim
Sounds like a fun challenge and exciting transition. We could get off topic and talk about candy if you want to, but I think the audience would rather…
Amy
I could tell you lots of stuff about candy. I'll turn it over to Meghan.
Tim
Yeah, Megan, how about you?
Meghan
Sure. Yeah. Thanks for having us. My background starts with a very traditional graphic design background. I'm a graphic design graduate from the College of DAP at the University of Cincinnati. And while I was there, I had a heavy interest in the 3D environment. And that's when you're a graphic designer interested in 3D environment. There's a career called an environmental graphics specialist. So I did that for a few years. Um, I worked for an exhibit design firm, and I worked, um for callous and out in Seattle, I was a part of their graphic design group, spent some time at small firms and Bolder and Toronto. And unfortunately, though, when the economy tanked, that position kind of ceased to exist in a lot of firms. So it's a very unique position nowadays, but that lead me back to the more traditional route of graphic design. So I worked in some marketing departments and did some freelance work, and in 2012 I was working as a creative director for a start up in Cincinnati, and the owner announced he wanted to move his company out of town. And I had done enough globe trotting at that point and wanted to sing in Cincinnati. So I started job searching. Amy had actually joined Formica in that spring, and one of her main initiatives was to internalize as much creative work as possible to help make our budgets more efficient and give us opportunities to market and advertise and do more media dollars instead of working dollars with agencies. So I was one of the first people that she hired to be part of her internal team, and I said to our HR director when I first spoke to her on the phone about that position when it was posted and I said it was really serendipitous because it aligned kind of my two design passions. One was, you know, the graphic design and being able to communicate visually and the other was the built environment. And Formica, you know, works in the built environment. So it's been a really unique opportunity, but really kind of perfect for my expertise.
Tim
Cool. Were you in Toronto when you worked up there?
Meghan
I did, Yeah, I've lived all over the place.
Tim
You know Buffalo is only just south of Toronto. They basically call us "Little Canada." That's my, that's my Buffalo joke for the show.
Meghan
My mom's actually from Buffalo.
Tim
Oh excellent.
Meghan
So I've been there quite a bit.
Tim
It's a great city. We love having a business here. We love living here, and we don't get as much snow as everyone thinks we do. Actually Syracuse gets more so ha. Amy, you started this department. Megan was one of the first people that came on. So you're you're sort of the head honcho. But you were also you mentioned that Formica had a very strong brand, and I think that they were approaching or at, ah, 100 year history around that time too? What were your expectations for carrying on the legacy of that large international entity and the brand equity that has and trying to shape your vision around that to you? I mean, you're stepping into a big a big role there. That's a big brand to take on.
Amy
It was incredibly exciting. I So Megan was my very first hire. And she was. She has always been one of my best hires. You always want to hire a really fabulous creative partner, especially when the job is to build a 100 year old brand. And I think that was really unique about the Formica situation. Is marketers all too often we walk into situations where a brand is established and you're maintaining. You don't get to kind of build or change, but here the mandate, really was build and change. So that was really cool. And, you know, one thing that I love about the Formica brand and and its history is it started with these two guys who were Westinghouse engineers who were told there was no substitute "for mica" in electrical insulation. They were not marketers. They were, they were engineers, but they said, "Why not?" And so they went off to start their own company to find a substitution for mica. And thus you know, our company. Our brand was built, and I think that kind of spirit of "why not?" really is pervasive. And the culture here at Formica and that was incredibly attractive and I think, you know, as I hired people, is I hired Meghan. It was looking for people who had that same kind of spirit of entrepreneurship within a big corporation and and a willingness to go build and say, "Why not?"
Tim
Cool. I guess naming is not that hard, right? Just put together two words? Not to uh, not to belittle it. That's a funny way to stumble upon that name. This is something where you're not just doing this for the American market. You have markets all across the globe. Is that history pay play into any of the messaging that you're doing in in different international markets? In terms of do they care as much about the history of where Formica comes from and why its products have such high quality or are they just mostly interested in the function and form of the products?
Amy
You know, I think our everybody cares about history for something that is a century old, right? There's a lot of respect for the history, but the story is less relevant in different markets. But I think one of the challenges that Meghan and I live with every day is you know, how do you maintain the soul of a brand to the core of a brand, while allowing regional partners to kind of nuance to fit with the needs of their market? And there is this kind of some piece you control and some piece you just have to let go of and really understand that there are, there are market experts in in our markets around the world, and they know what's gonna help build and grow our brand and our product line there. But they also know who we are at our core. And so they they are tasked with protecting and preserving that, too.
Tim
We're talking a lot about brand, so just so we can set the playing field. I like this question. Everyone has a slightly different answer to it. I don't really think any answers particularly wrong. Usually it's all a bigger piece. But do you either of you share or have differing independent opinions on what a brand is?
Amy
We were actually having this conversation not too long ago. Meg do you want to jump in?
Meghan
Sure. Yeah. When I think of the word brand, I'm not only thinking about, you know, a product or a company. It's really passed the physical things into the non tangible things. Like what elements of the product or the design surrounding the product make you feel a particular way. What's most recognizable. The words of company puts out there. How someone at the company answers the phone. You know, the all of those things build up to parts of a brand. And when all of those things are done well and distinctively, you can create something that's really strong and really positive in the market.
Tim
And it sounds like Amy when you came into the situation, you didn't have to reset that expectation. The brand in the company of the leadership have always felt that way. What you were doing was trying to help clarify which direction to take it and build upon that.
Amy
Yeah, I think that's absolutely right. You know, for me and this is the conversation that Meghan and I have and that I love about working in marketing because you get to kind of geek out and have conversations like this. But I really like the old school notion of brand as a promise from a company. It is a promise of consistency. So, you know, you know, you were going to get a consistent product every time you buy it or you see it. You know you're going to have a consistent experience whether you're calling the customer service line, whether you're online, whether you're looking at a brochure, whether you're in a showroom. And so you know it was it was really clarifying that company promise and looking. I think this was the exciting part about kind of building, looking at where we wanted that promise to go, what we wanted it to be for the next century. And everyone was aligned that we did need to clarify and potentially nuance or reset a little bit.
Tim
Now, I guess in your case, as someone that came in new to the team, we always like to say that it's nice to have an outside perspective. Whether you're surveying your customer base or different departments from within the company or clientele in terms of like business, B2B to get some outside input on what the brand promise is, how you're fulfilling it. You came in as a new voice as an internal position, but a new voice. So you actually helped provide some of that objective perspective from the outside.
Amy
That's right, and and we brought. We brought a partner on board to help us. I think one of the things that as Meghan and I were kind of ramping up in in our time here at Formica. As we asked people throughout the organization whether it was the folks on our shop floor, whether it was our accounting department customer service, what just Formica stand for. We have different answers from everyone, and so we know we knew we had some some work ahead of us, so we really went through a process, a kind of reset and get everybody to hold hands. And it was a really fun process because we engaged everyone in kind of the rebrand reposition reset, and therefore our organization really owns it and and that felt very good, very fun. And I still love, to walk, walk our shop floor and, you know, have some guys go, you know, what do you do? And they're like, "Well, I make surfaces inspired by life" to be able to play back our brand positioning nothing feels better.
Tim
And it takes, it takes a little bit of work to get there. I'm sure you didn't do something like that overnight. You probably had lots of exercises, internal communications, rounds of deliberation and debate to get to you that clarifying moment where you could spread the word throughout the company so you could have someone on the floor deliver that promise when someone asked them what they do. They skip right past their job role and go straight to what the company promises. We like to sometimes call that business therapy or brand therapy because people go through and they say that they're just exhausted at the end of it. Why are we talking so much? This is so hard. It's not supposed to be easy. It will get to a point where you'll be ecstatic about it. Everything good comes with challenge.
Amy
That's right, and everything. We really take kind of people first, get the people structure, get the people aligned, because if you don't have the people aligned, anything you do that is external facing doesn't tend to get a lot of buy-in, doesn't necessarily work and doesn't wield the same power. So, you know, 18 months of brand therapy wooo, It'll it'll, you know it'll be exhausting, but it's a righteous process, and it will set your company on the right foot.
Tim
Yeah, you mentioned process. Processes can get the end results usually every single time because it's ah, it's a detail guided experience for a worker or a customer to walk themselves through to get to an end result. The brand is supporting them in that, making them feel good about going through that process, which is an extra level of satisfaction to what the brand is delivering and in the large worldwide space, are you delivering that promise through each of the markets? I know each market has slightly different ways that people like to be sold to through cultural differences and even things like home design and community differences in how they're doing their infrastructures. How are you maintaining the quality of that delivery of that brand promise throughout all the markets, even though they might have slightly different technicalities to how they're reaching people in what the message is?
Amy
Yeah, it starts again with kind of the process word and this structure words. So my my marketing piers and I are connecting in person. We try to once a quarter so global marketing leaders are getting together once a quarter. But if not, we are every other month. We are, at least on conference calls together, we're talking was happening in our markets, and we're keeping the communication open. I think you know similarly Meghan, with her creative peers, they're constantly talking and sharing. And we do. We do use digital. We have a DAM that helps us kind of keep track of everything. But it's it's that people structure. It's that communication piece that really helps protect our brands. It's people protect the brand. People preserve the core of the brand.
Tim
And Megan, you deal with a lot of the creative side. Where do you draw the line between protecting the corporate and overreaching visual brand identity and shifting that potentially to meet individual international markets expectations for what a visual presentation might look like? Is there any change between those things? Are there a few elements that you change depending on the market? Where is the line for something like that?
Meghan
Sure, Yeah, I do deal with all the creative. It's hard to define it exactly the line because we have, you know, our main logo and our main colors and our character map in our brand positioning that we aligned on globally. So as long as everyone's following that, we do allow for regional expressions. So the great thing is, our website is all on one platform, so there's some major consistencies there. But if you go to Formica's Asia website, there are gonna be some differences in the installations you see and photography and potentially in the literature that you're downloading because their fabricators work differently than ones in Mexico and not just globally. But, you know, Amy and I are mostly focused in North America. Within North America, there's a lot of regionality difference. We have even certain products that are more successful in different areas than others, and those customers are sold to differently. So there are flyers that go out directly only to our Northeast sales team, or we have certain things that fit into the home center market that you might not see in an architectural firm. But the important thing is that all that looks the same and you can tell it's all Formica. It might look a little different and speak a little different, depending on the audience of the product barn. But really keeping our North Star and our brand guidelines aligned is what keeps that all very distinctive and iconic to us.
Tim
Are you also doing anything to help distribution channels protect that message is, it goes through? I mean, they're sort of on the front lines, right? You know, we have here. We have some distributor clients that we also have manufacturer clients. What we try and do is have them work as closely together as possible, because when you're talking about with flyers and collateral and even photography, if they don't have access to those things, and they are going to be able to effectively sell and deliver your brand promise for your product quality or, you know just the intangibles that your brand is giving people around that.
Amy
I'll jump in here. But Megan jump in because you work with our distributors every day. I think, you know, distributors are an incredibly important part of our brand and truly part of our Formica family. And and so we've really worked hard to try and include them in our branding, our messaging and everything we do. And I think from a manufacturer perspective, too. We spend a lot of money to develop assets. And what a waste if our distribution is not getting to use them. So Meghan and her team have assets for our distributors to use on the DAM. We try and sit down with our distributors marketing partners quarterly. So we're having conversations about them. So we're kind of consistent in message so they see what's being put on the DAM and then, you know, Meghan gets gets to be kind of the last checker on materials just to make sure we're not violating those. You know, that brand character map. We're following the visual guidelines and and really just helping, helping to teach our distributors what it means to be part of the Formica family.
Tim
You have a ton of products. How are you maintaining a balance between having so many different product lines? Where you starting with that? You know, let's talk about products in general. How far in advance are you even considering how a product will be represented through the brand, visually or through its value differentiation before it goes into production?
Amy
So as soon as we've settled kind of gotten through that, I would call it Gate Zero or that early stage of kind of product development were having conversations with Meghan and her team about what is coming. So it starts incredibly early in the process. And I, you know, certainly Megan can talk more about kind of all the things that go into a launch. But it has to start from the beginning because that ensures the consistency that is part of the Formica brand. That is part of our brand promise, if you will.
Tim
So you're hoping to not have a product dumped on your desk that's ready to go out in a month to to the market and say, "All right, we also need a name for this and then make sure that you have photos in the visual representation of how it should go out." That's every creatives worst nightmare.
Meghan
Yeah.
Tim
I would like to get into the launch process.
Meghan
A unique thing about building an in-house kind of an in-house creative agency here at Formica was teaching the organization how to get lead times like that. It's really often that the product, like the physical product itself, is ready to go a few months before. But that product that's ready to go is helping us build sets for photography. It's helping us build all our sampling tools that go out to our distribution and our field sales team. So I would say a not counting R&D and design my team's process is 6 to 9 months, which is including a photo shoot, including any videos we need to do and making all those sample tools building up the bulk sample base. But it is not uncommon for us to be, you know, working days prior to the launch finishing up all those digital assets that are going on to the website, you know, unfortunately for our website team, they're kind of last on the list when it comes to things that need to be done critical to launch time. Um, you can just push publish and that goes live verse having to cut a sample and label it and put it in a box and all the lead time that comes with ordering those. So my digital friends are very forgiving of our team when we're doing digital assets last minute.
Tim
How important do you guys think it is to have that time to set up the messaging, the positioning for the product? Along with gathering those digital digital and photography and media assets prior to a product going out?
Amy
I think that time is really critical. But I also What I love about our team is we've gotten it to a process, and so the process helps it run efficiently. I don't love it when we're crunched on time, but I also have a lot of faith in the processes that we've set up that, that Megan takes her team through that it will ensure things are right and on brand and really reflective of what we're trying to launch and say. And do I, you know, build the structure, build the process because that will help you when those time crunches come and again I know you don't love it Meghan, but…
Meghan
I happens.
Amy
And you're prepared. You know what to do, and you can leave people through it. And I think that's, um that's a hallmark of a strong team of a strong process and ensures a strong brand.
Tim
I'm not sure I actually caught this. How early in the R&D process does marketing and or creative get brought in? Is it before the product even goes into engineering Is just being, you know, brainstorming or things that have passed brainstorming but are being considered to go into production just to understand how the market would play with them? Or is it a little bit after it's going into production? Here's the product that's coming out.
Amy
We start really early. The exciting thing. About five years ago, we brought on an R&D lead who came out of consumer products. Which as a former consumer products baby, that was awesome, because it means we truly work hand in hand from looking for insights, looking for kind of jobs to be done, looking for consumer pain points. And so marketing is part of the process, in large part from the very beginning, and that, you know, that allows us to kind of ensure that we're not creating to create that that there is a purpose and functionality to innovation, and it also allows us to think about kind of the consumer messaging and the aesthetics and all of those pieces much earlier. So I think it comes. It turns out much better.
Tim
How often do you assess the success of visual presentation of a product post launch? Is that something you're revisiting? How soon would you be revisiting that before you decide you might need to make some tweaks to photography style angles? Or even sometimes, if it's a product that has a logo or color palette, Maybe Maybe that needs to be adjusted based on what you're seeing from the initial launch data.
Meghan
Sure, one of the great things about having the lead time we have is we have a presale team that is working ahead of launch to take things, taking brand new products especially out to new customers to get their read. A lot of times in that pre launch process. It is influencing our messaging and how we talk about product lines that helps make Our launch is so successful, but also we do a postmortem depending on the product line. Somewhere between six months and a year post launch with that presale team and the marketing team and R&D and manufacturing. So the those postmortems can give us a bunch of different results. Some of it is influencing how we're talking about it. Maybe something is really blowing up for people that refab elevator cores, but we weren't talking about that in the initial messaging, so we need to adapt things to make them more relevant to that audience. Or maybe we need to ship something slightly different. So our technical and manufacturing teams can get together and adjust how some things packed out to get it there more safely for distribution. Those postmortems have been very valuable for us, and all the changes that come out of those are really important to the product line and the brand ultimately.
Tim
I have even noticed. Now, with everything being so digital on social, you'll actually get feedback through social channels, from customers and distribution partners on the typical questions that people are asking once they're looking at the product or bought the product. And that gives you the opportunity to create more content after the fact to help support those questions So the postmortem is huge in that aspect, cause you could set up the next year's worth of sales based on content that you've learned to produce based off of the first year's worth a sales.
Amy
It's absolutely right. And I mean, I love that I love that about social media. Is it? It builds on itself, and then it gives you, you know it. Social media feedback helps you keep your content fresh, and that's that's exciting for our team. It's can sometimes be overwhelming, but it's important to kind of keep an eye on it and tow to take it into account as you continue to build content, calendars and images and all of that good stuff
Tim
I mean there are four points that you guys are being involved in the product launch process. One is during very early R&D, which I think is important because you're bringing the knowledge from the consumer from the distribution channels from the brand positioning into that conversation for the product development. Then you're talking about pre launch where you're actually taking this through your pre sale activities to distributors, customer channels and getting feedback before it even hits the market, which gives you a pivot point if you need it. Then there's the launch, which I think everyone is used to and for most people might be the only thing they actually pay attention to. And then the postmortem, where you can take the customer feedback, build content and even shift the identity or brand positioning or value differentiation based on how you're seeing people react to the product. Those are huge. But I and I think it's very important for people to remember that the earlier on that creative and marketing are involved, the more successful the launch will be in terms of having all the clatter already having good messaging to go all the way through internal salespeople, external salespeople, distribution channels, social graphics and messaging so that it all hits the ground at the same time with same points. And to the point of struggling to cram everything at the end. You forget a lot of those details if you crunch that timeline, any good product launch has the time to take all these considerations, and that is what is valuable for a successful campaign. Just from right off the bat.
Amy
Yes, you nailed it.
Meghan
Very few things done in a vacuum are done well.
Tim
You guys nailed it I just summed it up. How much research are you doing into how your customers are using the website? I noticed you have a couple of ways for people to brows your products. You have an actual product catalog where they can go in and view products by category and filter that way. Or they can go through just searching by color because there's a lot of what the products you have, are surface based materials and people are, we have learned shop aesthetically, so you probably have the color option in there so they could just get straight to the point. Can you talk about how you made those decisions? And maybe if one sees more activity than the other, or what you've learned by creating those two entry points?
Amy
Yeah, sure. Let me let me take a two steps back because I think one of the challenges for marketers and creatives in the building products category is we don't have data. We don't have Nielsen. We don't have IRI. There's nothing that really allows you to I kind of get a pulse check daily. Social media is beautiful because it has started to give us some kind of pulse checks. But it's not always kind of the brand and consumer insight pulse checks that you want. So one of the things that we've really worked on very hard and our team is kind of regular checkpoints of research and building our own. So A&U research, regular NPS research regular, brand health research just to make sure just, you know, double check we're doing the right things and that the tactics we're putting in place our accomplishing what we believe they should accomplish. So kind of, ah, critical piece for us and building products, but also a fun piece. So that's that. In terms of the website we did a lot of work with our consumers, our two primary consumers who are using the website, although there are many more. We know homeowners and architects and designers and the the two kind of ways in in terms of searching products were really based upon what we learned working with them as well as making sure that we had a really robust search capabilities because a designer who's working with our product every day likely knows color names or numbers and doesn't wanna have to go through kind of a path to get there. So he she may just type in. You know, I want 949 in the search bar and want it to pop up. For those who know us less, we learned that the either by product or by color were the two ways in, and we kind of created that those paths based on those learnings. But it was research.
Tim
We've noticed that distributors have a lot of clients like lumber yards or contractors. They're going in and they know the product name and they want to be able to put in a model number or a product line name and just have it come up. But to your point, the visitor flow of someone that's just being introduced to the brand is very much more aesthetic and explorative. They're higher up in the funnel than someone that knows a model number that just wants to pop in. And you're in the product catalog in, say, like, alright "Here's, you know, that the countertops and I want this type. So I'm gonna filter down into that."
Amy
Yeah, and I mean I think that is the fun and the challenge of our category, is we do have, ah lot of different. Ah, lot of different audiences that our digital presence has to has to be relevant to. And so, making sure you have things like a robust search as part of it that you've really thought through kind of those exploratory paths in, it's important strategy work and important kind of insight work to do before you redo your website or make changes.
Tim
Do you feel like you guys were doing more on the commercial side of the residential side?
Amy
So our business is a 70% commercial, so we do more on the commercial side of the business. But we certainly don't want to neglect the residential side of our business. It's very important. And with trends like "resommercial," we know in products and in product design, there is a strong overlap.
Tim
Yeah, and when people are at the top of the funnel and even the designers and architects in where you're you have a B2B channel and you have a B2C channel and you have to bring both of them in at the same time at the top and then sort of split them apart, treat them differently and get them to a sales point. But the beautiful thing is that they both are buying based on what they see the end product looking like So you can get your initial campaigns and presentations on the website to meet that need and then give them the right tools to find their own path after that to spec sheets or BIM files or color palettes and example galleries. And then they can go from there, find their way back to a sales conversion point for a sample or a catalog download or something like that.
Amy
Exactly right.
Tim
It's a fun industry. You have to play both sides of the fence.
Amy
It's awesome. And I think that's what makes marketing in this industry so cool is you get to you get to work with both sides, and that's that's not always the case in marketing.
Tim
You talked about how you were trying to build some of those data points. Are you also doing the same thing for product launch or a campaign in terms of brand recognition or campaign success in terms of how much activity is generating if you're actually getting people to conversion points, do you have high level measures that you're using to track the success of that that you might use to pivot or put more work into based on those numbers?
Amy
We absolutely do. Everything, everything has kind of key metrics. KPIs. When we when we go into a launch, we will set up these air the metrics that you know these are the KPIs for the launch for the campaign. And then these are the kind of longer term. So their short term campaign oriented. And then there's longer term. Did we accomplish in the year what we were looking to? I think what's important in building products and particularly because marketing has not necessarily been part of the industry. You often need to really prove prove the value of what you're doing. And so if you're not measuring it, it makes it really hard for, you know, leadership or your CFO to go "Well, I you have to do that." No. If if you're not proving out what you're doing, they'll say, "Well, if you don't need to do that." So it is incumbent upon marketers to really measure and show the value of what we do because we bring value to the business every day. What we need our industry. We need our CFO's. We need our presidents to understand where that values coming from.
Tim
We were talking even before we started recording the podcast about how you can track. There's two different ways to use your marketing budget. One is from a brand and content and, uh, kind of brand equity investment. Where you're presenting that promise and voice out and making sure that you're in front of people from an engagement type of standpoint. Where that's like your touch point channel. And then there's actually sales channels and marketing channels where you're doing activities meant to drive mid funnel activities like downloading a spec file or BIM file or catalog to end result conversion points where you're filling out a form, making a phone call or requesting a sample. And you know you can split your budgets where it might be 80% sales driven activity budget and 20% brand equity and content budget. But you can still measure engagements, and you can measure conversions and engage the effectiveness of each side's of those channels. but it's important not to ditch one channel for the other just because you aren't making sales off a brand equity and content.
Amy
No, that's right. And what you're doing with your your brand equity content is you are planting seeds that will be harvested in the future. What has been really nice? Our sales partners have have started to see the value of that. And as we've talked about kind of marketing and advertising budgets, they, you know they've even been advocates for "No, we really need that brand stuff because it makes sure that our customers know who we are when I walk into a designer's office." You have to do both. Sometimes that more transactional advertising kind of sales focus helps you get the quick wins to get the investment for the longer term. And part of that is knowing your organization and knowing what you need to deliver, then to get the dollars to make those investments. But you got to do both. I agree.
Tim
Yeah, and the brand equity stuff is helping you win on any price comparisons too, you know? If you have a very good product in an industry, you probably have one of the higher price points. So you're either going to be sold based on commodity pricing or you're going to be bought based on the value that you bring as a company through innovation and culture and quality and customer service on top of that. Do you have a favorite product launch that you've had since you've been there? You might have two different answers between Amy and Meghan, but, uh, it be awesome to hear about one that you're super proud of and then potentially, if we have time, is there one that you wish you'd gone better or challenge that you saw on one, uh, that you would have been watching out for ever since.
Meghan
So for my favorite product launch since I've been here, you were talking about, you know, metrics and how we measure a launch. And there are launches and things that we put out there that we put out there simply to get eyeballs on our wall board. So those are gathering PR results and, you know, um, impression and rather than sales and it's kind of the red dress effect, you know, customers come to the window because the red dress in the window is really attractive, but when they go inside, they actually by the black dress. In 2015 we partnered with Jonathan Adler for a residential line of laminates that he and his team designed. And if you know Jonathan, you know he's full personality. He loves color. Working with Jonathan and this team is really incredible. Launch included nine colors that were initially launched at KBIS that year. We did a big invitation only launch party at Tao with media and PR people. The collection was really an incredible elevator for the brand. The PR and design response was really so positive that we added to the line and added the line to commercial board later that fall and the best the best sellers in the collection were the whites and the charcoals and the blacks and but the ones that the PR and the PR and Instagram loved where the oranges and the blues and the lime greens. So that's an example of a collection that necessarily wasn't, you know, the bestseller it would. Our top sellers are white and black, so we're not trying to take over our top sellers, but we're trying to give life to the brand and show what Formica laminate could be. And the Jonathan Adler launch was just such a unique opportunity and experience to be a part of because of that.
Tim
Amy, do you have a favorite one?
Amy
I do. We we recently launched a product called Formica Hard Stop. It is a wall paneling product and it has a fiberglass core. And what I love about this product is it truly brought kind of a superior value proposition to the market. The fire rating properties of this are A++. It is incredibly impact resistant. It has all the beautiful Formica patterns and so It was exciting because it was a great kind of new step up for the market. From an internal perspective. I loved it because I think it was a great example of our kind of internal structure and the way the presale team process worked in terms of helping us identify questions and messaging opportunities and tweak things as we lead up to launch. And I felt like we had it was our best launch in terms of preparation and having everything that the market really needed to kind of see and use this. This new product and the product is doing incredibly well, and it's exciting to see it continue to evolve and to have designers say, "You know, there's really been nothing like this, and I'm so glad you brought this to us." So that feels great.
Tim
You don't have to name the product but is there anything that you had rollout that stumbled and you faced a challenge that you have since learned from?
Amy
I think in 20 years in the marketing in the marketing world I've had my share of stumbles and I will say as I look back every time they always are due to kind of a lack of communication. When people stop talking when things get rushed and people stop talking, stop picking up the phone starts just shooting random emails. I think that's when things have gone downhill, both here at Formica and and other companies that I've worked at. And while you know, we worked really hard not to make that happen, I can tell you if it's going to fall apart, it's because the communications fell apart.
Tim
Yeah, it goes back to your early inclusion in the process. Multiple milestones along the way, even before launch helps you get to that quality point where you can feel confident about before it goes out. How do you see this industry Building materials, maybe as the way that marketing plays into it changing over the next 10 years?
Meghan
I think in my eyes everything is pointing to more sustainable practices, not necessarily how buildings are built more sustainably. But, um, from a manufacturing perspective, how things were shipped. What sort of resources are we consuming? What sort of things are we putting out their product lifecycle everything, dealing with how we are treating the planet as we are building new things and Formica does a really great job in this area. But, of course, hopefully, like everybody out there, we're looking at different ways of how we can be better, too.
Tim
I agree with that, and that's also something that can't be communicated through product advertising that has to be through your supporting materials content and brand.
Amy
And you hope you hope it's part of your brand. It just becomes kind of part of your brand's DNA.
Tim
Uh, what's one critical thing that you think everyone should be doing for their brand right now?
Amy
My my greatest piece of advice is get the people part of your brand right. Do you have the right… It's It's less sexy, but do you have the right internal structures? Do you have the right communication processes? Do you have the right partners? You know, are are you walking hand in hand with your sales partner? Is your CIO your second best friend in the company? But really building those relationships because those relationships will ensure that anything that you put out is put out with good quality and reflective of your brand. But if you don't have the internal stuff right, the external stuff falls apart pretty quick.
Tim
Yeah, documenting some of those things internally to you said that like you were talking about very early on. Everyone in the company from the bottom up has the same outlook on where they're going with the work that they're doing day to day. They can respond to questions in the uniform way and all have the same meaning and purpose for going to work and why they're working with customers or working together. Is there anything that I haven't touched on in this wonderful Q&A that we've done that you would like to jump in that you may have thought of throughout the conversation that I didn't give you a chance to talk about?
Amy
I'm good.
Tim
All right. It sounds like we did awesome. Thank you so much for being on the show. It was great to take this time with both of you as the first 3-person episode. Before we go, do you guys want to say where people could find more about you individually and about Formica as a company?
Amy
Absolutely. So you can find Formica at www.formica.com and I'm Amy Gath on Likedln.
Meghan
You can find me Megan Howell on LinkedIn or on Instagram @himeghowell. But Formica is @FormicaGroup on Instagram, LinkedIn, Facebook, Twitter, Pinterest and YouTube.
Tim
All right, thank you very much.
Amy
Thanks for having us.
Meghan
Thanks Tim.
Tim
You bet. If you're interested in hearing more stories and strategic insights from industry experts, please subscribe to the Building Brands podcast on Apple, Spotify, or Google. If you've enjoyed this episode, please post a review and share with others who may be interested as well. Thanks for listening.