Getting reviews for your business has always been an important tool to attracting new customers, as well as retaining them. While certain platforms like Yelp and TripAdvisor have been around for some time, Google Reviews has become the new leader in online customer feedback aggregation. More customers and businesses are turning to Google to both find and list important information, such as revised store hours, safety policies, and more.
Regardless of the platform, online reviews can either be a gatekeeper or fantastic word of mouth for your business. In a lot of ways, your Google My Business profile is like the new homepage of your website. In fact, most people  searching for your business or others like yours within the industry will see your Google profile before ever clicking on your website. Since first impressions matter, you want to make sure that you're putting your best foot forward on Google.
"In the not-so-old days of marketing, creatives spent a lot of time obsessing over how a homepage should look and function. Now, a homepage doesn't need to do the heavy lifting that it used to because customers have access to social media and Google profiles to find what they need."

– Josh Robinson, Digital Marketing Manager
Have a physical location? You need online reviews.
How do you search for a business near you? You Google it. 
According to a survey by Bright Local, in 2020, 93% of U.S. consumers searched online for a local business. Of those, 34% searched every day, while 73% searched at least once a week.
Businesses with a high number of reviews will show up first in local searches for a particular brand keyword. Essentially, any business that has a physical presence needs to have a strong online presence as well. To build up your online presence, your business needs at least a dozen positive reviews. If a lot of your competitors have a large number of positive reviews, it could make you look small-time in comparison, or not as engaged with your customers. There are also tangible SEO benefits to user reviews. 
These reviews not only will show up on Google's search engine, but on Google Maps as well. When customers have visited your business and their location is enabled on their devices, Google will prompt them to write a review of their experience and even include photos if they'd like. Further, if customers are searching for businesses near them within Google Maps, reviews that have already been written for your location will pop up right within the app.
Google also includes the option for individual product reviews. Similar to Amazon, in an e-commerce situation, you have to anticipate that people will leave reviews on a Google product listing as well.
If you get enough reviews, Google will start pulling out frequently-asked questions or topics based on keywords in customer reviews. Similar to how your Google My Business profile can serve almost as a front page of your website, a large number of customer reviews can double as a FAQ webpage for prospective customers.
Customers marketing for you
"People are very aware of when they're being marketed to, so if you can let your customers be your own advocate, it will help you."

– Josh Robinson, Digital Marketing Manager
Online reviews are an incredibly useful tool in influencing opinions, with many potential customers making decisions on whether to use or avoid your business before ever getting in touch with you. Companies with a poor review profile are denying themselves a vast number of new leads without ever knowing a consumer considered them.
Customers are rightly wary of what companies say about themselves. However, if an unbiased, third-party reviewer tells another customer how great you are, that carries a lot more weight. As Google is the most used and trusted search engine, people also consider third-party Google reviews as reliable information to make conclusions about a specific product or a service. 
According to a 2020 survey by Bright Local, 94% of consumers say that positive reviews make them more likely to use a business. Reviews with a high star rating or a positive outlook have a significant impact on consumers' decisions to use a business, and it is easier to convince people when it comes from their own peers.
How to get more (& better) Google reviews
Happy customers are willing to leave a review for your business, and all you have to do is just ask! You can ask them after you close a sale or finish a job, reach out on social media, send customers an email, or contact them via your customer success agents. You can automate the process with emails, but the personal touch goes a long way. Many people will be motivated to leave a negative when they're upset, but it takes a little more leg work to get a positive review. You may need to put yourself out there a little bit and just ask people to help you out. 
There's not necessarily a magic number of reviews you need to have in order for your business to jump the ranks on Google, however, the more reviews you have, the better. Google reviews matter more especially in competitive service-based industries (such as HVAC, roofers, landscapers, etc.) where there are similar services offered from each business within the industry. Reviews for medical and automotive businesses are also very important to consumers when choosing a business, likely due to the higher stakes involved in picking a trustworthy provider.
"In 2020, the overall star rating of a business was the review factor most influential on consumer choice. The legitimacy of a review (that is, how trustworthy it seems) comes a close second."

– Bright Local
If you see users leaving star ratings with no context, those reviews may not seem as credible. If your customers leave comments with a star rating, it gives that reviewer more credibility and Google may see them as a "local guide". Further, if you ONLY have glowing 5-star reviews, people may feel that's too good to be true. People can usually sense when something's not right, or when positive reviews are coming from former employees, etc. If your reviews fall in a 4.3-4.8 star range, people may see that as a little bit more legitimate. 
How to claim your Google My Business Profile
To start using Google reviews and enjoy the benefits, you need to claim and verify your Google My Business profile. Google My Business (GMB) is a free tool, and you can create a business profile in just a few minutes. All you do have to do is claim a listing or create one on Google to get started. Sometimes a listing may get created for you, but you should claim your own so you can respond directly to reviews, as well as have the ability to display who responses are coming from (the owner, etc.). 
With GMB, you can specify your address, your hours, even COVID-19 and safety policies. Having consistent business info (like address, phone number, hours) across the internet is crucial. You can always edit your information at any time. You should also include relevant photos and descriptions of your business to add further credibility.
What your customers need to do
Most people have a Gmail or Google account. If they don't, they will need to create one to leave a review. This is mostly so Google can verify that the person leaving a review is, in fact, a real person, so it increases credibility.
Customers can ​​leave reviews through a browser (on desktop or mobile) or the Google Maps App. Customers should then navigate to the "Reviews" section of the menu or scroll down through the listing until they see the unpopulated five stars. There, they can click on the number of stars they would like to rate your business, write about their experience, and click "Post".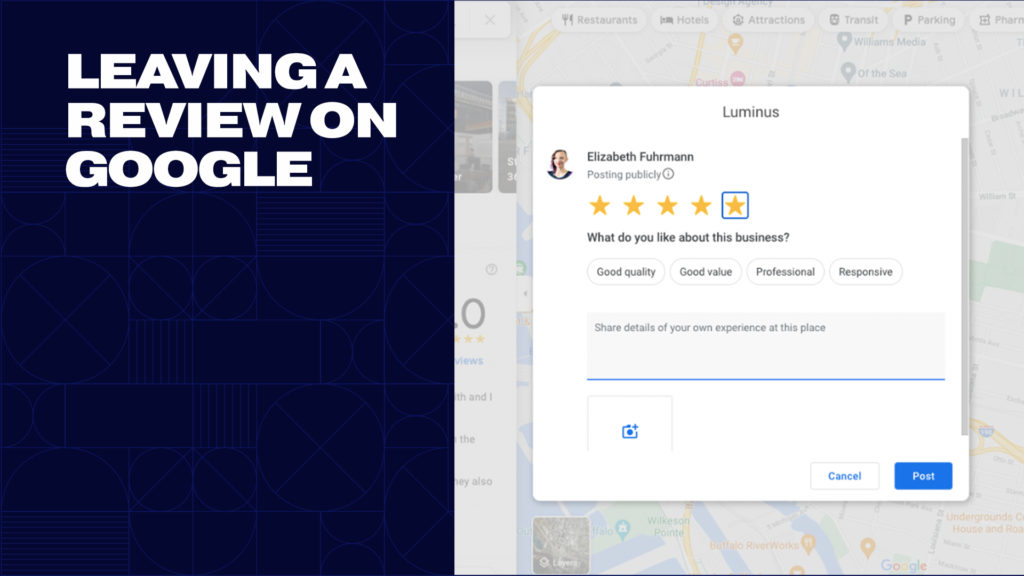 How to respond to Google reviews
You should be monitoring your reviews and Google My Business profile daily, if possible. Then, you should always be prepared to respond to your reviews in the best way possible– especially the negative ones!
"Once some reviews start trickling in, you can decide how you want to respond. This is where voice and tone can start to come in. You want to be consistent and think about how you want to represent your brand"

– Josh Robinson, Digital Marketing Manager
Negative reviews can be pretty difficult to navigate, but it's important to be authentic and not use an automated response. Our Digital Marketing Manager, Josh Robinson recommends, "If customers have negative comments, you need to reply to each and every single one thoughtfully, with as much compassion and respect as possible. It's not so much about changing the mind of the person leaving the review, it's about showing other people how you respond with grace. It's another extension of your public reputation. It's your responsibility to make it right and rectify the situation." Do NOT let negative responses sit for more than a week without a response. Ignoring a bad review will  make things even worse!
Responses to negative reviews should ideally be coming straight from the owner or someone able to make decisions for the company. Responses from those in charge give them credibility and authority, especially when there may be an opportunity to offer some sort of discount or method to make things right. 
If some of the bad reviews seem suspicious to you and look like a planned, malicious attack on your business reputation, you can take additional actions. They include flagging and reporting inappropriate reviews so the Google team can remove them. 
Thanking your customers for their positive reviews is also always a good idea. Showing gratitude and establishing communication on that ground can increase trust and create a foundation for great customer relationships. It's important to make your customers feel acknowledged and you can do that by responding with interest when they offer feedback. Even if it doesn't change anything, just knowing their opinion is being heard will leave them feeling satisfied.
Setting your business apart with Google Reviews
Google reviews have become the biggest differentiator when it comes to businesses, especially during and after the COVID-19 pandemic. What sets you apart from your competition? How are you building trust? Your reviews are how customers can become your brand advocates.
Customers are generally pretty intuitive. It isn't the end of the world to have a couple of negative reviews– what matters is how you respond to them to earn back some trust. Not to mention, having all glowing reviews can come off as much of a red flag as too many bad reviews does. Having a mix of reviews and responses just proves that you are a real business that doesn't have to pay for canned messages.
It may seem like a lot of work at first to collect some (positive) reviews, but putting yourself out there to your customers goes a long way for the future of your business.