We often hear from prospective clients that SEO hasn't worked for them in the past, or it's too "hacky," or takes too long. In most cases they have some justification for thinking that way, but there are a lot of moving pieces when it comes to SEO, and it often demands more attention than a casual player can provide towards this long-term effort.
There's typically one phase of the SEO process that seems to bring businesses to a crossroads of uncertainty. That moment when there's a sense that every website page has been fully optimized and there's no more progress being seen in rankings or traffic growth.
So how do businesses end up there and how can you overcome this hurdle if you do as well?
A brief "What is SEO?" refresher…
In the broadest sense, SEO focuses on enhancing your site's visibility in organic search (and really, any touchpoint a customer might have with your brand) to maximize exposure, and to make sure that exposure is as positive as possible.
This is done through technical optimization work within page code, ensuring a mobile friendly design, fast page load speeds, and 301 redirects for forwarding to various versions of a page's URL.
Next comes the on-site optimization which includes the keyword work done within page tags and content structure on pages, intersite linking, URL formatting, and mixed media content.
Lastly, is the off-site optimization for earning backlinks, correcting 404 errors (broken links), managing a Google My Business profile, and earning/monitoring customer reviews.
All of these SEO efforts combine to grow the "reputation" of a website with search engines like Google, which accounts for just under 90% of worldwide search volume according to Statista.
The typical SEO quick wins…
A well-built website tackles the majority of the technical SEO needs up front when it launches. When relaunching a website, 301 redirects are set up for any pages with a URL change. Images are optimized for file size before they are added to a page or a plugin will optimize them after upload. The website theme layout should be mobile friendly. (If your site is not responsive to different screen sizes, forget SEO for now and rebuild your website!) Page elements such as title tags and content modules should be coded to use proper HTML tags and hierarchy.
The technical aspect of SEO work is typically a heavy once-over with occasional check-ins along the way to make sure nothing has strayed from the plan. The ongoing SEO work picks up from there with the on-site and off-site aspects of this work.
On-site SEO will progressively alter content in titles, text, image ALT tags, and OpenGraph tags to support the desired key phrases for each page. Each page will have a goal of keeping the visitor on the site or motivating them to convert through a contact form, phone call, or purchase.
The off-site SEO will start with Google My Business setup/updates, directory profile updates, and putting into place customer review systems.
This is typically how most SEO initiatives see gains in the first 3-6 months. On-site SEO being the biggest influencer, with some gains made from the off-site SEO work.
What causes SEO progress to hit a wall?
After the first 6 months or so a drop off in progress can usually be attributed to one central issue: a search engine views the website as stale and/or invaluable because it rarely changes.
If a website isn't constantly expanding and updated it causes two issues. First, simply put, there are no other pages to optimize, so any on-site SEO tactics come grinding to a halt. Second, sites that are crawled repeatedly without noticeable content additions or updates will be seen as less important in the eyes of the search engine, so even optimized pages may start to see regression in rankings movement.
This is why a number of businesses experience a "failure" of sorts when attempting SEO in a bootstrapped or "quick fix" kind of way.
Why is content marketing so important to SEO success?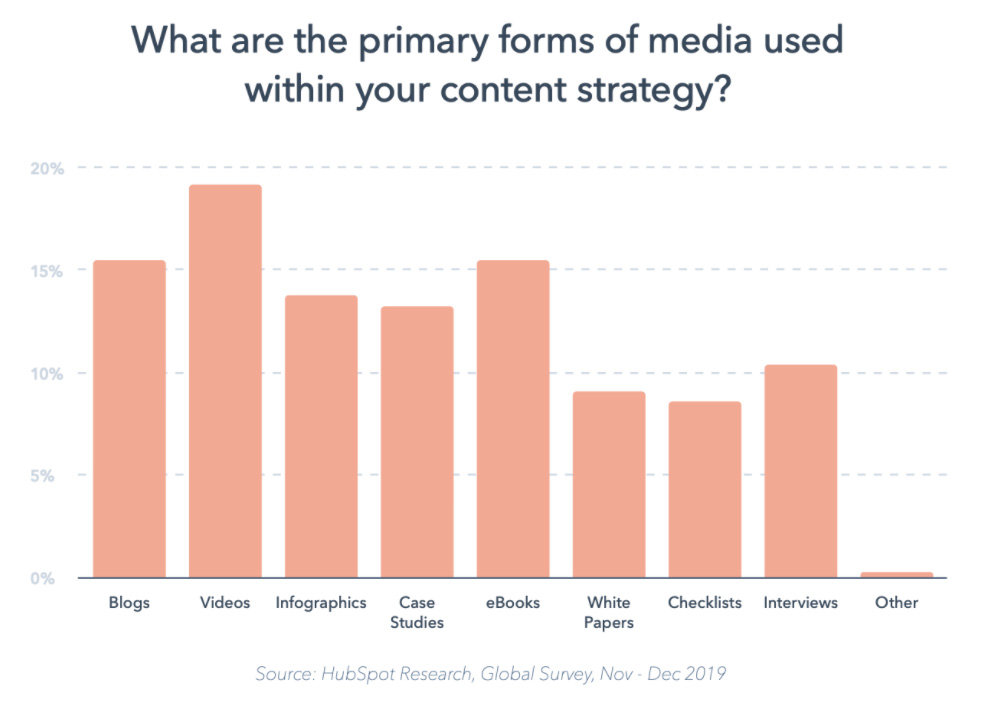 There's a reason that 70% of marketers are actively investing in content marketing according to Hubspot. Content marketing includes things like blog articles, PDF resources, eBooks, webinars, videos, and podcasts.
Each of these content pieces has multiple benefits. It provides a dual benefit to SEO efforts. First, it provides the expansion of website content to offer more opportunities for keyword optimization. Both of these benefits are directly related to website traffic growth over time. Second, it's a brand building tool and there's no better way to earn traffic to your site than through branded keywords (think "Nike" vs "shoes").
Long-Tail Keyword Support
Content that does more than simply describe a product or service, like a main subpage within a website, opens the ability for content to be developed that ranks for audience pain-points, educational and inspirational topics. This in turn, allows for lower volume, but high click-through keywords to slowly build brand visibility and website traffic over time. For example, instead of ranking for "tires," a blog article would be developed around a more in-depth, but related search topic such as "the benefits of snow tires." The flexibility and opportunity for related content topics is endless and even though a keyword may have a seemingly low predictable search volume, having a number of those optimized articles with higher click-through-rates can work towards cumulatively generating the number of clicks a more competitive (and perhaps unattainable) keyword ranking would produce on its own.
Intersite Linking & Reduced Bounce Rates
Intersite linking is a huge benefit to content marketing. Repurposing content articles, podcast audio, videos, or downloadable documents means that, otherwise untouched service or product pages can now have more content features added to them over time that link off to the related content elsewhere on the site. That means that every time your website is crawled by search engines, they will see updated content on pages that otherwise would have had no reason to be updated. This improves bounce rate as well. If there is another page to view within your site, that's a much more favorable next action than leaving the website and returning to the search engine.
Increased Time-On-Page
Using multimedia such as audio or video content on website pages is an amazingly effective tactic to add credibility to the page when a crawler sees not only the typical text and image content, but also embedded multimedia content. It plays a huge role in improving time-on-page and bounce rate metrics as well. There's more reasons for someone to continue reading, listening, or watching if there are a variety of ways to digest the content in a compelling way.
Earning Ethical Backlinks
You simply cannot earn backlinks without content marketing. Besides the occasional sales partner, directory, or friend adding your site's link to their site, nobody is going to spontaneously link back to your website's home page, service page or product page (unless you're providing a sales commission). Backlinks are much more likely to be earned through thoughtful, relevant content that complements another website's information and helps achieve that site's goals for their audience.
Multi-Purpose Usage
Not only are these types of content pieces able to support ongoing SEO efforts, but they can continually be used in other applications such as social media posts as educational pieces and sales interactions as supporting information. Unlike a social media post or a pay-per-click ad in search or social channels, content is posted forever, indexed and linked to. Typically when a visitor digests a piece of content they enjoy, they will be motivated to seek out more from the producer leading to exponential growth over time. This happens a lot with podcasts and video channels.
What happens if content marketing isn't part of the plan?
SEO will eventually fail unless your website is being continually updated to provide fresh content to your audience (including search engines). Most small business websites can be initially optimized and see SEO movement within the first 3 months. After that, the "SEO work" primarily becomes tweaking keywords here and there and monitoring rankings movements on the existing pages.
Content marketing opens the door to endless website page growth, existing page updates, and improved visitor metrics like traffic, time on page, and bounce rate.
Ultimately, the longer somebody is on your website and finding helpful content, the more likely they are to contact you or purchase from you.
So, if you aren't currently pairing content marketing with your SEO efforts, it's time to start.