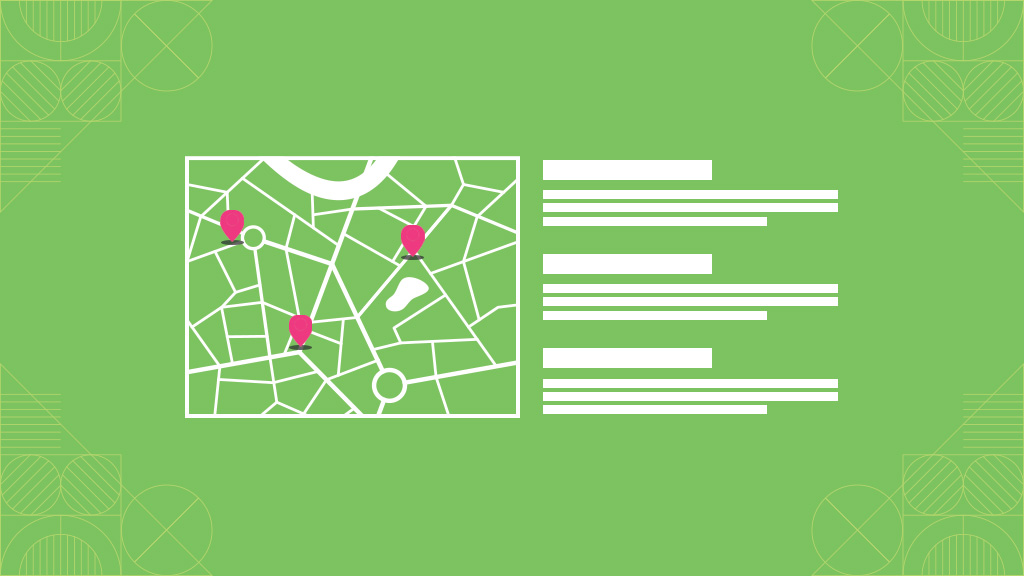 Search Engine Optimization (SEO) is complicated enough as it is, but when another layer of hidden metrics for locality is added into the algorithm, it leads people to unintentionally believe that their SEO efforts aren't working. To the untrained eye, this all may appear to be true at face-value when randomly testing a keyword result in a browser, but in reality the results are a filtered view that's hard to notice. So let's talk about how Local SEO impacts keyword rankings.
Jump To Topics:
A refresher: What is SEO?
SEO is the practice of optimizing your website's pages for related and relevant keywords to appear higher in search results. This is done through ongoing content and coding adjustments along with performance improvements such as page file size and load time. SEO can be targeted a few different ways, but some common terms are "Root Keyword" / "Primary Keyword" and "Long-Tail Keyword."
Root Keyword / Primary Keyword
A root keyword or primary keyword is the simplest form of a keyword. A basic example would be "bike" or "bicycle." These keywords typically have a very high search volume and an extremely difficult rank rating.
Long-Tail Keyword
A long-tail keyword is an evolved version of a root keyword that adds more context. An example of a long-form keyword would be something like "best winter bike" or "durable mountain bike," which utilizes the root keyword. These keywords have lower search volume, but come with a higher level of search intent and lower difficulty to rank for. Typically, blog articles and supporting website sub-pages are used to target these phrases.

How is SEO ranking measured?
With the introduction of localized search results and Local SEO tactics, there are two ways a ranking can be measured, nationally and locally.
National SEO Ranking
A national ranking is the purest form of page scoring as it considers nothing more than the page content quality and subject relevance to the search engine keyword query. A national ranking is the ideal outcome as it provides the strongest possibility to earn website traffic.
Local SEO Ranking
In some cases a national ranking is not possible. Enter the Local SEO ranking. Local ranking is a secondary search metric that further curates relevant content for the user. In some cases (it could be argued most cases) nationally ranked keywords for a term such as "dentist" may not matter to the user. Search engines, like Google, have developed formulas to look for search factors that indicate more relevant content for a user in a particular area. So a search such as "dentist" can be more useful to a user in Buffalo, NY by showing dentists in Buffalo, NY, not the highest ranked dentist in the nation.

How does Local SEO work?
Local SEO is completely location based. There are a variety of ways a search engine like Google identifies relevant local and related websites to a search. These signals utilize automated recognition and/or manual triggers to refine results.
Location Based Root Searches
This first and most common way a search engine will curate local search results for a user will be by automatically pinging that user's location through their IP address. As privacy has become more of a hot topic you may have experienced your browser, computer, or device popping up a window and asking for you to "allow location services" to know your location. That's the search engine asking for permission to use your IP to deliver more relevant content in the search. By knowing the location, the search engine can re-rank search results for "dentist" from a national result to a result as close to home as your immediate neighborhood.
"Near Me" Long-Tail Searches
Google has taken the approach of actually advertising this manual trigger through its TV commercials, online ads, and suggested search. They campaigned to educate users to add the long-tail keyword trigger "near me" to their search queries. This would result in a search such as "dentist near me" that triggers Google to prioritize location services-based results. You'll also notice that Google will follow up that "near me" suggested search immediately with location pinged city/town names as alternatives.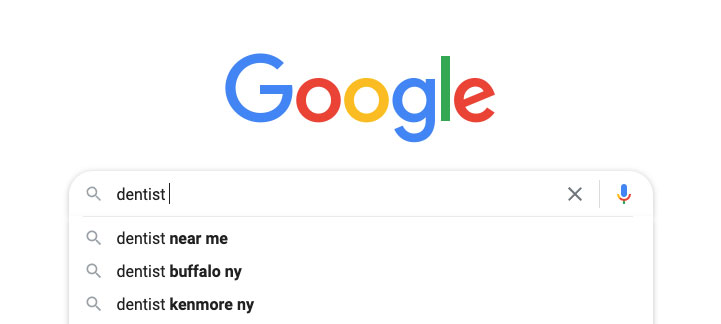 City/Town Long-Tail Searches
Users can manually trigger Local SEO results as well by adding the name of the city or town to the search keyword itself. This was common practice prior to the automated location services technology being utilized in search. An example of this type of search would be "dentist in buffalo" which triggers the search engine to prioritize buffalo based results.
Google My Business & Map Searches
When Google introduced the Google My Business (GMB) platform after Google+ was closed down, they used the opportunity to integrate the GMB company profiles into Google Maps. By doing this, they were able to provide more up-to-date and relevant information in the map cluster during a locally pinged search. The map would help indicate the location of the result and the GMB profile would indicate the strength and relevancy to the associated search terms.
All of these factors can be used at the same time depending on the user's computer / browser preferences, search query, the quality of the GMB profile and map location.

Local SEO examples.
Let's use one of our Luminus keywords "digital marketing agency" that we optimize our company for to see this all play out in each scenario and how it affects the results.
The "digital marketing agency" keyword is an extremely high volume keyword, but for our agency it is nearly impossible to achieve a first-page ranking given our size. This is reflected in our SEO tool metrics.

When we look at our current performance for the "digital marketing agency" keyword, we can see this reflected in a poor national ranking outside of the top 50 results (top 5 pages), but notice the difference in ranking for local optimization related to Buffalo, NY. The root term ranks #5 when utilizing location services in the browser and #2 when using both manual trigger local queries.
Here's where Local SEO gets funky. Let's move out of our SEO tool (Moz) and do some direct testing in the browser. I'm currently writing this blog article from my home in Kenmore, NY, a suburb located North of Buffalo city limits. Luminus is optimized for Buffalo, NY as the main metro area intentionally, but it does affect the search result I get from my home and here's how.
Test #1: Automated Location Services Ping – from Kenmore, NY:
When searching for the root "digital marketing agency" term in Kenmore, Google will prioritize results in the immediate radius of my neighborhood. This is reflected by weaker optimized sites out-ranking our agency website. I am happy to report that despite this local prioritization Luminus does still show up at the bottom of the map pack and first page of organic results (sweet!), because we have a strong optimization for the parent metro area of Buffalo. These results are hyper-local to the user. This is great for small businesses, restaurants, home service providers, healthcare, etc. It's not as beneficial for professional services (like ours) or regional/national brands that can service a wider region.
Test #2: Automated Location Services Ping – from Buffalo, NY:
If we do the same search from our office in Buffalo proper downtown, you'll see the results favor us greatly. This is where our #1 map ranking and #5 organic ranking perform the best and the related Kenmore results fall in ranking placement or off of the results completely.
Test #3: Add Manual Trigger "Near Me" – from Kenmore, NY:
When we add the manual trigger for "near me" the result get even more specific to the local area. This is where we see Luminus fall off the map (literally) for my search results from home, but we do happen to cling to a low first-page search result at #6 (sweet!) due to our overall SEO strength regionally.
Test #4: Add Manual Trigger "Buffalo" – from Kenmore, NY:
Next let's take a look at the long-tail manual query trigger and add "Buffalo" to the phrase. Just like our search results from our office using location services, this firmly triggers a Buffalo related results set that puts us #1 in the map cluster and #2 overall in organic results despite my location being in Kenmore, NY just outside the city.
These are just some of the examples of how automated and manual search can change results and override nationally ranked websites due to the user's location or trigger query. The variables are plenty and as you can see above, are not always a single factor as some may be combined to further concentrate the results for the user.
Why Local SEO causes confusion.
Here's where local SEO is not helpful and confusing (this is nothing to be ashamed about, but it happens all of the time). A business owner decides to hire a freelancer, agency, or team member to start an SEO initiative for their business. After a few months they get curious how their SEO efforts are performing and do a few searches on Google to see. That moment is an unintentional point of confusion that can sew the seeds of doubt about SEO if it's not consciously recognized.
For a national brand, it's possible to be outranked by a small company in a concentrated locale. An HVAC company with 12 regions serviced will have to compete at a local level in all regions. If the business owner searches for "HVAC" outside of one of those regions, the company will not come up at their home address, but may rank first-page for each of the localities they serve. This "DIY" approach to testing rankings can unintentionally lead to a misinterpretation of results.
For a local brand, it becomes even more concentrated. Take our "digital marketing agency" example and apply that neighborhood sensitivity to a local "HVAC" company or roofer. A "near me" search could disqualify them from search simply because they are more than 5 miles away. A business owner may live in a different suburb or city from the targeted service areas and not see their company in results.
The sensitivity created by search engines to make results so hyper relevant to users has made "DIY testing" hard to validate and that leads to a disconnect between business owners and their hired-guns doing SEO for their site.

How you can optimize for Local SEO rankings.
Let's look at how your website can be optimized to perform well in hyper-specific local searches.
Google My Business
Creating or claiming your Google my Business profile is a great way to strengthen your local search presence. This creates the possibility for a better map cluster placement as well as a home for all of your related information for hours, services, deals, news, and most importantly contact information.
Customer Ratings (on GMB)
Your Google My Business profile will have a customer ratings area. These ratings help boost search results placement in the map cluster. They are also a social proof conversion tool that gives users more confidence to click your phone number or website buttons over your competitors with less or poor reviews.
Location Specific Content
Creating location based pages with specific and relevant content such as "Buffalo Dentist Office" utilizing the URL .com/buffalo-dentist-office/ or "Kenmore Dentist Office"utilizing the URL. For example, these pages would have individually distinct map tools, contact information, photos, and team pages. Do not simply duplicate content on these pages which could actually result in a search ranking penalty.
Location Specific Keywords
Optimize pages for content specific to the location in META data and page content. For example, this would be adding the key phrase "Buffalo Dentist Office" throughout appropriate elements of a page.

How to test National and Local SEO properly.
There are a few ways to properly test for national seo and local seo rankings with confidence. Here are a few you can try.
Use an SEO Tool
Use an SEO tool (like Moz or SEMrush) that can trigger searches for both national and local rankings accurately with their crawling engine. These crawls appropriately search independent of location for national rankings and intentionally for local specific keywords. There is no confusion of computer, browser, or terminology in the results. This is the type of data seen in official SEO reporting, which is what we provide our clients on a monthly basis. This is by far the most accurate and reliable way to test.
Private Browsing with Location Services Turned Off
When searching for a national term (i.e. "dentist") or local triggered term (i.e. "dentist buffalo") you must use a private browsing window and blocked location services. This is the only way to get an accurate read on your search. It's important to know that simply searching in a private window does not automatically turn off location services, you must block it when asked by the browser.
Automated Location Services or "near me" Queries Within The Desired Location
For automated searches you must be searching from within the intended location's tight radius of 2-3 miles. You must be in a default public browser window and have location services turned on. This is the closest to an accurate read as you can get, but will still not be 100% accurate.

SEO is about long-term trust.
SEO is somewhat mysterious to outsiders of the profession (perhaps even some insiders still) and SEO factors, especially Local SEO factors are changing all the time. These local based algorithm filters were not a day 1 feature for Google, they happened gradually over time as Google Maps, Google My Business, and the engine's algorithm for page grading were iterated and released.
This is a reminder of how SEO is not a "set it and forget it" digital marketing tactic, it's a constant game of whack-a-mole that needs to be kept up to date. A great SEO team can be trusted to stay on top of these feature and algorithm updates with tactical recommendations
You need to also trust your SEO reporting. An SEO tool with an independent ranking crawler is the most accurate way to know your site's movement. Any DIY searches outside of the tool, must be properly configured for location services on or off and with the exact key phrases that have been targeted as priorities. If you see a discrepancy in SEO reporting vs. DIY testing, it's more likely that the SEO Tool is accurate and the DIY search test is not properly configured.
If you find yourself questioning your SEO results, think about these factors first. Perhaps it's as simple as a configuration discrepancy between reporting & DIY testing. If you don't get reports and your only way to gauge success is DIY testing, it's time to find a better SEO team. If your reports and proper DIY testing both have sub-par results, it's also time to find a better SEO team.
If you need help with any of this, we can be that SEO team. Just let us know.