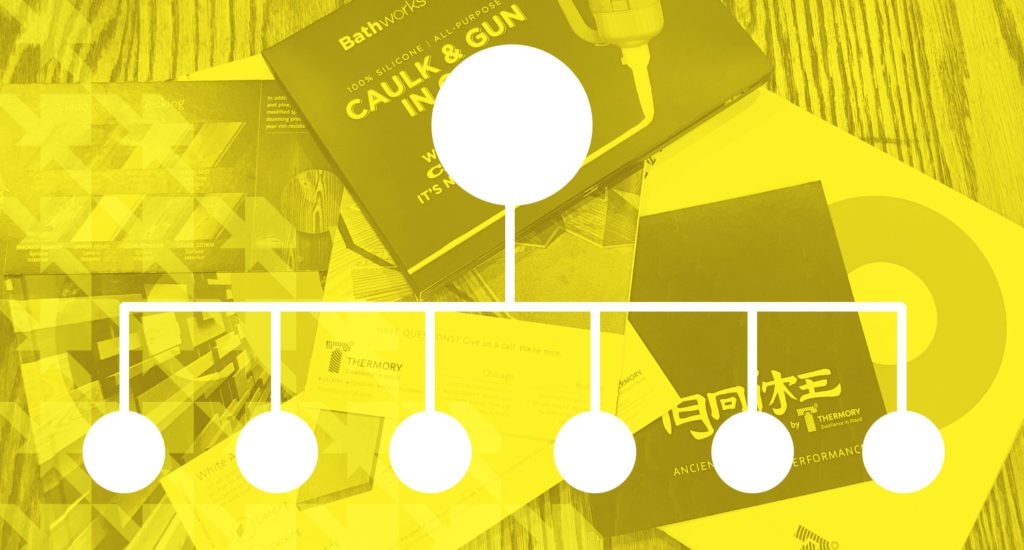 The ability to support building materials distributor marketing efforts is often overlooked despite many product manufacturers taking the time and effort to improve their own branding and marketing strategies.
Brand strategy starts at the top. Key leaders in the company collaborate internally or with an outside partner to set in motion a slew of tactics that will be used throughout messaging, campaigns, and collateral through multiple communication and sales channels.
The ultimate purpose of this brand strategy is to build a uniform and familiar customer experience that improves buyer's journeys and customer loyalty. The brand look, feel, voice, and tone are all aligned from digital all the way through print collateral.
All of this work is incredibly valuable to a company, but must be properly applied to every customer experience, not just at the corporate brand level. This is where the building materials distributors and sometimes contractors on the front-line come into play.
Typically, companies at the distribution level have little to no internal marketing support systems. Most of their business development support comes in the form of sales and operations teams. This is in part due to this industry being older than most in the mindset that "the products will sell themselves" to a certain degree. In decades past, this may have been true, but the combination of the internet and entrepreneurism together have made today's market reach considerably larger than a localized region with much more competition to go up against. Under these circumstances products become commoditized, leaving price as the deciding factor.
That's where brand strategy and distributor marketing support comes into play. There are many ways a building product manufacturer can support those distributors who are marketing and selling at a regional or local level. Supporting these sellers with the marketing tools necessary to generate the desire, confidence, and loyalty of a customer can be a huge win for product manufacturers.
Let's take a look at a few ways a manufacturer can support building materials distributor marketing channels.
DIGITAL MATERIALS
The best place to start, if you are developing a local sales support system, is simply building a library of materials that your distributors can access to use in their own sales and marketing processes. Materials such as the logo, fonts, color codes, photo library, and PDF sell sheets are great brand assets that can provide a ton of value to the sales network, but many manufacturers are not readily organizing and providing these. Not having this collection of materials accessible to your sales partners can result in poor brand representation or no brand representation on their marketing assets. This may be the easiest piece of advice on this list to implement quickly. Help your distributors by giving them the tools to use in their own efforts to market and sell.
PRINT MATERIALS
Literature is a very useful piece of the early research phase of the buyer's journey. Providing a potential customer with a catalog, brochure, sell sheet, or folder with strong branding and applicable product information supports their initial questions and allows them to revisit at a later time. When it comes time to revisit materials, you better believe that the brand presentation and messaging along with the product positioning statements will affect their decision to choose your product over another. Making sure your selling partners are able to provide these documents is essential to making a sale.
PRODUCT EDUCATION
It's hard to sell a product or buy a product that you know little about. Developing a set of internal and external educational pieces will help solve this problem. The leaders and employees at your sales partners' companies are having direct conversations about the value, application, and appeal of your products. These conversations require a good deal of knowledge to confidently sell. Easy to digest product information and key points in documents that can be reviewed internally is a great start. Providing in-person or webinar product training is even better. For the customer side, having digital product sheets or catalogs and installation guides available for distributors to link to or download can help avoid details being missed or improperly communicated during the sale. It will take some time to develop these documents, but they can play a long-term role in supporting sales.
DISPLAYS / SWATCHES
Actively participating in the consideration phase experience during the buyer's journey can give a leg up on the competition for your selling partners. Having a swatch, sample board, wall, or purchase display can be a motivating factor to close the sale. With building materials, so much of the decision to purchase comes from the ability to understand the look, feel, and application process, sometimes even on-site where it will be applied. Developing these types of marketing tool can help the customer envision the end result your product can provide and tie that result to your brand.
CO-BRANDED REFERRAL CAMPAIGNS
This approach is done at the manufacturer's level with the understanding and support of the distributors for how to handle the inbound leads. In this approach, the corporate marketing team or agency will setup optimized campaigns that will capture potential customers through paid ads on search or social media and direct them to a landing page for the product that is co-branded to represent the distributor. By setting up a campaign in this way, the manufacturer's brand can be represented in a digital ecosystem that they control while pulling in the necessary distributor assets such as the logo, address, phone number, and email. To the target customers, this campaign appears as a distributor led campaign showcasing the product line(s) they are featuring. These campaigns can be very localized to the area of the distributor to dial in ad spend and avoid competitive overlap.
When it comes to supporting building materials distributor marketing, keep these few things in mind.
You must have the buy-in from the distributor to use your materials appropriately with your training. Generating leads and providing materials with no expectation of how to handle the sale can result in wasting the leads.
Follow up with distributors to see how they are doing with materials and campaigns you may be providing support for. Keeping a pulse on their adoption of these tactics and success rates will help you maintain the quality you desire in your sales experience.
Lastly, try and track what you can. If you're providing digital assets or running referral campaigns through landing pages, understand the activity at a distributor level so you can gauge the effectiveness of both the marketing and sales performance.
Ultimately, product manufacturers looking to support building materials distributor marketing efforts have lots of options. The thing to remember is it starts with the brand strategy and willingness to provide the materials and processes to help your selling partners succeed.
For more information on how we've implemented these tactics for our clients, you can read up on our building materials marketing rundown page or check out the Thermory USA case study. Additionally, we're always posting relevant information regarding building materials marketing on our LinkedIn page.
If you're interested in learning how our strategic marketing and creative team can work with your building materials company, feel free to email us at info@luminus.agency or give Tim a call at (716) 332-1640 x2.