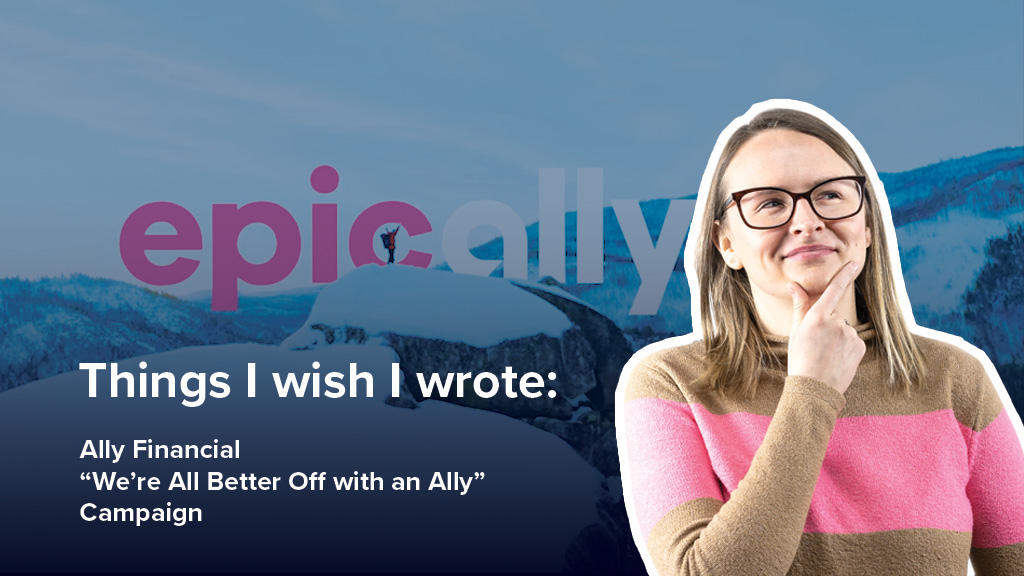 A series where a copywriter (Kellie) is not jealous about, but inspired by how other people's words sound together.
This campaign is not hot off the press, in fact it was first launched in 2021. But as the brand's widest-reaching effort in their history, you'll still regularly see its creative around especially the tv spots.
It all centers around a strong on its own sentiment: "We're all better off with an ally." The financial services company takes advantage of the double meaning of "ally." It's their brand name, of course, but also means "a person or group that provides assistance and support in an ongoing effort, activity or struggle." Now that's a definition you want your brand name associated with!
But that's not where the wordplay with "ally" ends. Each TV spot celebrates a series of real-life moments that people may be saving money for and underscores it with words that powerful end in "-a-l-l-y." For example, the spot features a father and son starting a home renovation and as the hammer hits the drywall "aestheticaally" appears on-screen. Then, it cuts to a rollercoaster with screaming riders as "ecstatically" appears along one of the nauseating loops. Several other scenarios play out: a man romantically gifting his date a necklace, two friends therapeutically working on a bonsai tree, fans loyally cheering on their favorite team and a woman stylistically picking out the perfect outfit. Until finally, there's a hiker on a snowy mountain with the words "epically" and that is when the voiceover comes in and says, "At Ally, we're helping millions save more for the things that matter most to them." The brand does an excellent job at highlighting a variety of life moments that go beyond buying a new house or car.
This is a very writerly spot, which is why it first caught my attention. The chosen words for each scenario never feel forced, which is impressive after eight separate vignettes. The brand didn't have to reach for a word that was hard on the eyes and ears like "parenthetically," for example. Each perfectly relates to a believable scenario that people would be saving money for. I also appreciate how the word is visually incorporated into every scene. As the woman opens up the jewelry box on her date, the word "romantically" appears alongside the necklace and when the clippings from the bonsai tree are starting to pile up, one friend wipes them away only for the word "therapeutically" to emerge. It's clever and keeps you guessing where the word may pop up next, but most importantly lets the word have a well-earned moment on screen. A copywriter's dream!
There's also something cool about letting the concept fully play out before the voiceover comes in. Ally lets it unfold through eight convincing scenes without having a voiceover over-explain what we are seeing. Then simply wraps a neat bow around it at the end with: "Whatever you're saving for, we're all better off with an ally." A nice touch happens on the on the final camera card too, which features the Ally logo with: digitally | financially | personally. Just another way to extend the idea and show how far their support goes. Ally commits to the concept and has refreshing faith in it, which is what makes these TV spots so successful!