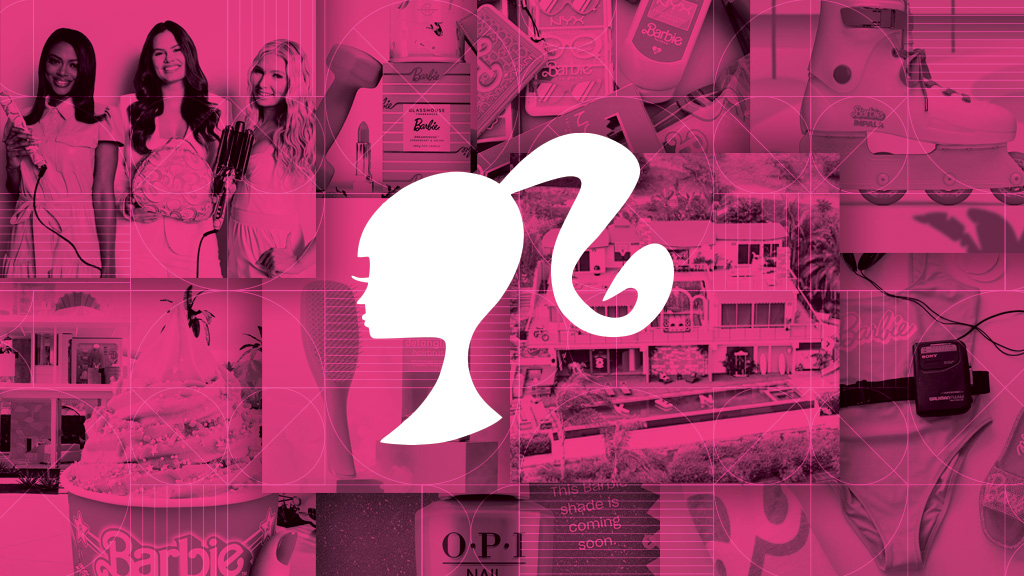 There are marketing blitzes then there is the 'Barbie' movie rollout. The film, which comes out July 21, has a seemingly endless stream of collaborations with retail partners and marketers. From the perfectly sensible to just perfectly pink, Mattel has turned its product into a movie then its movie into more products.
I've taken it upon myself to rank them from most effective to least. As a marketer, my criteria was:
Memorability: Does it stand out in an extremely crowded field of collabs? Did its buzz create meaningful awareness of the brand or specific product/offerings?
Cohesion: Does the collab make sense? Does it fit or enhance the Barbie universe?
Shelf Life: Will the product or experience be useful after July 21?
Pinkness: Was it appropriately pink?
*The list doesn't include any brands that would fall under the Mattel umbrella, which include Power Wheels, Hot Wheels, Little People and UNO.
1. Barbie x Airbnb
Who wouldn't want to stay in Barbie's dreamhouse? The vacation rental company is choosing two lucky winners to enjoy two nights in Barbie's oceanside mansion in Malibu, California. During the stay, guests can explore Ken's wardrobe, learn how to line dance on Ken's outdoor dance floor and take home their very own set of the iconic yellow-and-pink rollerblades. Airbnb fully leans into the world of Barbie with several themes from the film but also expands on the lore by creating the fun premise that Ken is listing his room when Barbie is away at her big movie premiere. It's cute and believable and perfectly centers around their offerings.
2. Barbie x Aldo
When you think of Barbie, you think of little plastic pumps. Aldo's line of Barbie footwear and accessories include sparkly kitten heels, rhinestone pumps, strappy sandals, sneakers, jewelry, sunnies and three pink handbags. The collab absolutely falls into Barbie canon while toeing the line between glitzy glamor and easy wearability.
3. Barbie x Spirit Halloween
You can expect to see at least a few Barbie and Kens at your Halloween party this year. Spirit has several costumes pulled directly from the film. There's Western Barbie, Skating Barbie, Power Jumpsuit Barbie, Skating Ken and Rebel Rocker Ken. It's an absolute home run for the seasonal retailer.
4. Barbie x Impala Skate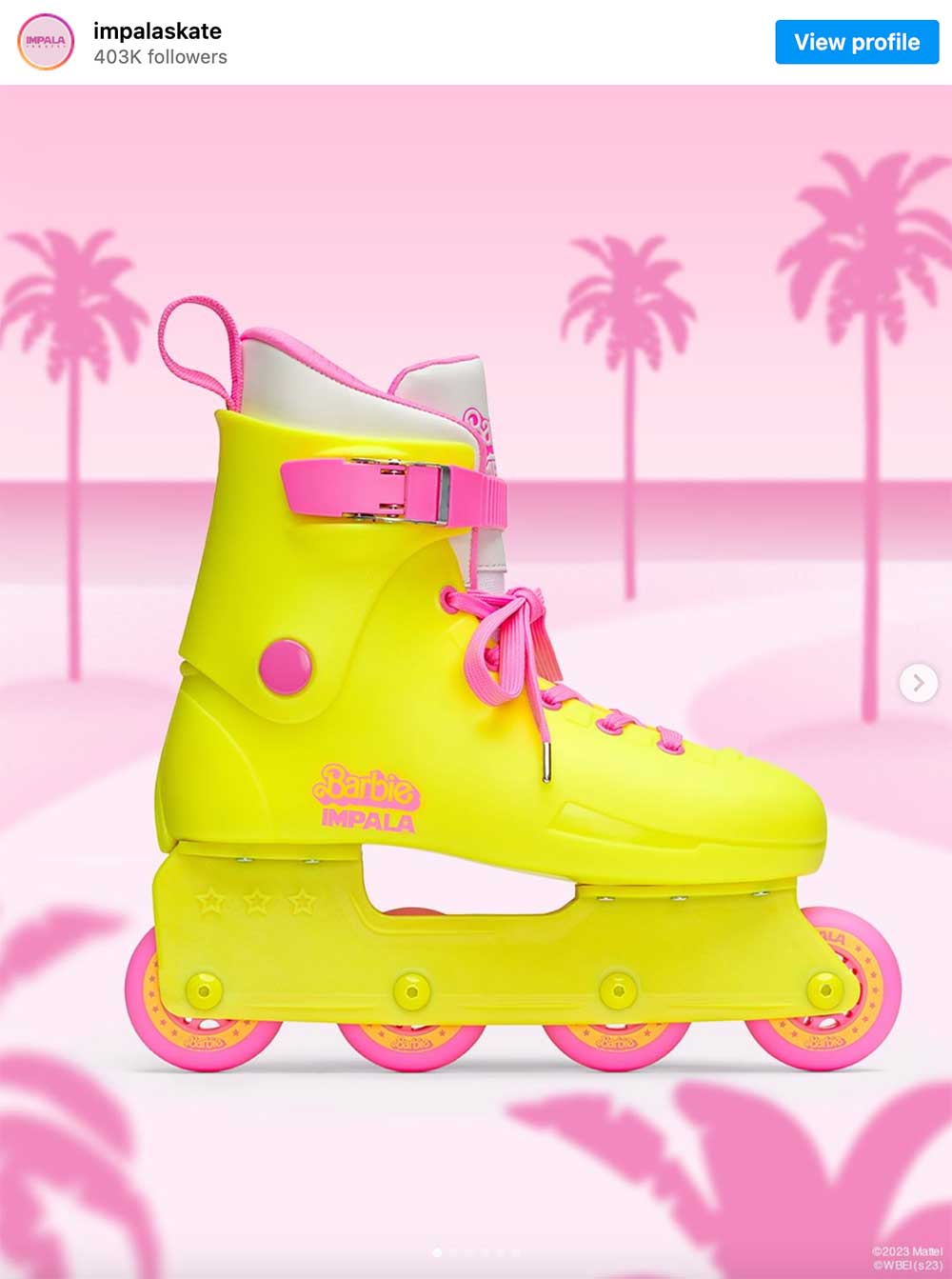 Barbie and Ken rollerblading was prominently featured in the movie's trailer. While the bright yellow and pink blades look plastic-y, Impala Skate assures us they are durable and breathable. You can also score matching knee and elbow pads. The attention to detail is really impressive.
5. Barbie x Bloomingdale's
Bloomingdale's line by Aqua is more inspired by the film than exact replications, but improves the odds you'll actually wear the pieces after the credits roll. There's a checkered pink pleated skirt, a blue tweed jacket and a sequin evening bag.
6. Barbie x Kitsch
Barbie has had every hairdo in the book over the years and now you can too! Kitsch has a new hair accessories line including a curling set, claw clips, scrunchies, hair ties and pillowcases. Of the many hair tools you'll see on the list, this is my favorite. The line can easily be integrated into daily wear with softer shades of pink and blue.
7. Barbie x OPI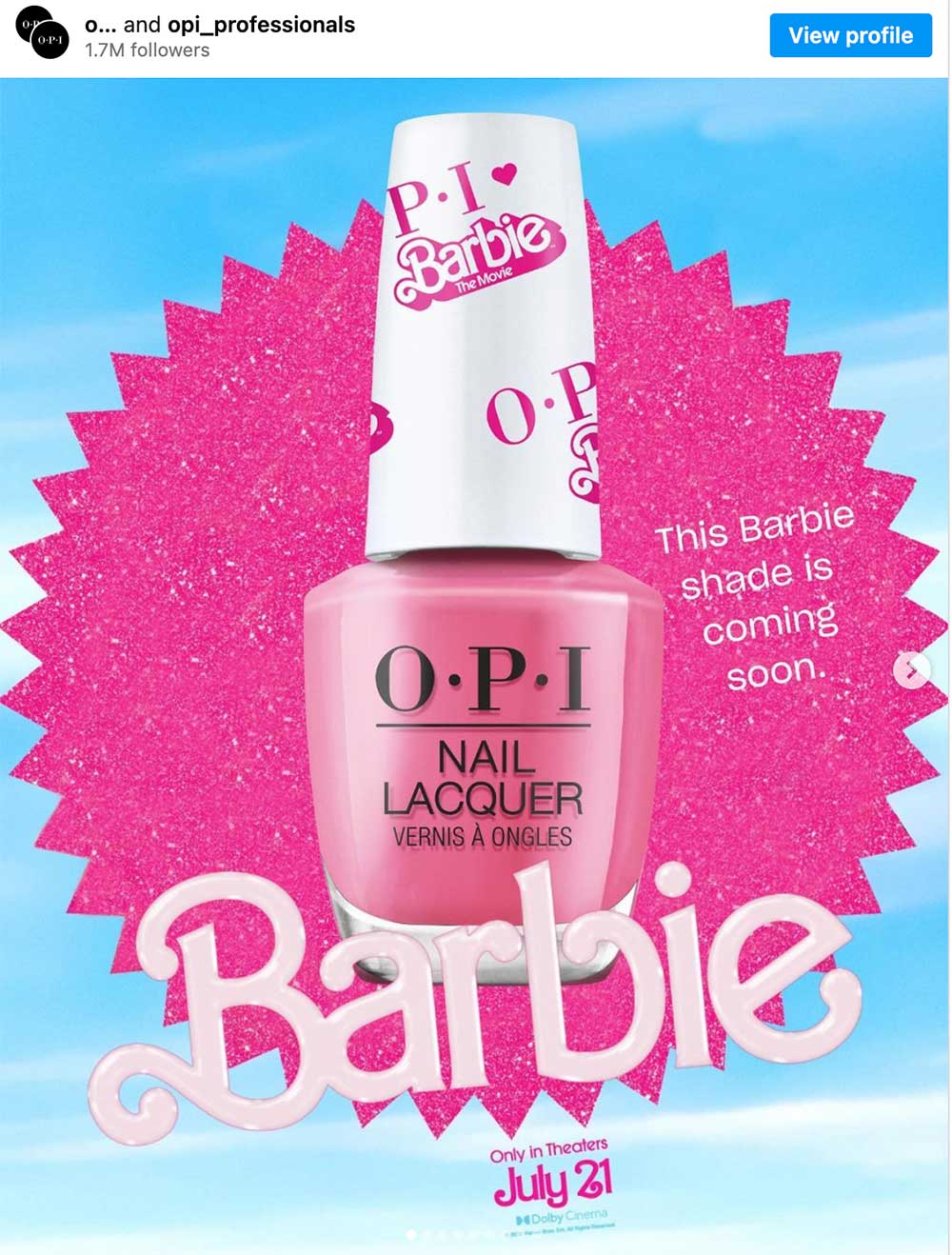 Now granted, this collab wasn't a heavy lift for OPI. I'm sure it's polish shades that they already had kicking around but it does feel the least intrusive to your day-to-day life. You can wear them without anyone having to know it's for Barbie. But you'll know!
8. Barbie x Funboy
Throwing an over-the-top pool party feels very spiritually Barbie. There's a pink golf cart and a recliner chaise floatie, both of which will provide endless photo opportunities for those with a pool.
9. Barbie x Beis
The travel accessories brand released a selection of luggage, travel bags and accessories in Barbie's signature colorway. You'll still find plenty of excuses to use it on your yearly travels – especially because the hot pink should help you spot your things easily at baggage claim.
10. Barbie x NYX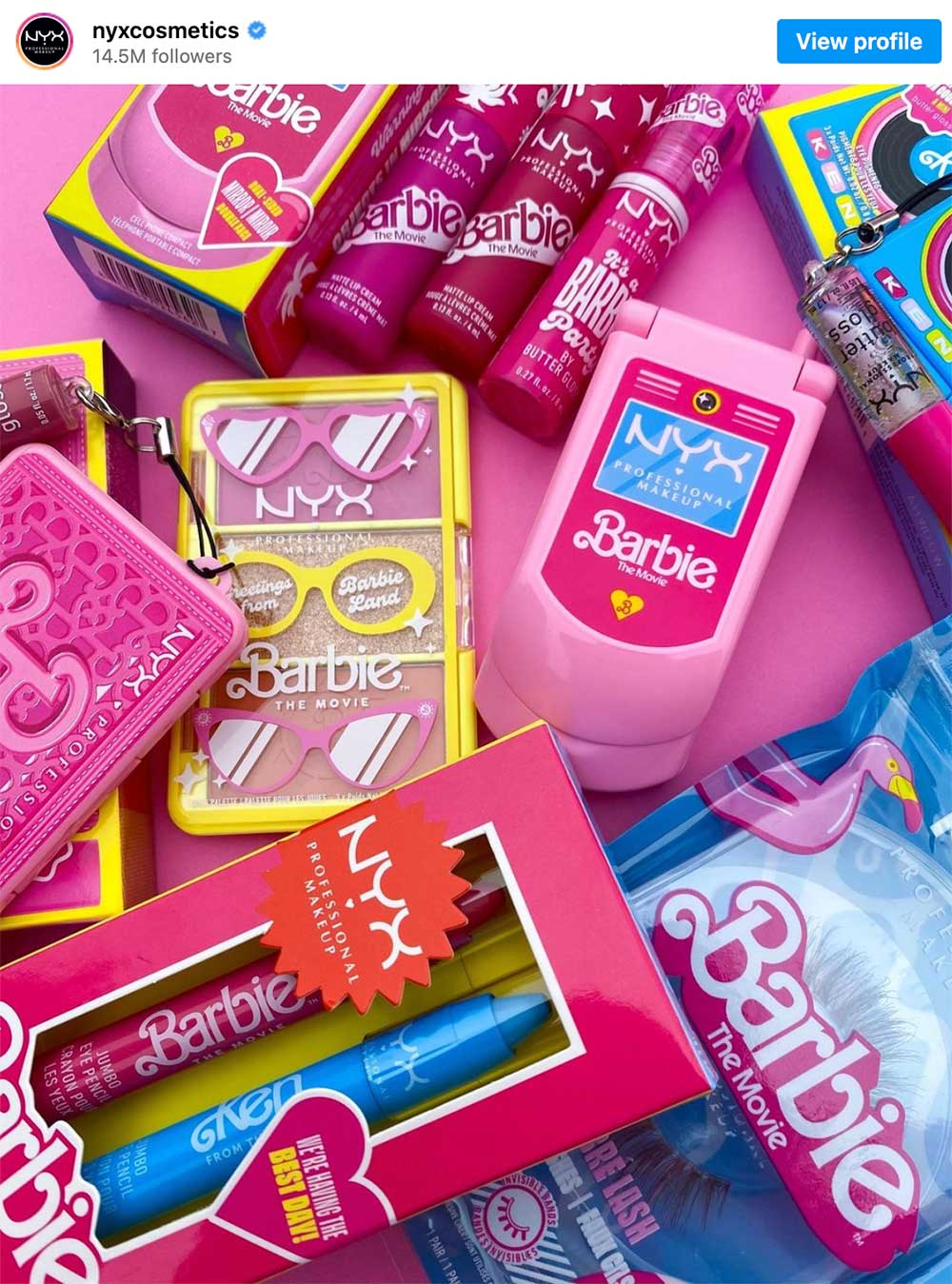 Barbie definitely has a blast with makeup, so the collab feels like a natural extension of the world. The massive collection includes everything from shadow palettes to pencil sticks to lip gloss. And outside of the color palettes that are various shades of pink, other fun brand elements were included on packaging such as shooting stars, pink flamingos, and catch phrases like KEN-ERGY.
11. Barbie x PacSun
A subtle but extremely fun line including a crewneck, moto jacket, tennis skirt, as well as jewelry, bikinis, sweat sets and graphic tees. The line zeros in on Malibu, which feels like a path less traveled.
12. Barbie x Mermade
The hair care brand offers two different kits (a wavy and blowout option) in a custom pink zebra print with a head scarf, hair gems and clips. With the accessories, fans can put together an entire #Barbiecore look and still find plenty of use for the tools on a ho hum Tuesday.
13. Barbie x Hot Topic
Something that caught my eye from the Hot Topic line was the bright pink mechanic shirt and denim pants. You just don't see those that much. There are also cardigans, varsity jackets, graphic tees, PJs, purses, and a ton of fun jewelry.
14. Barbie x Tangle Teezer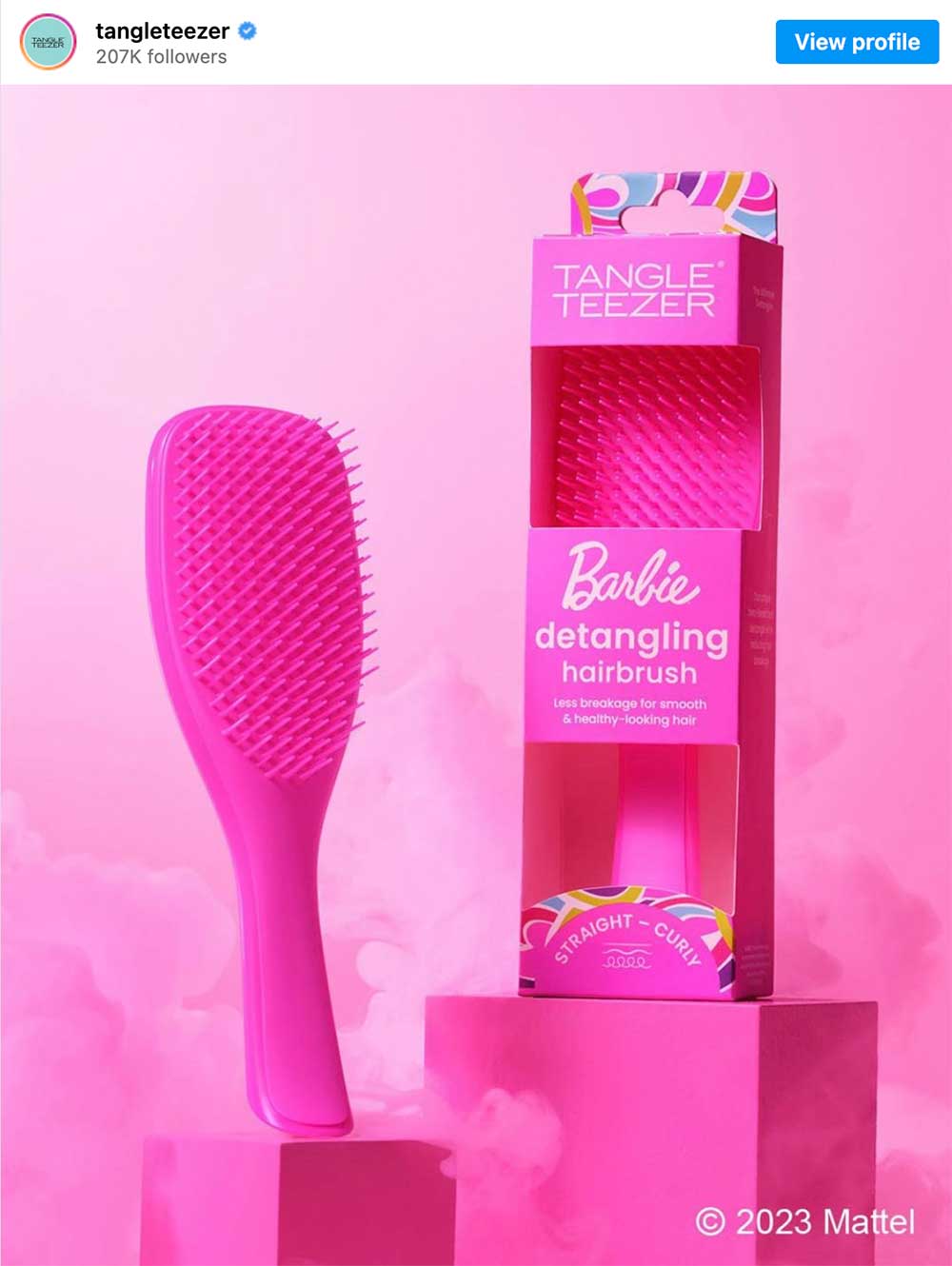 There's something so Barbie about a completely hot pink brush. Tangle Teezer didn't reinvent the wheel here and I don't think they needed to.
15. Barbie x Cold Stone Creamery
Of the two dessert options on the list, it feels like Coldstone did a little more to elevate the limited time flavor. "All That Glitters Is Pink" includes a cotton candy ice cream base with graham cracker pie crust, Dance Party Sprinkles and whipped topping. It also helps that it became a Grimace Shake-style Tik Tok trend, where users try the dessert then magically turn into the Barbie-fied version of themselves.
16. Barbie x Boohoo
A fairly large line of oversized shirts, hoodies, rugby shirts and more in a pink and black palette. The graphics feature images of actual Barbie dolls and lots of rhinestones.
17. Barbie x Superga
The Italian footwear company released a capsule collection that is effortlessly cool. Most notably there is a sky high pink platform sneaker and a white sneaker covered in illustrated rollerblades, palm trees, flamingos and the logo of the movie.
18. Barbie x Alex and Ani
The jewelry company, known for charm bracelets, has a variety of options for the wrist. There's a Barbie silhouette, flamingo pool floatie and rollerblade for varying degrees of fandom.
19. Barbie x Retrospekt
Retrospekt refurbishes Polaroid 600 cameras by hand, which makes their Barbie offerings pricey but authentic. They have a Malibu option with a 70s-inspired color palette and then a 90s option that mimics the graphics and colors of the original Barbie Polaroid.
20. Barbie x Fossil
Hasn't this whole summer been all Barbie all the time?! Well, now you can actually tell the time with a rectangular white satin dial and a '90s-era Barbie logo. The black leather wrap strap has a variety of Barbie-inspired charms.
21. Barbie x Pinkberry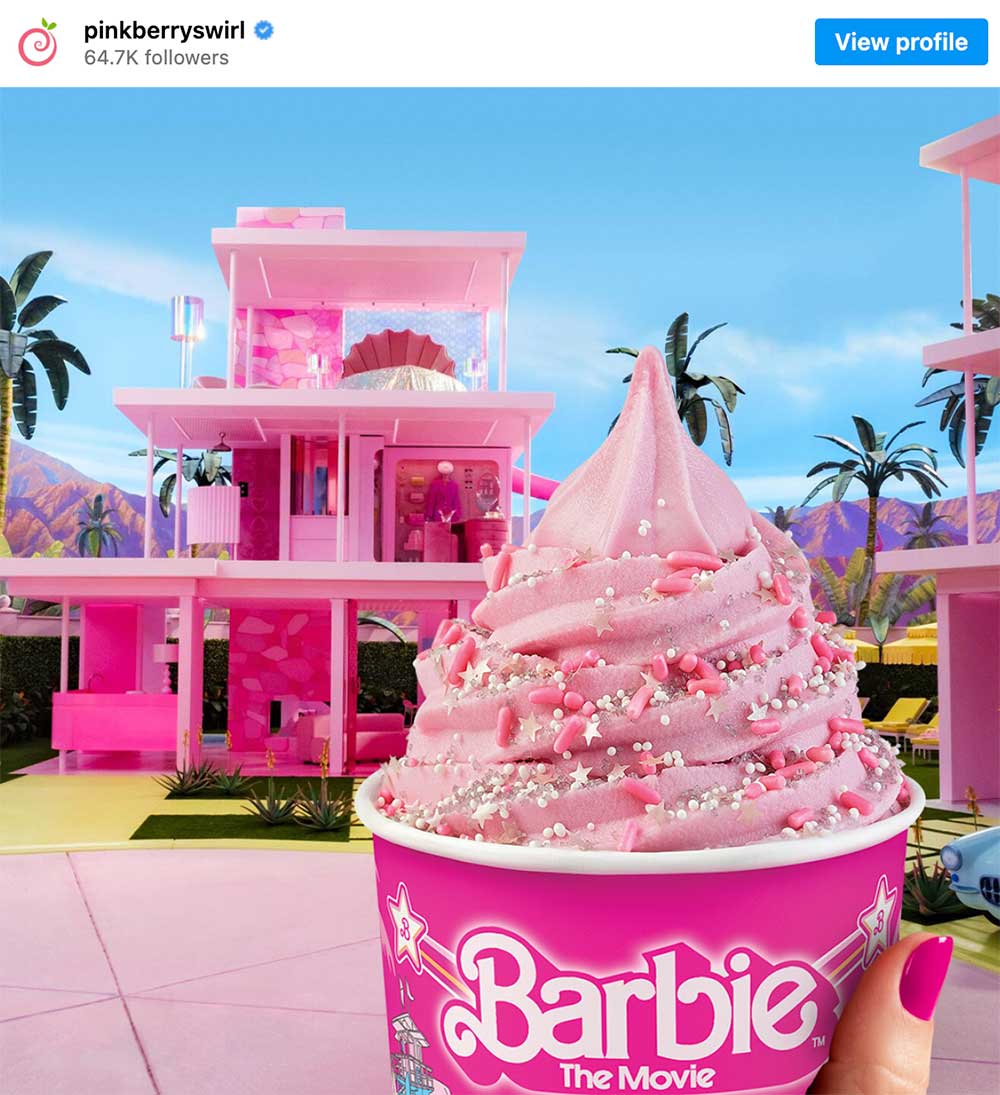 A blend of strawberry and dragon fruit flavored frozen yogurt with glittery Dream Sprinkles. Guests can also enter the Barbie The Movie Sweepstakes for a chance to win Barbie-themed prizes.
22. Barbie x Moon
If this is a stretch, people didn't seem to mind. The set with the bright pink electric toothbrush and pink sparkly toothpaste sold out. I do see the appeal. It would be a welcomed pop of color in any bathroom. You can still snag the bubble mint toothpaste too.
23. Barbie x CHI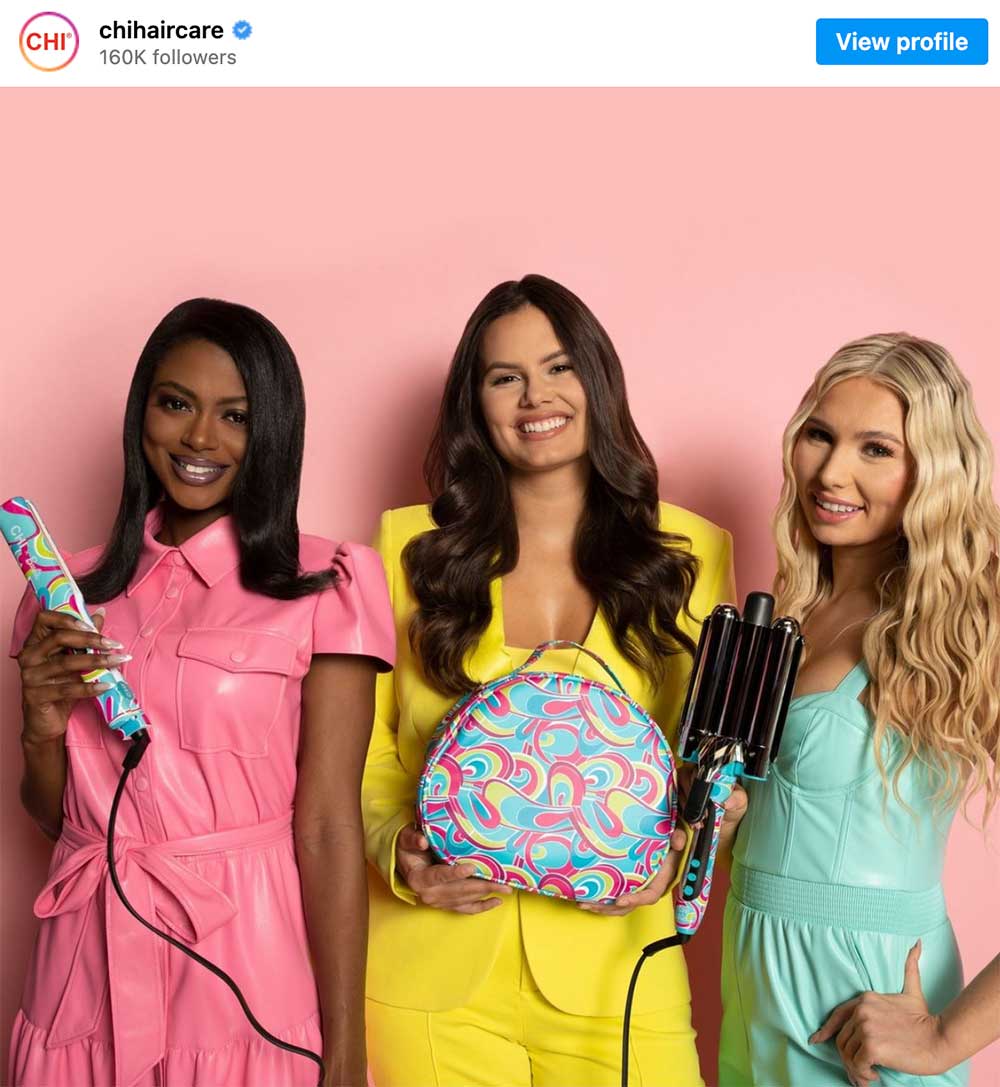 A series of hair tools and accessories with a groovy pattern that was actually worn by the Totally Hair Barbie. Extra credit was awarded for the deep cut reference.
24. Barbie x Da Bomb
You know who would take a pink bubble bath? Barbie! The bath bomb scents are perfectly playful with cotton candy, grape slushie and blackberry fizzer.
25. Barbie x Forever 21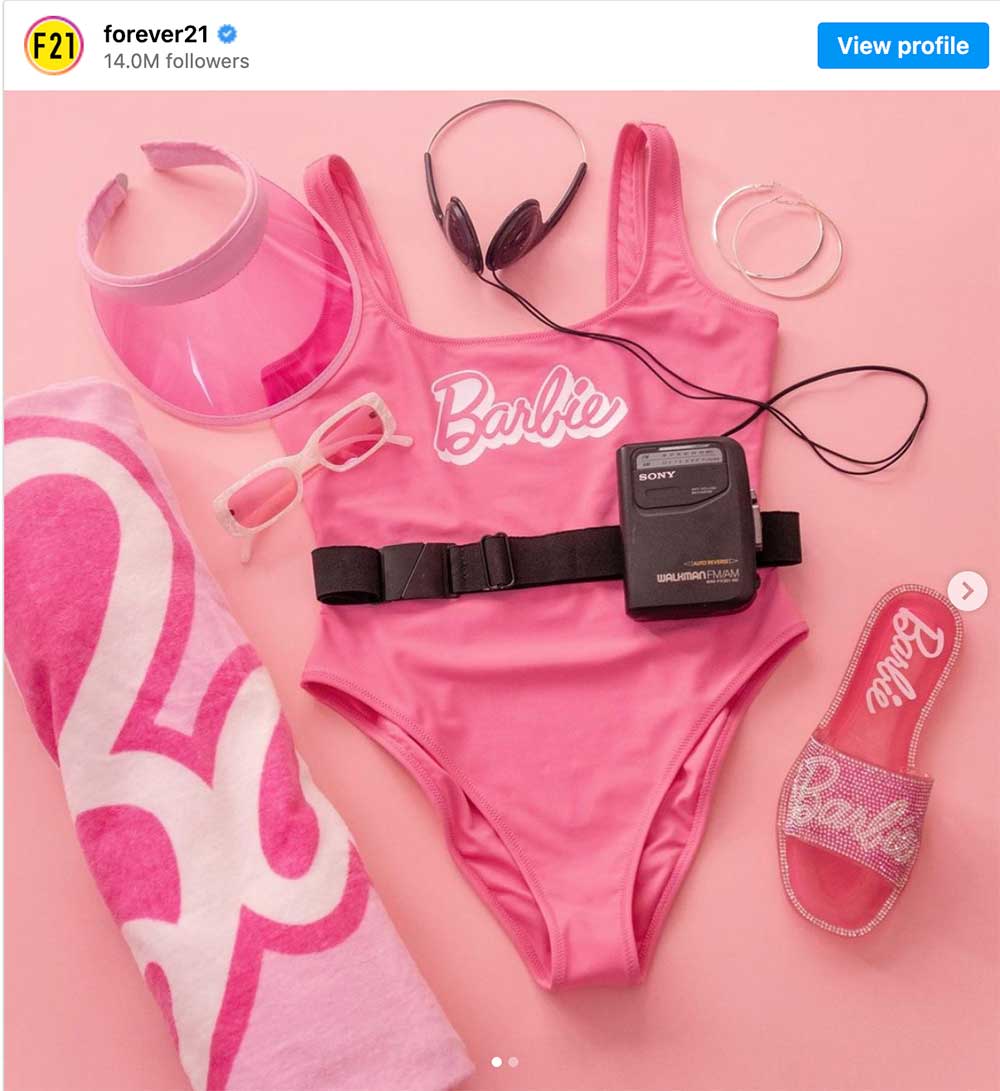 Not as large as other clothing collabs on our list, Forever 21 still manages to include a couple of completely unique items – like the sequin jersey and green glitter jelly block heels.
26. Barbie x Xbox
Though it's unclear how much these audiences would truly overlap, Xbox still went for it with a Barbie-themed console and controllers. The hot pink console gets major points for its Dreamhouse-like set around it that is three stories high.
27. Barbie x Hally
Hally made three limited-edition temporary hair color sets, including Signature Pink, Malibu Blue, and Pump Up Purple. Each comes with hair gems or tinsel. Again, not a huge lift for Hally but the branded names are a nice touch.
28. Barbie x Glasshouse Fragrances
There are two candles on this list, but this one is ranked higher for the drawings of various Barbies on the outside of the glass. The scent is Barbie's dream house, of course, which apparently smells fruity, flirty and playful.
29. Barbie x Loungefly
This mini backpack sure packs a lot of pizazz! It's a fun summery vibe with an allover print of the Barbie logo and twin flamingos in a golden shield. I assume super fans may find use for it all year long, but others may shy away from it.
30. Barbie x GAP
The GAP collab finds itself low on the list because it is mostly GAP logos with Barbie written underneath on various shirts, hoodies, totes and tank tops. The items that didn't – the sunnies, striped shirt and Ken shirt all sold out.
31. Barbie x Barefoot Dreams
The *bare* minimum as far as collabs go, each item simply features the Barbie logo. But the blanket, matching sweats, robes, and eye mask all look extremely soft.
32. Barbie x Crocs
The clog brand is offering two special releases in their Class Clog and Crush Clog options. Both are extremely pink with Barbie-themed Jibbitz that can be personalized to your liking. These would have to be reserved for rabid fans of the film, I assume.
33. Barbie x Homesick
As opposed to other products on the list, candles just don't have as much to latch on to. The only feasible connection is the scent of Barbie's dream house. Though in this case, I do enjoy that description. "Rose and jasmine accent three floors of dreamy Barbie™️ décor. A pristine pink couch overlooks the Malibu sunset as uplifting notes of lemon and sandalwood welcome you home."
34. Barbie x Truly
For a beauty brand, Truly didn't do much beyond slapping the Barbie logo on their existing products. The line offers body butters, serums and scrubs. While they are purple and pink, there isn't as much cohesion between the brand and the movie.
35. Barbie x Ruggable
The machine washable rug brand managed to incorporate Barbie's style without dousing everything in pink. There is a chic Chevron print that calls back to a famous bathing suit Barbie once wore, among other subtle options that could fit right in your home.
36. Barbie x Swoon
The zero sugar beverage released a cheery pink lemonade flavor with the iconic logo on the front of the can. The sweetest part? 10% of net sales will support the Dream Gap Project, an ongoing global initiative that aims to give girls the resources and support they need to continue to believe that you can be anything.
37. Barbie x Propercorn
A sweet popcorn in a pink bag with a promotion offering the chance to win a trip for two to California, including seven nights' accommodation.
38. Barbie x MeUndies
Something has to be last! The line includes a range of underwear, sports bras, bralettes, comfy shorts and tank dresses with Barbie-friendly illustrations including a rollerblade, a disco ball and the iconic "B." But the brand made one curious decision – all of the pieces have a blue base instead of pink. Given that the pieces will mostly likely be worn more privately, it seemed like a missed opportunity to fully lean into the instantly recognizable pink palette.