Content marketing is maybe the most abstract digital marketing tactic to understand the performance and value of. In this article we'll go over the various ways content marketing provides value and specifically break down how articles contribute to your website's long-term Search Engine Optimization (SEO) traffic growth results.
What is the purpose of content marketing?
Content, specifically blog article content, can have many purposes and each provides a different type of value to an organization. Not all content is meant to improve top-of-funnel inbound marketing through SEO. Some content is positioned as a mid-funnel support piece that a salesperson or account manager can use in their customer interactions to provide further information on common questions asked about a detailed and nuanced topic. In an ideal world, a piece of content can accomplish both roles.
For the rest of this article we'll focus specifically on the effects that blog articles have on website traffic. Content marketing benefits all types of websites, regardless of whether your organization provides a service or product. Websites are only as good as the traffic that visits them. A very small percentage (I.e. 2-5% of ecommerce visitors according to Business Insider) of website traffic is ready to convert, so the only way to improve that opportunity is to grow the amount of traffic to the site through Search Engine Marketing (SEM), Social Media, and most importantly a strong SEO and content strategy.
When should content marketing be implemented?
SEO and content marketing go hand in hand (we write about that in our blog article "Why SEO and Content Marketing Should be Done Together"). By implementing both digital marketing strategies, the opportunity for traffic growth over time sees compound growth. A website's core pages can only have so much effort put towards them to optimize them for target search keywords. By implementing a content strategy, blog articles and complimentary website pages can grow a website's page count and open the door to adjacent keywords that can earn traffic through search.
Ideally a content marketing strategy should be implemented as soon as a digital marketing initiative is started, but that may have to coincide with the launch of a website if the website itself isn't properly designed and built to capitalize on any traffic growth through new content.
If budget is a concern, more typically, a content marketing strategy would kick off after the foundational SEO work has been completed on the website as a whole, creating the need for page augmentation through articles and content expansion to provide more optimization and traffic opportunities. This "breaking point" in the SEO process usually happens around months 6-12 after a small to medium sized website has had all of its pages optimized for keywords within content, META tags, OpenGraph tags, graphics, linking, and loading speed performance.
What is the performance lifecycle of a content piece?
As we talked about earlier, a content piece such as a blog article can have many purposes, but the two most primary purposes are ranking for a target search keyword or providing education about recurring topics to support the customers seeking information or sales and account teams driving value conversations. Regardless of the intended purpose of the piece, both types of content marketing assets contribute to compound website traffic growth.
Targeted SEO Article
An article written for SEO specific purposes will target a keyword that may not be easily optimized on a standard service or product page. This would likely be a "long-tail" keyword (or key phrase) that zeros in on an adjacent topic related to a priority keyword. An example of this would be "best winter tires" rather than "tires." While the long-tail keyword will not have as high of a search volume, it is likely easier to obtain a ranking for and earn more traffic that otherwise would have been overlooked.
The SEO Article Lifecycle
Below is an example of a targeted SEO article from our blog called "SEM Performance Metrics: Long-Term vs. Short-Term Comparisons" meant to rank for the terms "sem metrics" and "sem performance metrics" since the keyword "SEM" is much too difficult to rank for a company our size. Below you will see that the keyword analysis for the "SEM Metrics" keyword shows that there is a very low difficulty to rank for a keyword that has a modest monthly traffic volume forecast. This blog article is the "perfect combination" of SEO and customer education, since this is a topic that we frequently discuss with our digital marketing clients as well.
A well written article, for a keyword that has some level of search volume and a low estimated ranking difficulty will provide a plateaued result in traffic generation. This means that when the article is launched, it will slowly gain ranking and build traffic to the website, reach its peak, and fluctuate around the peak traffic numbers. Below you will see the traffic metrics for the "SEM Performance Metrics: Long-Term vs. Short-Term Comparisons" blog article launched in November 2021 on our website showing this pattern. The "SEM Metrics" and "SEM Performance Metrics" keywords currently rank #4 in national rankings for these keywords and did so within the first 2 months after publishing.
Customer Education / Sales Support Article
An article written for customer education purposes will typically address a common question your target audience asks of your organization. This would likely be a topic that is complementary to a service or product you offer that gives a more in-depth look at its value and benefits. An example of this would be "how can yogurt help digestion" rather than "yogurt." While this style of long-tail keyword may or may not be able to achieve a high search ranking, it can further support other topics on the website and help your audience move through their research or decision making phases.
The Education Article Lifecycle
Below is an example of a customer education article from our blog called "Why SEO and Content Marketing Should Be Done Together" meant to primarily be a support article for our sales and accounts teams when speaking with clients about understanding the benefits of content marketing when executing an SEO strategy. This article is also set up to potentially rank for the term "content marketing and seo," but with the understanding that this is an unlikely rank to achieve with a single article due to its difficulty in the existing search result competition. Below you will see that the keyword analysis for the "content marketing and seo" keyword shows that there is a fairly high difficulty to rank for a keyword that has a generous amount of monthly traffic volume forecasted. Any ranking for this blog article would be a bonus if achieved.
A well written article for customer education will provide a spiked launch and low sustained long-term result in traffic generation. This means that when the article is launched, it will bring a high volume of initial traffic to the website as it is shared by the organization through social media and when website visitors see it in the "recent posts" area of a homepage feature mobile or initial blog feed landing page. After that the article will see visits, but at a much lower clip without an organic search ranking. Below you will see the traffic metrics for the "Why SEO and Content Marketing Should Be Done Together" blog article launched in November 2021 on our website showing this pattern. The "content marketing and seo" keyword currently does not rank in the top 50 (first 5 pages) results of search, but still sees traffic through our website and team utilization.

The Additional Content Marketing Traffic Benefit
Lastly, and almost always overlooked, is the ability to utilize either of these types of auxiliary content marketing pieces as a signal booster for a primary website page. So even if traffic is not directly entering the site through the article itself, by having the related article "best winter tires" linked and included as featured sub-content on the "tires" page, it improves the ranking probability of the main "tires" page through strength of content. Recently, in late 2021, this has become even more important as search engines adjust their algorithms to better understand the relevance of search results. So someone looking for a "brass monkey" statue does not end up on the Beastie Boys "Brass Monkey" song lyrics page, and vice versa.
The Compound Effect of Content on Website Traffic
A great content marketing strategy will identify opportunities for both types of articles based on keyword research, traffic forecasting, and your customers' pain points identified in their audience personas.
Regardless of which type of article is being written, both will contribute to the compound effect that content has on website traffic long-term. And let's be clear, content marketing is a LONG-TERM strategy meant to create opportunity, not sell. There's no such thing as a website visitor that wants to be sold to in a website article.
The "hard to see" aspect of content marketing is how frequency and volume of articles plays a role in successfully driving traffic. Without frequency, there is no regular opportunity for new website traffic created. A content marketing strategy should, at the very least, include a monthly article. From there, the next biggest factor is volume. A reasonable amount of traffic and rankings opportunity can be generated by publishing 12 high-quality, 500-1500 word articles a year, but when that volume is doubled or quadrupled, the opportunity skyrockets.
Each article that's published is a building block that accounts for a number of monthly website visits. With each block (article), the foundation of that baseline monthly traffic metric grows larger. Below is an illustration that depicts this concept as each article is launched, how it affects the overall site traffic long-term in a compound way.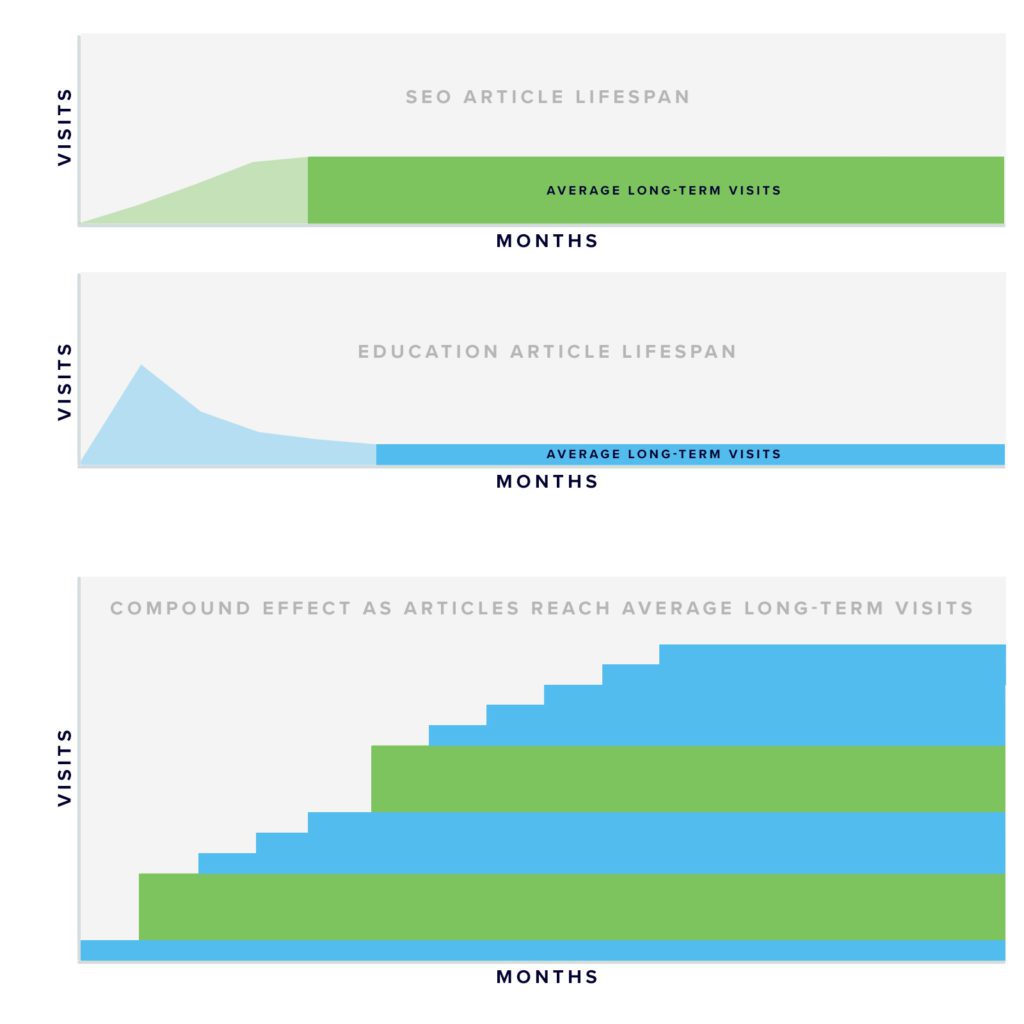 We're a busy bunch, so for our Luminus blog, we publish 2-4 articles a month based on the time we find to tackle one of the 20 or so topics in our ongoing content planning document. This is the traffic growth over the last four months on our own blog, publishing two articles a month, of about a 50/50 split of SEO and customer education pieces. Our blog traffic doubled in four months from around 200 visits a month to just over 400.
Each Piece of Content is Important
No matter the type of content piece, its long-term performance contributes to the website's traffic growth overall. Even that customer education piece that got 50 visits in its first month, but only earns 7 views a month after, matters. You see, when you publish 10 more of those articles and they too get 5-15 visits a month, all of a sudden you've added hundreds of traffic visitors to your site's monthly metrics. Sprinkle in a few high-performance SEO articles and staying committed to content marketing long-term and you will see thousands of website visitors each month that would've never otherwise made it to your website.
So take a moment to reflect on your own website's SEO journey and your existing perception of what a content marketing plan utilizing blog articles can do for you. If a blog (or an active blog) has been seen as a "nice to have" or perhaps "not effective enough" consider this information and how it may be a missing piece that can create more growth opportunities for your company by increasing monthly traffic long-term.
As always, if you need help, you know where to find us.